Azad Championship Report: Broner takes his time, stops Rees in five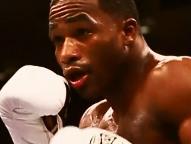 --


Adrien "The Problem" Broner wants bigger fights. To achieve this, he needs to put away opponents like Gavin Rees.

Tonight, at the Boardwalk Hall in Atlantic City, NJ, Broner (26-0, 22 KOs) did just that by stopping super game European champion Gavin "The Rock" Rees (37-2, 18 KOs) in five rounds to retain his WBC lightweight title.
HBO televised the bout as part of their Championship Boxing series.
In the opening stanza, Rees worked the body. His activity seemed to surprise Broner. The defending champion jabbed and looked to counter. The much smaller man landed an overhand right to win the round.

Rees kept working in round two. Broner, 23, landed a right and caught a left. A combination stung the native of Wales. Rees found Broner with another right. Rees success seemed to surprise the crowd. The first two rounds were his. Rees hadn't ventured all the way from Wales to lose.

In round three, a counter hook by Broner caught Rees. A right down the pipe connected. The young champion had flipped the switch. Rees dropped his hands and beckoned Broner. An uppercut and left stung Rees. A huge right and left knocked Rees into the ropes. Another right hand down the pipe landed.

Rees tried to stay on the chest of Broner in round four. The plan didn't work as a vicious uppercut put him on his back. The former junior lightweight champion got up at six. Broner went right back to work. He punished his opponent with head shots. His attack varied between the body and head. Rees fought back at the bell.

Rees, 32, landed two right hands in round five. Broner found the mark with a left uppercut and right hook. Rees fired back with his own combination. With twenty seconds to go in the round, Broner dipped and threw a perfect left to the body that put Rees down for a second time. The game European champion hauled himself up. Broner uncorked another combination that convinced referee Earl Brown to call the bout off. Rees corner had asked for the stoppage.

The time was 2:59 seconds of round five.

"I knew he [Rees] was going to come to fight. He's a world-class fighter," said Broner in the ring after the bout. "He kept coming. He threw every shot like it was his best shot. I knew he would hang. When you have two world-class fighters going toe-to-toe, it's going to be a great fight."



Subscribe to feed