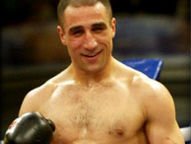 --

By John J. Raspanti, Doghouse Boxing

Arthur Abraham (36-3, 28 KOs) gave his supporters plenty to cheer about by scoring a eighth round stoppage over game Mehdi Bouadla (26-5, 11 KOs) at the Arena Nürnberger in Nuremberg, Germany. With the victory Abraham regained his WBO super middleweight championship.

Abraham, 32, a notorious slow starter, engaged Bouadla aggressively in the first heat. Bouadla, mostly known for being stopped by Mikkel Kessler last year, moved but didn't punch much. Abraham jabbed and came forward. A three punch combination knocked Bouadla sideways. Bouadla landed a hard right to Abraham's side in the last minute. Abraham's heavy left hand strafed Bouadla at the bell.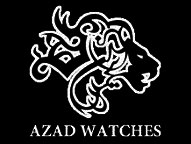 Azad Championship Report

In round two, Bouadla came out punching. Abraham obliged the challenger by opening up to the body. Both fighters landed combinations, with Abraham getting the better of it. Bouadla went back to moving in round three. The 30-year-old was being outworked consistently by the champion. Abraham went to the body again near the end of the round.

Abraham stalked Bouadla in round four. His investment to the body continued. Bouadla connected with a right hand, but it lacked power. Blood began dripping from Bouadla's nose. Abraham went to the body and head - a left right connected.

In round five, Bouadla tried forcing the action. The challenger was losing, but there was no quit in him. Abraham connected with two uppercuts. Bouadla staggered back. Abraham pounded Boudla with another heavy combination. Abraham loaded up his right in round six. Bouadla clipped him with a left. Abraham continued to fight in bursts. Near the end of the round Abraham looked either tired or bored. Bouadla landed a good right on the chin of the local hero.

With his nose continuing to bleed, Bouadla ran right into an uppercut in round seven. Abraham opened up and clipped him with a right hand. A cut was opened on the inside of Bouadla's right eyelid. Abraham was ready to end things in round eight. Two lefts and a right stung Bouadla. A big right just missed, but a left hook found the mark. Two hard rights knocked the tough challenger back. Another right wobbled Bouadla. Referee Mark Nelson decided enough was enough. He stepped between the boxers and waved off the contest.

The time was 2:11 of round eight.

Abraham has stated a desire to fight either Carl Froch or Mikkel Kessler. Both fights would sellout in Europe. A rematch with undisputed champion Andre Ward looks less likely.