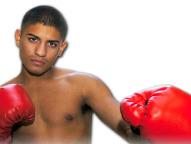 --


After a hard fought and well deserved victory over Anselmo Moreno on Saturday night at the Staples Center, the reigning WBC junior featherweight champion, Abner Mares, wasn't in the mood to entertain any other fights but one. He didn't want to hear about Leo Santa Cruz - who once again impressed on the undercard - and don't even bring up Guillermo Rigondeaux. There's only one fighter he has his sights set on: WBO beltholder Nonito Donaire.
"I made it clear I want the fight and I'm sure Nonito made it clear too. He wants to fight and [Golden Boy Promotions CEO] Richard [Schaefer], too. There's no doubt we want this fight and it's just a matter of hoping that [Top Rank founder] Bob Arum comes to his senses and hopefully makes this offer for the sake of boxing," Mares reiterated inside the Chick Hearn Press Room at the Staples Center, after stating it to Showtime's Jim Grey in the immediate aftermath of his big victory.

In Moreno, Mares faced a slick boxing Panamanian who looked like a pocket-sized Pernell Whitaker with his southpaw stance and ability to evade punches and a body with the elasticity of a Slinky. But Mares neutralized those attributes with sheer determination, tenacity and activity. Wherever there was an opportunity to hit Moreno, Mares didn't hesitate to bang away (and yeah, some of the punches strayed low. Hey, it's Mares after all) and for much of the night, he brought the fight to the accomplished left-hander. With a steady body attack and a looping overhand right, Mares was able to simply outwork Moreno. He even floored him in the fifth frame with a barrage of punches near the end of the round. You can argue about the margin of victory (two scores of 116-110 and a ridiculous card of 120-106) but there's no doubting who deserved to have his hand raised in victory.
"I fought my heart off and like I told you guys, I leave everything in the ring and I'm ready to move on," said Mares, sunglasses hiding his battle scars. "We pressured him; we made him feel uncomfortable and we just worked that body."
Mares had done something many insiders didn't think he could. He figured out one of the most difficult puzzles in all of boxing. Touching Moreno cleanly and consistently is about as difficult as doing a Rubik's Cube while blindfolded. It was not only a determined effort but a disciplined one. All throughout camp with his trainer, Clemente Medina, they worked on the general principles of facing a southpaw: keeping the front foot on the outside of your foe, shading over to your left, cutting off the ring and punching in volume while closing the gap. "This was a dominant fighter, a really technical fighter and it took me off my game plan a couple of times. I got frustrated like I knew I would but I've got a great corner," said Mares, who improved to 25-0-1 (13). "A corner that always kept me poised. They told me to stay calm, don't lose my head and lucky I did."
Schaefer said this was "a major breakthrough performance for Abner Mares. I think Los Angeles is buzzing about Abner Mares, a great, great performance." He then added, "I'm not taking anything away from Nonito because he's a terrific fighter, an exciting fighter as well. But if you really compare the strength of opposition and when and where Abner fought them, all of those guys he fought were either champions, undefeated or with one loss at the peak of their careers. So Abner really, every single time, comes through with flying flags and really excellent, exciting performances. In my opinion - and I don't understand it - I don't make up these lists but there is no question about it that Abner Mares belongs ahead of Nonito Donaire on every single pound-for-pound list. No question about it. I don't want to take anything away from Nonito but Abner Mares is a very, very special fighter."
Going back to his last six fights, the only real soft touch Mares has been paired with is Eric Morel. Other than that, he has taken on the likes of Yonnhy Perez, Vic Darchinyan, Joseph Agbeko (twice) and now Moreno. It's as impressive a run as you'll see in boxing the past few years. Yeah, the "Filipino Flash" may have more physical tools and natural talent but the things you'll never hear during a Mares fight are boos and catcalls. No matter what, you're never bored at one of his fights. Sure, Donaire might be favored but can you tell me about another fight in the 122-pound division that is as economically viable and has the commercial potential (and is guaranteed to provide action one way or the other) as this one?
You can't because it doesn't exist.
This isn't Tim Bradley vs. Alexander or Andre Ward vs. Chad Dawson, fights deemed "important" because of some fantasy boxing musings or pound-for-pound lists. Donaire-Mares is actually important because there is a real public yearning for it (Imagine that, bouts that are made because the fans actually want to see them). But in case you haven't heard, there's this little "Cold War" between Golden Boy (which handles Mares) and Top Rank (who promotes Donaire) which is a huge hindrance in making this a reality. They haven't broken bread in a long while. The Democrats and Republicans get along better in Congress than these two entities.
But to paraphrase Ronald Reagan, can we tear down this wall?
"Well, we can only try. With us you have a willing promoter and I'm happy to put up a multimillion-dollar offer for Nonito Donaire to show up," said Schaefer. "But y' know, I'm not so sure that after this performance tonight from Abner Mares that his promoter is really going to be all that excited in making this fight. He probably feels it's going to have to marinate a little bit longer but we'll see what happens."
Donaire faces Jorge Arce on December 15th in Houston, Texas, so this fight would have to be discussed for the spring or summer months of 2013. And let's forget about the constant mental masturbation (and yes, I just used that term) over a potential Manny Pacquiao-Floyd Mayweather face-off; it's fights like Donaire-Mares that hardcore fans want to see, along with many others now essentially frozen because of boxing's "Cold War."
So how do we get this done? Should we put in a call to Henry Kissinger?
Schaefer says that's not necessary and that the process is actually very simple.
"Well, I think it's having a dialogue; that's one way," he explained. "I don't believe that negotiating through the press is the way to go. But if that's the way it has to go, I'm prepared to do that as well. I think the world wants to see that fight; I think it's one of the biggest fights irrespective of weight class which can be made. I think it should be made and there's different ways. You can sit down and try to get it done or one can put an envelope on the table and one can put one on the table and see who offers the most. There are plenty of different options to get it done. But the fact is, we want to get it done and I don't believe in marinating stuff. I think that should be the next fight for Abner and Nonito Donaire."
In the lead-up to the fights, Oscar De la Hoya stated he would not only to go to Top Rank's offices and knock on Arum's door to discuss this fight but would be willing to walk to Las Vegas to do so (yeah, I know; I know. Oscar says and tweets a lot of things that are head-scratching and nonsensical). De la Hoya was not present at the post-fight presser. Perhaps he was on his way to "Sin City." If Oscar was indeed taking the stroll down the 15, I suggest he stop by the Del Taco in Barstow. But anyhoo, Mares is willing to join him.
"I'll probably not walk; it's a long walk to Vegas," he said, laughing. "But definitely, Oscar said he's willing to go to Bob Arum's office. I'll go myself too and knock at Bob Arum's door and hopefully come to an agreement. Hopefully for the best of boxing, for the sake of boxing and sooner and later, it has to be done."
While neither Donaire has an official exclusive deal with HBO or Mares has one with Showtime, the reality is that both have been entrenched on those respective networks. The bottom line is that after all the money put out by both networks the past year or so, neither wants to see Donaire-Mares going across the street.
"The interesting thing is - as far as I know - I don't think either fighter has legal obligations to any network, so it's really a deal that can be done," said Stephen Espinoza, who runs Showtime Sports. "Certainly I've talked to Top Rank about making that fight several times and at no time have they ever said, 'No, that can't be made on Showtime because Donaire has an obligation, legal or otherwise, to HBO.' So the networks I don't think are an obstacle at all."
OK, perhaps in theory that's true. But not only are Mares and Donaire associated with exclusively with one network, both their promotional firms are also firmly established at both Showtime and HBO- and this will only continue going into 2013. In a perfect world, both the managements and promoters of the two fighters would be able to pick and choose the best financial package that is put forth by a network. But we all know that we don't live in a perfect world and promotional and network alliances often trump what is best for individual clients

SHOWTIME

Espinoza told me on Saturday night that their new card on January 19th will feature IBF welterweight champion Devon Alexander facing his mandatory challenger, Kell Brook, at a site to still be determined in the States. This telecast will feature welterweights, according to Espinoza, so this means the card at the Barclays Center in Brooklyn (which will have Danny Garcia defending his junior welterweight belts versus Zab Judah and Peter Quillin defending his WBO middleweight strap) has been moved to February 9th (meaning HBO has Gotham City all to themselves on January 19th at the Theater in Madison Square Garden).

Also, it was announced that Bernard Hopkins - a man who simply will not go away gently into the night - will headline a card at the Barclays Center and face one of the light heavyweight titlists (Nathan Cleverly, Beibut Shumenov or Tavoris Cloud).

FINAL FLURRIES

I'm told that HBO and Top Rank really, really, really want a fight between Wilfredo Vazquez Jr. and Juan Manuel Lopez to take place on January 19th and will do whatever it takes to overcome the hurdle of what weight this fight would take place at...While the Andre Ward-Kelly Pavlik fight was wavering late last week, I'm told that with a few more bucks thrown Pavlik's way (and perhaps the promise of a return fight on HBO, win, lose or draw), this could become a reality...Uh, yeah, the "ShoBox" telecast with the debuts of five Olympians wasn't exactly like the '84 class at Madison Square Garden, was it?...I'm really high on Gary Russell Jr. and his natural talent. But right now, he's like that five-tool player in Triple-A and we're still waiting to figure out if he's Ken Griffey Jr. or Ruben Rivera...After watching the WBC junior middleweight eliminator between Vanes Martirosyan and Erislandy Lara (which was a ninth round technical draw), I think both should be eliminated from consideration from facing Saul Alvarez...Mikey Garcia is facing the same problem Juan Manuel Marquez did long ago in that his opponents are very wary of leading with him. He's going to have to find ways to create his own offense early in fights...How 'bout that "Johnny Football"? By the way, I won't get sued by the folks in College Station for typing out that nickname, right? Seriously, Kevin Sumlin is doing a great job at Texas A&M...Heartbreaking loss for the 'Canes versus Virginia. Yeah, they had three key defensive starters out but up by 10 in the fourth, you have to win that game...Is Peyton Manning the MVP of the NFL?.
..I can be reached at k9kim@yahoo.com and I tweet at www.twitter.com/stevemaxboxing. We also have a Facebook fan page at www.facebook.com/MaxBoxing, where you can discuss our content with Maxboxing readers as well as chime in via our fully interactive article comments sections.