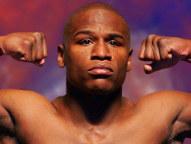 --


On May 4th from the MGM Grand in Las Vegas, Floyd Mayweather will make his next appearance in the ring against Robert Guerrero. This was pretty well known for the last month or so. What wasn't so clear was which network (HBO or Showtime) would be the one distributing this event on pay-per-view. This was no small issue to these cable giants given Mayweather is the sport's biggest pay-per-view draw and worth multimillions of dollars. There are very few fighters in this sport who are legitimate franchises - Mayweather is one of them.

Tuesday morning, this bombshell was announced by Mayweather Promotions:
Undefeated eight-time world champion Floyd "Money" Mayweather, boxing's pound-for-pound king and the highest paid athlete in the world (Forbes, 2012), has entered into a groundbreaking pay-per-view deal with Showtime Networks Inc. and its parent company, CBS Corporation. Under the new deal, SHOWTIME PPV® will collaborate with CBS Corporation to comprehensively promote Mayweather's events on the CBS Television Network and via the corporation's expansive media platforms.

The deal - a unique revenue-sharing arrangement between SHOWTIME PPV and Mayweather - will enable him to fight up to six times over a period of 30 months, with the first mega-event taking place on May 4, 2013, when Mayweather will fight Robert "The Ghost" Guerrero. More details of this upcoming event will be announced shortly.
Mayweather's new deal is by far the biggest in the sport of boxing (specific financial details are contractually confidential). Mayweather is the PPV king and averages over 1 million PPV buys per event, which is the highest PPV buy average of any boxer in history. At this record-setting PPV performance level, if all six fights contemplated by this deal occur, it will be the richest individual athlete deal in all of sports.
The financials of this agreement aren't known but sources within the industry say that this deal could be worth in excess of $200 million (if Mayweather goes through and fights all six times). The main sticking point that swayed things in Showtime's favor is that they were willing to guarantee Mayweather's purses, while HBO was hesitant to do so.
So there you have it. Mayweather, who has been an HBO staple since the late '90s, is now across the street at Showtime. No, the earth didn't shake and seas didn't part but it's certainly a momentous occasion for this network, which has, for the most part, played second-fiddle when it comes to televising boxing over the past quarter-century.
The Executive V.P. and General Manager of Showtime Sports, Stephen Espinoza, told Maxboxing, "The closest I can come is to compare it to getting [Mike] Tyson. In terms of stature in the marketplace, the impact, the popularity, there's a lot of similarities. I think maybe the one difference is, I think, in today's market, Floyd is head and shoulders above everyone else in terms of popularity, visibility by virtually any metric. So the fact we were able to bring him over is just a tremendous coup."
(This statement from HBO Sports was sent to Maxboxing: "We made an aggressive and responsible pay-per-view offer. Now we move on. We are focused on the best boxing franchise in the television business. We are proud of the roster of superstar fighters and emerging stars who are scheduled to appear on the multiple HBO television platforms this year.")
There had been rumblings for months that Mayweather, through Al Haymon and Golden Boy Promotions (which has handled his events since 2007) were seriously contemplating going to Showtime. Many of Haymon's and GBP's stable had become ensconced at Showtime since Espinoza began his reign over there last year. On its "Championship Boxing" series, the network has carried nothing but Golden Boy cards since last March (when it aired the rematch between Orlando Salido and Juan Manuel Lopez, a commitment from the previous regime). Still, it seemed so unlikely; after all, Mayweather pledged his loyalty to HBO before and in the past, HBO simply had more resources and backing to keep such entities in the fold. They seemed like a 10-to-one underdog to nab "Money."

"10-to-one? I thought we were more when we first got into this process," said Espinoza. "But when I first got started compiling all of the different platforms that we're willing to contribute - and not just willing. We're enthusiastic about contributing - then it turns into a pretty impressive package and that's when I began to think: If we can break through conceptually against this long relationship and actually go head-to-head on the substance of a proposal, I was very comfortable with our chances based on that."

There's no doubt about it; the game has changed. No longer is HBO this unchallengeable monolith that will dominant the business at its whim. Showtime/CBS made a clear statement that they are intent on challenging the throne and becoming the preeminent force in the boxing industry. They are said to have raised their budget for license fees and the gap has closed in recent years when it comes to the number of subscribers (http://www.nytimes.com/2012/01/30/business/media/with-homeland-showtime-makes-gains-on-hbo.html?pagewanted=all&_r=0).

This is no longer David vs. Goliath.

And there is something HBO can never offer - the CBS component. Last year, the network dipped its toe back into the "Sweet Science" and will play a part in this much-talked-about package with Mayweather.

"Right now, we're in the process of finalizing the programming elements. Some of them will be somewhat familiar, an 'All Access' show and things like that. Some of them will be unique really to pay-per-view marketing and unique certainly to Showtime as well," said Espinoza, who says he will be able to talk more specifically about these plans next week as they are locked in.

So history has repeated itself. Over 20 years ago, Showtime acquired the exclusive services of Mike Tyson (quite arguably the greatest pay-per-view draw ever) but there was a downside to that. As they got into bed with Don King, their overall programming declined greatly through much of this deal. For every memorable night like the ill-fated bout between Nigel Benn and Gerald McClellan, we had far too many telecasts featuring Fabrice Tiozzo, Keith Holmes, Henry Akinwande and William Joppy vs. Roberto Duran. It's no secret that Haymon, through his "Mayweather Muscles," leveraged favorable deals for his clients( Andre Berto immediately comes to mind) on HBO. It was a classic case of the tail wagging the dog.

When asked if he was concerned over such a scenario repeating itself, Espinoza answered, "No more so than without that deal. Floyd stands separate and apart on his own. Certainly, Al Haymon is an important adviser to him and Al has other fighters but there is no sort of cross-collateralizing or cross-dealing here. There are commitments that we, as a company, made to Floyd and that's what this deal is based on, what we could do for Floyd, not what we could do for Al or anybody else."

This weekend, Showtime is broadcasting a doubleheader from Detroit featuring two boxers promoted by Mayweather Promotions, Ishe Smith and J'Leon Love, in a card not particularly anticipated by the masses.

"We're committed to making [Mayweather]'s fights as big as possible to exposing them on the broadcast platforms and casting the widest net," continued Espinoza, "and that's ultimately what's going to - we believe - contribute a healthier bottom line for him."

Richard Schaefer, CEO of Golden Boy, explained, "This is a decision which was not taken by me or by Leonard Ellerbe or by Al Haymon or by whoever. This is a decision which was taken by Floyd and Floyd is maybe one of the most loyal guys I have ever met. Because there's one Floyd Mayweather, the one you see on camera and there's another one who's smart and business savvy and just a really nice guy. And he's very loyal and for him, I think it's one of the reasons why it took so long for him to take this decision even though the Showtime deal wasn't just a little bit but substantially better than HBO's. HBO wasn't even close.

"But even then, it took Floyd that long to really make a decision because he has that underlying loyalty. But in the end, he had to do what was best for him and his family and that's what we did."

One factor in how successful this deal will work out for Showtime is: Just how many more fights the soon-to-be 36-year-old Mayweather has left in him? One of the major pitfalls of Showtime's deal with Tyson was that, quite simply, because of his legal difficulties, he simply didn't perform all that often in the '90s. The network didn't get out from under the hole till he faced Lennox Lewis in 2002 in an event that was more about satisfying Tyson's creditors than an actual prizefight. Those issues hopefully won't exist for Mayweather going forward but the fact is he's fought just six times beginning with his 2007 bout versus Oscar De la Hoya (the last time he fought twice in a calendar year).

Can he realistically be expected to box a half-dozen times over the upcoming 30 months?

"Well, y' know, if you commit yourself and, first of all, Floyd is going to be 36 years old next week or so, you have to look at an old 36 and a young 36," said Schaefer, pointing out Floyd's relatively low reading on his odometer. "So Floyd is without any question a young 36 because of the style he fought most of his career, defensive brilliance, living a healthy lifestyle - meaning no drinking, no smoking - and fighting once a year, twice a year maximum. So I definitely think he has the six fights in him and it's definitely doable. And if he's totally committed to it, which he obviously is, I think he realized - and sometimes, when somebody gets older, they realize things which they didn't realize before and they realize that maybe the clock is starting to run out and not everybody is like Bernard Hopkins, who, frankly, his biggest wins, including financially his biggest wins as well, came after 36 and he's fighting in a few weeks at age 50.
[Editor's note: Hopkins turned 48 last month, still a monumental feat for any elite boxer as he faces IBF light heavyweight titleholder Tavoris Cloud on March 9th.]

"Not saying Floyd's going to fight in his 50s but in a way, if you look at Hopkins, he's a defensive fighter and lives a very healthy lifestyle: doesn't drink, doesn't smoke and so on and here he is, fighting for a world title at age 50. So I think with Floyd being 36 and you're talking about two-and-a-half years, I really believe this is absolutely doable."

Sources say there is an out-clause in this deal for Mayweather after the first fight (if another network like HBO comes with a superior figure) but that seems unlikely if what Schaefer said about Showtime's offer to Mayweather being substantially larger than HBO's is true. But the amount of Mayweather events will determine a large part of how successful this deal is for Showtime.

"I sincerely believe that he wants to be more active," said Espinoza. "The number of fights on the timetable is something completely set by him and we've got reason to believe that's an article timetable. We'll see how they play out and how many he does and I wholeheartedly believe that up to six fights is definitely a possibility."

MAY 4TH

It's assumed by many fans that the co-main event to Mayweather vs. Guerrero is a junior middleweight unification tilt between WBC titlist Saul Alvarez and WBA titleholder Austin Trout. To quote ESPN's Lee Corso, not so fast, my friend.

"We're in discussions," said Espinoza. "One, that the undercard hasn't been set at all. I know there's been a lot of discussions but there's nothing in place on the undercard." He added, "'Canelo' may be on the undercard; he may not. And if he isn't on the undercard, I think we've got a very good shot at him. I'd like to think we're in the running but it's not clear who's on the undercard right now."

Alvarez and Trout caused a stir on Twitter last Friday by announcing they would be facing each other on May 4th. When asked if that took him by surprise, Schaefer said with a chuckle, "No, I'm not surprised. The fighters have not even signed the deal. None of the fighters have signed the deal, so how they can announce something, I don't understand. Sometimes, when these fighters have these hanger-ons and things like that, they egg them on to do certain things and you can't take these things seriously. I mean, didn't Floyd say as well that 'I'm going to fight Devon Alexander'? So I think we all have to sometimes take a step back from Twitter."

Schaefer spent much of Tuesday fielding media requests in the aftermath of the big announcement. Now, he works on finalizing Alvarez's next bout.

"Tonight and tomorrow, my full focus will be on the 'Canelo' fight," he said on that afternoon. "I will not be available for any interviews or any media calls because now I need to get that done by Friday. Whether it's going to be against Austin Trout or potentially one of three other opponents we're looking at and have had conversations with remains to be seen. But I know that fight fans really would love to see 'Canelo'-Trout and I'm going to see if I can get it done."

HBO'S PROBLEM?

An interesting chess piece here is Adrien Broner, a Golden Boy/Haymon client, whose last seven fights have been on HBO. This past weekend's bout versus the game but overmatched Gavin Rees produced a strong rating (attracting 1.4 million viewers and peaking at just over 1.551 million). There's no doubt about it; the Broner brand is growing and he is one of the game's best young talents.

But while it seems like a no-brainer for HBO to retain his services, there are some over there who believe the network would be best served by making a clean break from both Golden Boy and Haymon after this episode. It's one thing to placate them when Mayweather and Alvarez are on your airwaves but quite another when they're featured by the competition. Regardless, if this was a marriage, they are at least sleeping in separate beds if not taking part in a full-blown trial separation.

Schaefer, who has a card on HBO, March 9th from the Barclays Center, says, "I have a relationship that goes back a long time with HBO. I consider Mark Taffet and Kery Davis my friends; Richard Plepler, I consider a friend, a terrific guy. And so, in my book, in my opinion, nothing has to do with that. The fact is we have tremendous talent, one of the best young fighters who will be able to become a pound-for-pound star, Adrien Broner, and he just fought on HBO and I'll be happy to discuss with Adrien a multi-fight deal if HBO would like. So there's no animosity on my side."

HBO may not quite feel that way (all images of Mayweather seem to have been expunged on HBO Sports - and you thought Stalin worked fast) but perhaps they feel they are already in too deep with Broner, having subsidized his early career over the past two years. The threat of "The Problem" ending up on Showtime after the other defections could lead them to play this game of "Jeopardy."

Moving forward, while some may think of this as the demise of "The Network of Champions," if you go back to the era when King took Tyson to Showtime, HBO actually enjoyed a great decade that saw them have such commodities like Roy Jones, Lennox Lewis, Riddick Bowe, James Toney, George Foreman, Arturo Gatti and the creation of "Boxing After Dark," as they opened things up with the void left by DKP. You could argue that the '90s was their Camelot.

This recent development creates a huge void that Top Rank, Main Events, DiBella Entertainment, K2 Promotions, Goossen Tutor (and other promoters from outside the U.S.) can fill. HBO may have lost a pay-per-view titan but it's long past overdue to stop the decline of its regular boxing series.

Yes, history has repeated itself at Showtime.

It's not inconceivable that it can at HBO.

But can it happen without a Seth Abraham and Lou DiBella running things?

PLATFORMS

Regardless of where Broner and other Golden Boy clients land in the future, Schaefer wants a new protocol in place in terms of how the networks market fighters. He wants something other than just dates being doled out and opponents being agreed upon.

"It's the same cookie-cutter pattern. Is that what you do? Or are you going to say, 'OK, Adrien, you're going to be on TBS or TNT with the playoffs for basketball'? Now, let's get Adrien Broner in-studio. Let's put together a short version of '24/7,' a fighter profile about Adrien Broner and play it right after the NBA," said Schaefer, who is perhaps forgetting about the "2 Days" documentary done on Broner by HBO last year. But it's clear; he wants to promote as if it's 2013. "The cookie-cutters need to get out of here. That is, at the end of the day, the difference between the HBO proposal and the Showtime deal - the cookie-cutter.

"I mean, this isn't about getting this a little bit better or that a little bit better. It's about redefining how you present the product. Take, for example, press conferences - and these are little examples but these little examples over the coming months add up to a new paradigm - the way they have been done the last 20, 25 years for boxing. You go and do the tours; you go do a multi-city tour. The question is how many stops it's going to go and so on. So I'm not saying it's a thing of the past but I'm not so sure that it is really the most effective way to make our event. So what we want to do is do the press conference from a CBS lot, from a studio in Los Angeles in front of a live audience and have some of the L.A. journalists there as well, who can ask questions and other journalists from around the world who can pre-submit their questions. Similar to what you've seen at presidential debates and you have a moderator who will read the questions to the fighters and they're going to answer to that. And you have a nationally televised press conference on CBS.

"That's the kind of stuff I'm talking about."

SHOWTIME FLURRIES

OK, the Nonito Donaire-Guillermo Rigondeaux fight is good to go, right?...Main Events announced that the heavyweight bout between Tyson Fury and Steve Cunningham is finalized for April 20th at the Theater at Madison Square Garden on NBC...Mickey Bey, yeah, he wasn't just juiced in his last fight. Good grief, he was nuclear...Are Richard Sherman and Darrelle Revis going at it on Twitter? Put 'em in a boxing ring…


I can be reached at k9kim@yahoo.com and I tweet at www.twitter.com/stevemaxboxing. We also have a Facebook fan page at www.facebook.com/MaxBoxing, where you can discuss our content with Maxboxing readers as well as chime in via our fully interactive article comments sections.