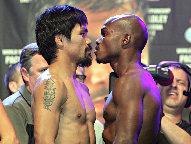 (Pacquiao 147 lbs - Bradley 146 lbs - Photo © Chris Farina / Top Rank)



"I don't want to go into a fight half stepping.," Tim Bradley said as his physique was getting greased down for a session in the ring at Fortune Gym in Hollywood, CA. The question was whether or not this was the toughest fight camp of his life. The answer could easily be found not only in the always impressive physique of Bradley, sonnets have been written to his abs alone, but in the fire burning all around him. From his eyes that flashed fiercely every time the subject of Manny Pacquiao, whom he fights at the MGM Grand on HBO PPV Saturday night, to the timber of his confident voice. Tim Bradley is coming to take what he wants from Manny Pacquiao is everything a fighter dreams of. Glory, respect, money and domination. All for the price of physical, mental and emotional sacrifice and risk in the most violent profession there is.

But how when is training hard too much?

"I just try to listen to my team," said Bradley as his hands were wrapped by trainer Joel Diaz, a veteran trainer from Bradley's hometown town of Cathedral City in the Coachella Valley, CA. These are men who grew up in the desert and choose to live in this oasis town. "We have team meetings. I know how hard I can push my body. I've been doing this for eighteen years."

For eighteen years, Bradley has toiled in relative obscurity despite being 28-0 with 12 knockouts and being universally recognized by boxing fans as the champion at 140 pounds. But title fights with Lamont Peterson, Junior Witter or even Devon Alexander are not HBO PPV fights with Manny Pacquiao. So is Bradley overdoing it in training or is he appropriately preparing?

To hear him tell it, he's right on point. He explained that he'd unknowingly gone stale in training once before.

"One time," Bradley said. "It was awhile back. It was like it was my twelfth fight or something like that. I got completely gassed after the first round. It was like I never trained for the fight. I felt extremely weak in the fight I didn't lose the weight properly. I just ran and was completely over trained. It was bad. I ended up stopping the guy but I felt like crap to that point."

If there is a through line with Bradley its determination. He's been knocked down before. Doesn't matter. He gets up and he goes to winning work. Black in a Mexican market? Who cares? He's a world champion several times over. No one-punch knockout power? "If I don't hit hard why don't anyone walk right through me?" Bradley asked as he danced around the ring, holding court and displaying well- thought out combinations. Tough times is where Tim Bradley gets started.

"I got my rib popped in a fight," Bradley said matter-of-factly and freaking out the assembled press by showing us all how it still sticks out from his cage. "In the second round. It was an actual championship fight. I swelled up after a body shot. I went back to my corner and said "I think he broke my rib."

"I said 'You got two options," laughed a very serious Joel Diaz. "Stop the fight . . . "

" . . . Or you got to stop this guy," finished Bradley. "I said 'I'm stopping him.' I ended up stopping him. It was against Miguel Vasquez who is a champion right now."

The fight was a mental and physical test as Bradley had to hide his injury while trying to actually win the fight. Everything was on the line and he responded.

"I just was trying to protect that rib and finish the fight," said Bradley. "Every time I threw, I t was extreme pain. I would grimace in the middle of the ring. We got close. He didn't even know he hurt me. That was the key. To not let him or his corner know he had hurt me. No one knew but my corner. That was the biggest thing was not letting him know I was hurt for eight rounds."

Hiding pain is no thing new to Bradley who said he learned at an early age how to play poker in the ring.

"It was something I learned when I was young: Never show weakness in the ring. If you show weakness, a guy knows he has you. That was the hardest thing was when I had to throw," said Bradley. "That was the most extreme pain. Every time I threw a punch, every time I moved, it was just pain, pain, pain. I went to the hospital."

How bad was the pain on a scale of 1-10?

It was a 100, man," said Bradley. "I never felt pain like that."

"He collapsed afterward," said Diaz. "We had to carry him to the car and he fought ten rounds with a broken rib."

Bradley first dipped his toe into the welterweight division, where he will fight Pacquiao, against Carlos Abregu July 17, 2010. The fight went the distance and fans got to see him in with a true welter billed as a power puncher. Abregu is slower than Pacquiao by like 100 MPH and fights nothing like him. Still, Bradley got a look at the division both as a pro and as an amateur.

"I felt the power. Abregu was a heavy puncher. But it wasn't enough to scare me out of the division," said Bradley who scaled every height not named Amir Khan at 140. "I'm a natural 147 pounder. It's a natural weight for me. I feel comfortable. I fought at 147 pounds in the amateurs and I fought at 152 pounds in the amateurs when they changed it over. Big guys are not a problem for me. I can stay inside of them. It takes them longer to get their hands back to their face than a guy with shorter arms. So I am able to counter punch effectively and break them down."

Manny Pacquiao, who weighed in on Friday at 147 to Bradley's 146, is not a bigger, slower man, He is a southpaw whiling dervish with lightning and thunder in both fists. He won't go easy. His chin, his will, experience and countryman won't let him. He can hit you from angles you never thought of and knock you out cold with the proverbial "one you never saw coming."

"I don't even think about that. I never go into a fight thinking of somebody's power; Thinking about being hurt or think about 'What if he touches me.' I just go in there and live in the moment," explained Bradley. "If I am in the moment it really don't matter. If he hits me like they said 'Casamayor. Oh watch out for his left. He hit me with that left and I was like 'That's it? 'That's it?' I was like 'Oh let me just walk this dude down. I'm going to get in there and if [Pacquiao] doesn't hit like they say, he going to get walked down, too. I'll be able to make my adjustments. In the first round I'll know about his power and see if I need to get my hands tighter, keep my chin tucked. And we'll go from there."

In his last fight against Juan Manuel Marquez, Pacquiao displayed a glaring inability to defend against a counter puncher. Still, it was not enough offense to impress the judges who went with Pacquiao's heavy volume, however ineffective it may have been at times. Give a choice between slowly boxing safely or fighting into the center of the storm and breaking down Pacquiao to the head, body and soul, Bradley's choice was a no brainer.

"Smash him, answered Bradley. "I gotta smash this guy."

Why hasn't "smashing" Manny Pacquiao worked before? He hasn't fought a young, starving champion in a long time if ever. This is Bradley's hope. This is his dream. That when he was finally ready to face a champion like Pacquiao, time, space and the soon to be 60 fights Manny Pacquiao has gone through have not prepared him for the man he is about to face.

"No one's Tim Bradley," he said. "Hurt him with body shots. Margarito did. But he was too slow. He stood there like a tree. Come on, man. You can't do that. You have to be able to get in and get out. Get out of range, go back in. Go in, tie up, step inside. You have to be able to do all that. Everything."

Saturday night, we'll find out if Tim Bradley can do all that.