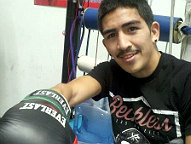 Photo © K9 Photos


Co-headlining this Saturday night's card from the StubHub Center (Showtime 10:30 p.m., ET/7:30 p.m., PT) is Leo Santa Cruz, a fighter on quite a run recently. At this time last year, he was still just a relatively unknown beltholder still trying to gain a foothold in the business. He ended 2012 (where he performed five times) as a fighter with immeasurable momentum and kicked off this year by earning a spot on the Floyd Mayweather-Robert Guerrero pay-per-view card.
Santa Cruz is clearly a rising star and an anticipated clash with fellow Los Angeleno Abner Mares (who takes on Jhonny Gonzalez as the main event this weekend in Carson) looms.
But first things first; he has to get past WBC junior featherweight beltholder Victor Terrazas

.

And Terrazas represents the toughest test to date for "Teremoto."
"Yeah, I think it is my toughest fight of my career right now," agreed Santa Cruz last Friday morning before his day's work at the Who's Next Boxing Academy in the City of Industry. "Terrazas is a great, experienced fighter. He has God-given technique; he comes forward, pressuring a lot like most Mexican fighters do coming forward. But I think right now, he is the toughest fighter of my career."
Eric Gomez, matchmaker for Golden Boy Promotions, the architect of Santa Cruz's career the past couple of years, concurs, stating, "It's a different weight class; he's moving up in weight, so it's a risky fight. He's fighting a bigger guy, a naturally bigger, stronger guy, so it is his toughest fight. The fight he had with the African kid [Vusi Malinga] for the [vacant IBF bantamweight] world title was a tough fight but that was more his weight class at 118 and he outgrew it now. And I think he should be stronger at 122 but, yeah, I would say it's the toughest fight he's had."
Terrazas, who comes in with a mark of 37-2-1 (21), is a fighter on a strong run. He's won 11 straight and has victories over the likes of Cristian Mijares, Nehomar Cermeno and Fernando Montiel. At age 30, Terrazas is still in his physical prime.
Santa Cruz admits, "The only fight I've seen of Terrazas is when he fought Mijares. Right there, he didn't look that good but I think he says he didn't come prepared that good. But we still train 100 percent to battle and we're going to give it our all."
It's true; Mijares, who came on late back in April, may have nipped Terrazas at the end but came up on the short end of a close, split decision verdict. Regardless, Terrazas is a sturdy and seasoned pro, one who won't go away easily. During his ascension, Santa Cruz was paired with older veterans playing out the string like Eric Morel and Alexander Munoz and heavy underdogs like Alberto Guevara and Victor Zaleta.
In other words, he was supposed to win those bouts. This here is no lay-up but Terrazas has a style that is very favorable for Santa Cruz, who won't need MapQuest to find him.
"I think his style is perfect for me," said the 25-year old, who has a record of 24-0-1 (14). "It's the style I like. He has good technique, moves forward, stays right there and we're going to have a war. And those are the kind of fighters I like. I get used to them better and if they run and move a lot, they make it more difficult. This style is perfect for my style."
Santa Cruz's bout against Munoz was his initial outing at 122 pounds. Quickly, the WBC installed him as the mandatory challenger to Terrazas and Golden Boy didn't hesitate to pull the trigger. "He's ready," said Gomez. "If you look at his last 10 or 12 fights, he's knocked out like eight guys - and durable guys- who normally don't get knocked out. So I think he's grown into his body. He's grown into his 'man-bones,' as they say in boxing, and I think that it's time. It's time and he's ready for the big challenges. He's ready for the bigger fights and this is a step towards that direction."
So while there is a lot of talk of an L.A. showdown between Mares and Santa Cruz (who have sparred before a couple of years ago when they both worked at the Maywood Boxing Club), there is still work to be done on Saturday night.
"I've been hearing that a lot, that they want me against Mares and I'm trying to focus on one fight," said Santa Cruz. "They think I'm going to go through the fight easily but I just want to focus on the fight I'm going to go through and then if everything goes good in the next fight, if the fans want it and the promoters and manager make it - I'm willing to fight that fight."
Last year, Santa Cruz burst onto the scene by performing five times and playing on bigger platforms like Showtime and, eventually, CBS. This weekend will mark just his second outing of 2013.
"My body feels rested, yeah, but I get tired of waiting too much," said Santa Cruz. "Since I haven't been active, I feel bored at being inactive. I want to stay busy. I want to fight at least four times this year but I'll probably fight only two or three. But it all depends on how this goes."
The reality of this business is that as the stakes get higher - and the money increases - activity is sacrificed as boxers become reliant on network dates being available and if they get to the pay-per-view plateau, more time is needed to promote and market those events.
Gomez explains, "Now that [Santa Cruz]'s fighting on Showtime and he's commanding the bigger purses and he's getting known out there and he's fighting title fights, he's defended his title a few times but his last fight wasn't for a title but if we get three out of him [this year], that's great. But he's getting the spotlight; he's getting the bigger fights. Three would be great; if we can squeeze in a fourth, that would be tops.
"But he's an exciting fighter; he's getting a lot of momentum, a lot of fans. People are starting to recognize him and he's got a beautiful style. It's very pleasing."
But for Santa Cruz, with whom boxing is not just a profession but his passion, wants to stay as active as possible.
"The fighters are going to get a lot stronger and with better fighters, I think I'm going to need a little more time to recover. But if everything goes good, I'm willing to fight more times, four at least."
Looking ahead to the HBO fall schedule (which seems very strong on paper), there's a very good chance they could be doing a trio of tripleheaders.
Word is HBO is interested in televising the heavyweight tilt from Britain between David Haye and Tyson Fury on September 28th, when they already have Adonis Stevenson-Tavoris Cloud and Julio Cesar Chavez Jr.-Brian Vera lined up. Should all three fights be on the broadcast, this telecast would take place from three separate venues.
On October 5th, HBO has Miguel Cotto facing Delvin Rodriguez and Terence Crawford taking on Andrey Klimov in Orlando, Florida and the heavyweight championship between Wladimir Klitschko and Alexander Povetkin from Russia.
And on the ninth of November, you have Mikey Garcia and Nonito Donaire co-headlining with the bout between Vanes Martirosyan and Demetrius Andrade for the vacant WBO 154-pound title.
Now, much of this is because the September 7th card having to be scrapped (due to Chavez Jr.'s "cut") but I'm not complaining. I want more boxing for my HBO subscription and it certainly beats one-fight broadcasts. Besides, HBO owes us after its summer siesta.
Good luck to a great guy on his future endeavors.
Speaking of Chavez Jr., here's my latest contribution to SportsOnEarth.com on the perpetually troubled boxer:
And here's the latest edition of "The Next Round" with Gabe Montoya and Yours Truly:
It's official: Vasyl Lomenchenko will face Jonathan Oquendo as part of the pay-per-view undercard of Tim Bradley-Juan Manuel Marquez in Las Vegas on October 12th. Yes, he's making his pro debut with a 10-rounder...Yeah, unless CBS and Time Warner Cable can come to an agreement this week, those subscribers will miss this upcoming Showtime card....Main Events and NBC will have a show on November 16th and an NBCSN broadcast on December 14th...Should the Red Sox of all teams really be that outraged by "A-Rod"? Pot, meet kettle...Just how many homicides was Aaron Hernandez involved in?...I can be reached at k9kim@yahoo.com and I tweet at www.twitter.com/stevemaxboxing. We also have a Facebook fan page at www.facebook.com/MaxBoxing, where you can discuss our content with Maxboxing readers as well as chime in via our fully interactive article comments sections.