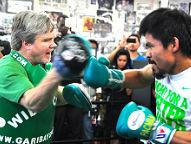 (Photo © German Villasenor)


The hay is in the barn as far as sparring goes for Manny Pacquiao as he prepares for Timothy Bradley this Saturday night at the MGM Grand in Las Vegas. The last rounds of sparring for this camp took place last Saturday afternoon at the Wild Card Boxing Club in Hollywood, California. But there was a significant change this time around, regarding just who was in the ring with Pacquiao. Some familiar faces like David Rodela, Raymundo Beltran and Mike Dallas were not brought in this time around.
The reason was very simple; familiarity did not breed contempt with the "Pac-Man," who had a rather flat performance against Juan Manuel Marquez last November.

"We needed fresh guys," said his noted trainer, Freddie Roach, last Thursday, on what would be their second-to-last sparring day. "He was getting too used to them and Manny's kinda compassionate and I wanted a little bit harder work. I got a couple of Russians and they don't speak English. If Manny complains they can't understand him and they keep boxing, it's worked out very well; I think."
The bottom line is that Roach felt these sparring sessions in the last camp or two had devolved into glorified pillow fights between friends. While sparring is not supposed to replicate the intensity and danger of a real fight, it has to be hard work. Roach believed he had a fighter who wasn't getting what he needed out of these scrimmages. "They were so used to each other that no one was going to get hurt," he stated. "The Russian guys, right now, they're trying to get that $1,000 bonus [for knocking Manny down]."
Roach added, "I don't believe in just getting a guy in there and going through the motions. It's gotta be more competitive to bring out the best in a fighter and that's why I brought these guys in." There's no doubt that, in the trainer's opinion, the sparring his charge had in the lead-up to his third go-round with Marquez didn't get him nearly sharp enough to face the ace counterpuncher. "I think so; it showed in that fight and the thing is, that's a major reason why we switched it up and obviously the distractions and so forth didn't help anything."
So in came the likes of Ruslan Provodnikov, Syrab Shidzev and Kevin Hoskins, among others. Fresh new faces designed to break the monotony that may have set in the past few camps.
And it's been Provodnikov, a world-rated junior welterweight who has provided Pacquiao with his best work.
"He's the number one guy," confirmed Roach, who then takes a dig at the man they'll be facing on Saturday night, "and I think he's better than Bradley. Matter of fact, Bradley should think about fighting him next, not Manny Pacquiao. He can't beat my second-best guy."
So did Roach ever fall into the trap of taking it easy on sparring partners he knew, back when he boxed professionally?
"No, I tried to kill them every day," he said, laughing loudly at the thought. "Steve Delgado was a welterweight; I tried to kill him. We were roommates; he said, 'Why are you trying to hurt me?'"
To this, Roach said he replied, "Well, you're bigger than me."
So just how is Roach getting along with Pacquiao's strength-and-conditioning coach, Alex Ariza? If you've been watching "24/7" on HBO, you'd say that if this were a marriage, they'd be sleeping in separate beds and preparing the divorce papers. Roach said on the most recent episode that Ariza will not be in the corner come fight night (although that might be Pacquiao's decision when it's all said and done).
"The thing is, I just spoke the truth. He shook my hand yesterday; I told him I was throwing the first pitch out [for last Wednesday's Dodgers game] and he gave me some advice on how to throw the first pitch out. There's no problem," stated Roach, a couple of days before the third episode of "24/7" was aired. "I'm never going to let my fighter see any tension in the camp, that there's something wrong, because Manny's the most important thing and that's what we have to worry about. So there's not going to be a fist fight or anything like that in the Wild Card or anything like that. If Manny wants Alex here, that's his choice and he's going to be here."
Of the months they spent preparing for this fight, Roach says, "We had a great camp. Manny's been very focused- a lot more focused- lot less distractions; sparring's been very good."
Bob Arum told Maxboxing, "See, he's now stuck. [Mayweather]'s saying, 'That was then; this is now.' Well, before the end of 2009 going into 2010, he had appreciably better numbers than Pacquiao because the Mayweather-[Oscar] De la Hoya fight did double [the average] before. Since then, Pacquiao's numbers have been better. I know what the [Victor] Ortiz number was. We've done better; we've done more pay-per-view buys from the beginning of 2010 to 2011 and we haven't had the 2012 fight yet. We've done more pay-per-views then they have; we've done bigger gates, sold more tickets. But the point is, all of that is irrelevant because like Joe Frazier said, when people said to him, 'How can you ask for the same amount of money [Muhammad] Ali is asking for because Ali is more popular?' He said, 'Let me ask you one thing. People want to see Frazier and Ali fight, right?' [A] reporter said, 'Yes.' He said, 'Without Frazier, there ain't no fight.'"
Eventually, they went on to split the money down the middle and engaged in the "Fight of the Century" on March 8th, 1971.
"When it's so close and so forth, this isn't like a Pacquiao and Bradley or Mayweather and even a Cotto. It's not like that," explained Arum. "Those aren't parity fights. This is a parity fight. The only reason why he has now brought this up after two years of everybody accepting it as 50/50 is because there are no more issues. He relied on the testing issue- and it's not true- we've said, 'OK, we'll do the testing but cut it off at two weeks before,' and Al Haymon agreed. [Golden Boy CEO] Richard Schaefer agreed; everybody agreed but Mayweather wouldn't do it."
Perhaps Arum is saying this now as he braces for an event which has the very good possibility of not doing the usual numbers associated with a Pacquiao pay-per-view event. Regardless, you get the sense that unless it's 50/50, you will not see Pacquiao and Mayweather in the ring together anytime soon.
And speaking of the testing issue, just which organization would be used in the event a fight between the two titans is agreed upon?
"This would be the only issue on testing procedures; it doesn't matter if it's VADA or USADA, the testing," said Arum. "But we would insist that whoever did the testing, it would be under the supervision of the Nevada Athletic Commission so that all reports or all excuses were made to the commission and so forth. Because otherwise, it's just cowboys and Indians, people without any legal authority."
(And that's the last and only time Pacquiao-Mayweather will be discussed under this byline this week.)
I've said that Bradley is a live dog in this fight. Here are some odds sent by Bovada (www.Bovada.lv) on the fight. Uh, this is just for entertainment purposes only, of course...
MGM Grand, Las Vegas, Nevada, United States
Manny "Pacman" Pacquiao

-450
Timothy "Desert Storm" Bradley

+325
Manny Pacquiao
vs Timothy Bradley
Manny Pacquiao vs Timothy Bradley - Method of Victory
Manny Pacquiao By Decision or Technical Decision

11/10
Manny Pacquiao by KO, TKO or DQ

8/5
Timothy Bradley by Decision or Technical Decision

11/2
Timothy Bradley by KO, TKO, or DQ

9/1
Like I mentioned before, as tough as Bradley might be, you just wonder if he causes any buzz as the B-side in this equation. And perhaps now, Pacquiao himself is feeling the backlash from the public who want to see a certain fight (that I promised not to bring up again for the time being).
I received information from Marc Abrams of www.gofightlive.tv regarding funeral arrangements for Robert Murray Sr., a true force in Philly boxing management and promoting who will truly be missed:
ROBERT MURRAY, SR.


FUNERAL ARRANGEMENTS
PHILADELPHIA (June 4, 2012)--
The boxing community was saddened on Sunday when longtime Philadelphia personality Rob Murray, Sr. succumbed to cancer.
Murray was a well known fight figure for three-plus decades as he managed, trained, promoted and did almost everything around Philadelphia boxing.
Murray was the original manager of future Hall of Famer Bernard Hopkins and also managed future world champion Steve Little. Murray trained Bennie Briscoe for a short period. Murray managed world title challengers Will Taylor and most recently guided the career of World Heavyweight title challenger "Fast" Eddie Chambers and his brother Steve Upsher Chambers.
For the better part of the past decade Murray was the Director of Boxing at The Legendary Blue Horizon.

As many of you know, Rob or "Big Rob" was one of Philadelphia's outstanding boxing personalities. He was known for his WURD Radio Shows- This Week in Boxing and This Week in Sports.
Rob was married to Denise Blocker Murray and the proud father of two sons, Robert, Jr. and Raheem.
FUNERAL ARRANGEMENTS ARE AS FOLLOWED:
Sister Clara Muhammad School


4700 Wyalusing Avenue




Philadelphia, PA 19131


Wednesday, June 5, 2012 at 12:30 P.M.
Artie Pellulo tells me the fight between WBO middleweight titlist Dmitry Pirog and Gennady Golovkin is "90 percent done" and he expects to have it finalized soon for August 25th on HBO. Look for Sergiy Dzinziruk (remember him?) to face Jonathan Gonzalez in the opener...Hearing more and more that the Oracle in Oakland will play host to the September 8th bout between Andre Ward and Chad Dawson. The HBO opener that night looks like it will be a bout between WBC lightweight champion Antonio DeMarco and the hard-hitting Johnny Molina (who will have a tune-up bout on June 23rd)...Speaking of June 23rd, the name mentioned for heavyweight Chris Arreola for the Staples Center is Mike Mollo...According to a press release, Anthony Mundine will face Bronco McKart on July 14th at the Palms Casino and Hotel in Las Vegas...Are the L.A. Kings really just one game away from the winning it all!?! As a diehard Kings/hockey fan, I can't believe they are just a few quarters away from the Stanley Mug...Could the Spurs really end the season on a four-game losing streak?...Great to have "Hell's Kitchen" back. Season ten; where does all the time go?

...

I can be reached at k9kim@yahoo.com and I tweet at www.twitter.com/stevemaxboxing. We also have a Facebook fan page at www.facebook.com/MaxBoxing.