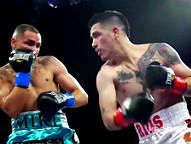 (L-R: Alvarado - Rios)


When

Brandon Rios

and Mike Alvarado first climbed into the ring together on the night of October 13th, 2012, they did something thought to be highly improbable. Over the course of seven heated rounds, the back-and-forth battle exceeded ridiculously high expectations. In an era when fans are conditioned to be guarded and prepared to be let down, this fight delivered - and then some. It's one of those clashes that will be discussed for years to come (youtube.com/HBO Hilghlights). There were no titles on the line or any pound-for-pound implications, just two hardnosed combatants looking to get the better of each other.
It was everything Rios had in mind.
"It was a fight; unbelievable," he said last week at the Fortune Gym in Hollywood during media day. "I expected everything the way it turned out and it was awesome. [Alvarado] came to fight; I came to fight. We gave the fans everything they wanted." When asked, however, if he expected that level of carnage and mayhem, Rios responded, "At first I did, then again after training camp, I thought, 'Nah, it might be different; he might come out with a different game plan.' But then again, like I said, I expected everything that it turned out to be because I know he was a warrior. He likes to come forward. I've never seen nothing different in all his videos, so I knew it was going to be that kind of fight."

The fight featured some heated exchanges and brutal flurries with neither fighter willing to give an inch or capitulate control of the ring. Alvarado, the taller, rangier boxer, eschewed those advantages and decided to go right into the eye of the hurricane with Rios, perhaps thinking he was the bigger, more natural 140-pounder. He believed "Bam Bam" wasn't quite the wrecking ball he would be as a lightweight. "Honestly, I think he did [think that]," confirmed Rios. "He seen it like, 'This guy's coming up to my weight class. There's no way, any chance in hell, he has the power and the ability to keep up to the 140-pound class.' Because he was a big 140. He figured that it would kinda be easy for him."
Instead, as Alvarado banked early rounds, Rios took control of the proceedings in the sixth round. Yeah, he was stunning Rios but Rios started buzzing him in return even harder. Alvarado may have won some early battles but he lost the war. While Alvarado was having success offensively, it came at a certain price as he was giving Rios opportunities on the inside to chip away at him. Alvarado succumbed to Rios' heavy two-fisted attack in the seventh frame. It was the kind of affair that could shorten a career, so the natural inclination is to hope they try and make it an easier fight the second time they meet up (Saturday, Mandalay Bay Resort and Casino, 10:15 p.m., ET).
But Rios ain't having it.
"Umm, negative; why make it an easy fight? I fight the way I fight and I love to fight like that. The way I fight, that's the way I fight," said Rios, whose style is about constant pressure and breaking his foes down. "Maybe if I try to change up my style, it can affect me and hurt me at the end. So I'm just going in there and fight the way I always fight." Yeah, Cus D'Amato once said, "Square pegs don't die round." Rios is gonna Rios. He is who he is. And he knows what he is. That simply won't change. The question is, will Alvarado? "Honestly, that's what's been going on in my mind. I think he's going to do a little adjustment, maybe clinch when we get close. I think that's what he's going to try to do, maybe try to outbox me, try to stay off, use his reach," surmised Rios. "Keep on the outside. But y' know what? At the end of the day, he's a warrior and he's going to know one thing to do and when I come forward, he's going to come fight."
In light of his big win in October, there was talk of Rios facing Manny Pacquiao this April. But those plans evaporated (along with a huge payday that most likely could have brought him upwards of $10 million) as Juan Manuel Marquez knocked out the "Pac-Man" in the sixth round of their fourth meeting in December. His reaction to see Pacquiao fall face-first and unconscious to the canvas and his lottery ticket go down the sinkhole? "I was like, 'Marquez did everything right to come into that fight.' He fought him three times before that so he knew what to do and he had a great training camp. So he knew what to do and it does suck because I was hoping to get the winner but at the end of the day, it's part of boxing. So it's all good, man. I wish both of them well and hopefully, I can fight them in the future now."
So instead of Pacquiao, Rios is now forced to go "Mile High" again and perhaps the natural inclination is to overlook a guy you just stopped. But Rios insists that will not be the case.
"No, there's no letdown," he says. "I'm glad they put another fight like that in front of me. I always want a war and I love to fight and y' know, I'm ready. I hope Alvarado's ready and we give the fans what they want. It's not a letdown but if I think it's a letdown, then I want to be able to perform right and I want to be able to do my job right. So it's alright; it's boxing. Things happen for a reason. So I'm just ready for the future and getting ready to take care of Alvarado again." His trainer, Robert Garcia, states there will be no overlooking Alvarado. "No chance at all. Not in me, not in Brandon; we know the sport. We know things happen. Brandon is training harder than the first fight. Brandon has added a few things to his training that is going to be something that people will see and they'll see the difference in the fight. Pacquiao's still there. Hey, it could happen before the end of this year. It could happen next year; we don't know. If it doesn't happen, there's so many other fights anyways."
Cameron Dunkin, who manages Rios, says his fighter was fine with facing Alvarado again. "He was ready to move on. He just wants to fight." In Rios, he has a low-maintenance client, one overly concerned with the extracurriculars of the business. He just wants to do his job inside the ring. There's a certain simplicity to Rios that is endearing. "He wants to fight everybody, no doubt, but he's not one of those guys that really cares. As long as he's fighting and gets the kind of attention he's getting for this one, he's happy," said Dunkin.
"I don't see any let down. In fact, I see a guy more determined than ever. I know it's a scary fight; it's a dangerous fight but he's very excited about it."
There are some fans out there who feel that this rematch is taking place too soon (I'm guessing those are the same people who would complain too often about having an In-N-Out burger). Sometimes, you have to enjoy the simpler, more available pleasures in life as they come, like the bookmakers.co.uk.
"Absolutely. I mean, people talk about fights being too soon and things like that. These guys are throwback fighters. This is what the old days were about," said Top Rank president Todd duBoef. "People talk about how [Sugar Ray] Robinson and [Jake] LaMotta fought twice within three weeks - and no one said it was too soon, right? It was Robinson and LaMotta! Enjoy what you got, two great young kids who put on an incredible performance that night in October and are going to look to make another statement again in March."
DuBoef believes that for Alvarado, it's a chance for revenge and for Rios, an opportunity to continue to build his brand - with or without a Pacquiao showdown.
"Brandon's young; he's telegenic; he's full of character and obviously, he would've loved to have had a Pacquiao fight for the economic benefit but for Brandon's purposes, he can create the economic benefit himself without Manny Pacquiao. And his telegenic style and the way his grit and charisma and his style in the ring are translating to him being a big attraction in boxing."
This go-round will be held at the Mandalay Bay in Las Vegas where duBoef claims, "I think we have like 6,500 [tickets sold]. We'll be at complete capacity at Mandalay Bay in that half-arena. It's set up for just under 7,000. I think we'll be close to that."
Boxing (and HBO Sports) got some much-needed momentum in what has been thus far a rather tepid 2013 when Tim Bradley and Ruslan Provodnikov battled tooth-and-nail at the Home Depot Center on March 16th. Watching at home was Rios, who thoroughly enjoyed the action.
"What a fight! What a fight!," said Rios, who had nothing but respect for both participants. "Bradley came in and gave it his all; the Russian came in and gave it his all. It was just one helluva fight. I was on my seat at the house, 'Oh, sh*t! C'mon! C'mon!' I was jumping up and down and my wife was like, 'Calm down.' I'm like, 'This is a good fight! Why do you want me to calm down?!"
A few days ago, I talked about how Twitter can drive viewership of televised events, such as Bradley-Provodnikov, which created plenty of buzz after the early rounds. This article here talks about that particular dynamic (especially among the younger demographic):
It's interesting; as you go through the last three HBO telecasts, you'll see that the February 16th card featuring Adrien Broner vs. Gavin Rees started with 824,000 viewers, peaked at 1.39 million and finished with 1.2 million. Bernard Hopkins vs. Tavoris Cloud on March 9th started with 830,000 viewers, peaked at around 1.2 million and ended with 1.056 million. Meanwhile, the Bradley-Provodnikov telecast started with just 582,000 viewers, peaked around 1.232 million and ended with 1.257 million (meaning it was the only one of the three to continuously build an audience throughout).
It's clear; last weekend's HBO broadcast was perhaps hampered by other sporting events (like the final Big East hoops tournament) and the low expectations of the two co-features, especially the much-maligned Bradley. There wasn't all that much interest in this card going in but after Provodnikov got out of the gate quickly and hurt the "Desert Storm" early on, word spread and suddenly, this fight became must-see-TV.
Robert Stieglitz just flat-out bullied the bully in Arthur Abraham this past weekend in recapturing the WBO super middleweight belt. Hopefully, this sets up a bout versus the rapidly rising George Groves...Some rather interesting decisions on "Friday Night Fights" in Chicago, huh? It seemed to most observers that hometown fighters Adrian Granados and Don George had done more than enough to win. Instead, they had to settle for two unpopular draws. Yeah, those two decisions in the "Windy City" blew...With Adonis Stevenson scoring a highlight reel KO of Darnell Boone on Friday night, look for him to face Chad Dawson on June 8th in Montreal on HBO...Adrien Broner, yeah, he's gone where no man should ever go. Let's just leave it at that...Any Yanks seen Kal Yafai yet? This is a very good-looking young fighter from the U.K....Speaking of which, not only is Felix Verdejo improving quickly since his pro debut in December, he is already building a rabid fan base in Puerto Rico...Nice signing by the Ravens with Elvis Dumervil. Baltimore needs a pass rusher to complement "T-Sizzle" Suggs...So how many of you really canceled HBO? With "Game of Thrones" coming up, you must be outta your minds...Larry Merchant says that like Yours Truly, he watches "Nashville" and - get this - digs the music. See? If it's good enough for Larry...I can be reached at k9kim@yahoo.com and I tweet at www.twitter.com/stevemaxboxing. We also have a Facebook fan page at www.facebook.com/MaxBoxing, where you can discuss our content with Maxboxing readers as well as chime in via our fully interactive article comments sections.