Azad Championship Report - One Down, Five to Go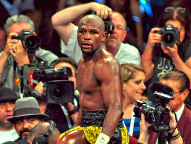 (Photo © German Villasenor, MaxBoxing)


Boasting an "All Access" reality series, two "documentaries," media workout clips, conference calls, guest appearances on crossover platforms and ultimately a fight, the media tidal wave "May Day: Floyd "Money" Mayweather Jr. vs. Robert "The Ghost" Guerrero" was a sight to behold. The fight itself was more an exhibition of the reasons why Mayweather is known as the most gifted and skilled boxer of the modern era. As a compelling prizefight with a challenger who posed a threat, well, did I mention they did a really big media blitz? Before a crowd of close to 16,000, Mayweather, 44-0 (26), was both Prospero and the Tempest itself, luring Guerrero into the ring and then shipwrecking him there for his own purposes. The fistic genius that's earned "Money" the right to nickname himself anything he wants was in all its glory. Ring generalship, the ability to change trajectory with either hand, the alternating current jabs complemented perfectly by a diverse defense including grappling, parrying, deft footwork, slipping and ducking. There isn't anything Mayweather doesn't do to perfection in the ring.
When the scores of 117-111 were read three times, the only thing shocking was that they were even that close. This writer gave Guerrero the sixth round and thought he might have squeaked the ninth but overall, it was pure Mayweather domination from start to finish. I don't recall Guerrero landing more than twice in a row all night long. The overall impression was that Guerrero never stopped coming forward but that didn't mean he never stopped trying to win. There was more passion from him in the staredown than in the fight. Guerrero had to know at some point he needed a knockout to win. But the man who felt Jesus had preordained him to humble Mayweather seemed content to discover that, in fact, God's plan was simply to go the distance.

Maybe it's me but I like my losers to not be so happy-go-lucky in the aftermath of their losses. Guerrero was all smiles afterward and seemed content in losing a lopsided fight via a basic, one-gear fight plan.
"Hopefully before Floyd Mayweather retires, I get that shot again," mused Guerrero after a performance that doesn't warrant rewatching, much less rematching.
This is not to say Mayweather, age 36 (coming off a year layoff), was not impressive. He's cat-quick in there even after all this time. His ability to make Guerrero miss in close and repay him with an ever-changing right hand is nothing short of bad-assery of the highest order. If there is decline, it's in his lack of consistent combination punching. Age has relegated Floyd to being the fastest gun in the sport, out-drawing his opponents and landing one or two shots at a time, tying up or spinning away afterward. Is it fun to watch him do that over and over again? Well, that's for you to decide.
Coming into the fight, many questioned what Floyd would have left in the tank. They also wondered what he would look like heading into an aggressive six-fights-in-30-months schedule. He looked like physical perfection at the weigh-in, coming in at 146 pounds. On fight night, Mayweather looked something close to middleweight though Showtime did not provide unofficial fight night weights. Mayweather was clearly the bigger, stronger and faster man in there. He exploded off the block and escaped from the corners time and again. Try as he might, Guerrero couldn't get to Floyd and when he did, the effort was minimal. As far as Guerrero's fists were concerned, the only ghost in the ring was the thing they kept missing.
For his part, Floyd just could not miss with the right hand. After a couple of feel-out rounds, he stepped on the gas and Guerrero stayed in the same gear. Only in the sixth and the ninth did the Gilroy, CA native seem to come alive and let his effort guide him. But it simply was not enough. Mayweather put on an absolute violence clinic in the eighth, landing at will, having Guerrero right where he wanted him. But afterward, it was a dominant but slow cruise to the finish.
A more hopeful fan might feel this is a precursor to bigger, better and tougher fights. But this same fan might also feel this wasn't a pay-per-view-worthy fight. Knowing that, said fan doesn't feel too hopeful that the final five Mayweather PPV main events will be very compelling. That said, the undercard and surrounding events give me hope.
This fight put Mayweather Promotions on full display. Its name was mentioned first in the co-promotion before Golden Boy Promotions' was. They had the lead spot. What we saw on both Friday night at the Cosmopolitan and then Saturday night at the MGM Grand Garden Arena (both in Las Vegas, Nevada) is just one path toward the future. What's going down in Macao, China is another. From stars in the making Errol Spence, Joseph Diaz Jr. and actioner Antonio Orozco on Friday to the "Money Team" "May Day" broadcast, we are getting a glimpse at the full package one league is planning on rolling out for years to come. The brand is clear: competitive matches likely to go to the A-side if it's close. But hey, that's a problem any B-side on any promotion faces, right?
We saw this to an extent with the appetizer bout between TMT fighter Luis Arias and Boxing 360's DonYil Livingston. These are two competent fighters with solid amateur backgrounds who were evenly matched. But the announcers did nothing but talk up Arias from the word jump. Livingston is a game fighter but he appeared out of his weight class. He's simply not a super middleweight. Try as he might to land that big shot to turn things around, he just couldn't. Arias is a fun, game fighter. He comes forward, kills the body and is relentless in his assault if a little clinch-happy at times. While I felt Arias won, I also believed Livingston could have been given more credit for his efforts. He was fighting a bigger man and doing well in spots. The announcing felt a bit out of balance but hey, I wasn't ringside calling it and in my opinion, the right guy won.
At 8-3-1 with four knockouts, Livingston is not out of it. He's a solid fighter as the bout showed. He needs to let his hands go more but he uses his jab well and is technically sound. It just wasn't his night.
At 5-0 (3), Arias is a nice fighter to keep an eye on. Livingston is no slouch and Arias was more than up to the task. I like his aggression and consistency. That body attack is something else too.
If Gabe Rosado, 21-7, (13) didn't know he needed to go the extra mile to derail the vacant NABF middleweight title dreams of J'Leon Love, 16-0 (8), he knows it now. Judges Dave Moretti and Glenn Trowbridge both scored the fight 95-94 for Love and Rosado, respectively. Herb Santos apparently had a large elephant sitting on his lap and scored the bout 97-92 for Love despite every round being nip-and-tuck and Rosado scoring a knockdown in the sixth.
The fight was a tough one to score. Love seemed in control, using distance and single shots to score at long range. Rosado would explode in spots and land cleanly a number of times, particularly down the stretch. He just didn't do anything to separate himself completely from the A-side Love and, well, he got what I hope we don't later coin "Herb Santosed." For now, I believe it's still called a "Gale Van Hoy."
Is there a fighter who has improved more with each fight over the last three years than Abner Mares? He's gone from winning the Showtime bantamweight tourney to winning titles at 122 and now 126 pounds in that time. And he's done it against top-level opposition such as Vic Darchinyan, Yonnhy Perez, Joseph Agbeko, Anselmo Moreno, Eric Morel and now Daniel Ponce de Leon. With each fight, Mares has unveiled a new tool while adding to the conditioning plan of his fitness coach, Luis Garcia. The result? A sculpted Mares unlike any we have seen with explosive power off the back foot. And he knows when to - and can - box and bang and knows when to do either. I really like the fighter Abner Mares has become. He reminds me a bit of Salvador Sanchez in that his approach is varied, patient and intelligent. The bounce in his footwork helps him mix it up when he is going to shoot forward or off the side from a new angle. I like it. The leaping left hook that put Ponce de Leon down for the first time was obviously a result of the explosive work Garcia does. But the timing of the right hand that got things done in the ninth for Mares was the result of constantly working on his game. With his eye closed a bit and the realization that Ponce de Leon (a close friend and Espinoza Boxing stablemate) was not going anywhere, Mares was impressive. Mares' left hook was money but the right closed the show.
Did it close too soon? Watching that replay, I don't know. I favor "no." Yes, Ponce de Leon was firing back but he wasn't moving at all. He was just throwing his arms while sitting on the middle rope and getting drilled by right after right from Mares. Is that fighting back or looking like you're fighting back? Mares' right hand got things going a few moments before they tied up and off that, he landed a huge right hand that put Ponce de Leon down. Ponce never saw it coming until it landed flush on his face. When he got up, Ponce de Leon was wobbly. He's a vet so he hides it well but he was obviously hurt. Mares went in for the finish and landed right after right. I still felt he should shoot the right more from the shoulder but Mares looped it, straightened, hooked and whipped it time and again into his friend until referee Jay Nady had seen enough. Ponce de Leon was never going to say "Uncle." Nady made the right call and did it for him.
It's too soon to know if a rematch for the WBC belt Ponce de Leon was defending for the first time will take place. If anyone is asking, I'd watch Jhonny Gonzalez vs. Mares next. Another tough assignment for Mares but a fun fight nonetheless.
The "Buzzsaw Award" goes to Leo Santa Cruz, who can take as well he can give and generally elects to do so. How long the teeth on this saw will last is anyone's guess. Try as he might to keep those hands high, Santa Cruz, 24-0-1 (14), still gets drilled by right hands as he did vs. the 34-year-old Alexander Munoz. Don't get me wrong; it was entertaining as hell.
But at age 24 and on his second weight class, Santa Cruz takes too many flush punches to not to be concerned about how long he will last. Like the great bruising running backs, yeah, watching him get his yards is vicariously violent fun but those 1,000 seasons may come to abrupt end if someone isn't careful.
Regardless, can you imagine how much higher this kid's star can rise? With his sharp inside punches to the head and body, what appears to be a granite chin and a humble way about him, Santa Cruz, like the aforementioned Spence and Diaz Jr. represents a positive, all-action future for boxing.
As for the man making it all possible (other than Al Haymon, I mean), one Floyd Joy "Pretty Boy"/"Money" Mayweather Jr. the sky officially has a ceiling.
"I got five fights and then I'm through with the sport," Mayweather said afterward.
Presumably, he means as a fighter. Who can those five be? If we know anything about Mayweather, pick the least likely candidate and it's the guy standing behind him and to the right. Who knows? With the announcement of Manny Pacquiao fighting Brandon Rios in November over in Macao, China, we know who it won't be next. World Middleweight Champion Sergio Martinez is out for the year and bound to HBO for two fights, one of which is possibly the Julio Cesar Chavez Jr. rematch. If he survives that, look for Martinez to be perhaps fight number four. Andre Ward is too big. Saul Alvarez? Something tells me we might not see that until the end of Mayweather's road. The going rumor is Amir Khan in the U.K. in September. Just days after the win, the only thing certain is that nothing is. With Mayweather, who says even the day before his fights, "I am still not sure of the game plan," you never know. As he is in the ring, Mayweather has proven to be nothing if not unpredictable out of it. One down, five to go with no punishment of note beyond a sore right hand - no doubt because it couldn't miss all night - not bad for a $32 million night's work.
You can email Gabriel at maxgmontoya@gmail.com, follow him on Twitter at www.twitter.com/gabriel_montoya and catch him every Monday on "The Next Round" with Steve Kim. You can also tune in to hear him and co-host David Duenez live on the BlogTalk radio show

Leave-It-In-The-Ring.com

, Thursdays at 5-8 p.m., PST.



Subscribe to feed