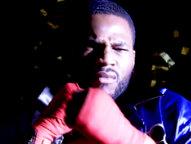 --


If you read my work consistently or follow me on Twitter (@stevemaxboxing), you know I'm not a huge fan of Chad Dawson, who defends his light heavyweight title against Adonis Stevenson at the Bell Centre in Montreal on HBO (10 p.m., ET/PT). To me, Dawson is a very good professional prizefighter but seems so casual in the ring and, quite frankly, doesn't make for the most entertaining fare. He's a guy who's very lucky that TV executives were bamboozled by Gary Shaw (who, admittedly, was just doing his job in pitching his client) and blinded by pound-for-pound lists.
If you visit various message boards and social media on the 'net, there is now a huge backlash against this rather amiable guy from Hartford, CT. To many fans, Dawson is that dispassionate performer, the proverbial beige spot on a beige wall.

But what's seemingly unfair is the insinuation that somehow Dawson lacks heart or is gutless. And worst of all, a quitter (yeah, nobody is more courageous than those who sit safely behind their laptops at home). All this derision came in the wake of his calling it a day versus Andre Ward last September in Oakland after getting knocked down for the third time in the 10th round of their one-sided contest. The code in this game (and perhaps the bloodlust of the viewing audience) demands that boxers such as Dawson go out on their shield, not capitulate the way he did.
Yeah, you can accuse Dawson of quitting.
I'll counter by saying, in quitting, he did the right thing in that particular instance.

That fight was over (perhaps even before it began) and it wasn't going to change anytime soon. Dawson was a beaten man but there was no need to be beaten into a pulp.
Not all quit jobs are the same.

Some, in fact, are quite justified.
I'd even argue that perhaps Dawson shouldn't have even been allowed to perform that night certainly not at 168 pounds. Word spread throughout boxing circles that as Dawson had to start cutting weight (to fight in a weight class he had not performed in since 2006), he had all sorts of problems in sparring, even getting dropped by Edison Miranda just a few weeks before the fight.
Yeah, it was a bad idea for Dawson to even try this. But as he's been more willing to discuss in recent interviews (
http://www.blogtalkradio.com/boxingsceneradio/2013/06/05/boxingscene-radio-the-official-show-of-boxingscenecom
), he simply had no choice but to do so. Industry sources say Dawson was told by HBO that he either fight Ward at super middleweight or nada. HBO Sports, led by Ken Hershman (whose mission statement in leading this network is to make Ward the face of this franchise by any means necessary), didn't even give him another option as the light heavyweight champion. But in return, they told Dawson and his TV packager, Shaw, that win, lose or draw, he would get a return bout on their airwaves. Shaw loves to negotiate return bouts to the network because it represents guaranteed dates and money he'll never have to put up.
(Think about it: Why else would HBO accept Dawson versus Stevenson from Montreal?)
And yeah, perhaps Dawson didn't have to accept this agreement but let's be honest; with Shaw as his representative, what other choice did he realistically have? Look at Dawson's recent run. Since 2010, he's fought all of five times and each time, he was the decided visiting fighter or the B-side. He fought Jean Pascal in Montreal, followed by a return trip to face Adrian Diaconu. Then his two fights versus Bernard Hopkins took place in Los Angeles and Atlantic City and his bout with Ward was hosted in his opponent's backyard.
Dawson has exploited a system that doesn't place a premium on drawing an audience (either live in-person or on TV) but he's also been a victim of being television packaged into a fighter who really had no following therefore no leverage. Being a GSP boxer means you get can get on TV relatively early, make some good money but you also end up in Chumash, the Silverdome and as the B-side, who gets dictated to an awful lot.
So yeah, you could argue he shouldn't have agreed to face Ward at 168. I'd say he simply had no choice.
And on that night, a boxer who didn't score a knockdown throughout the "Super Six" scored a hat trick in that department versus Dawson.
Say what you will about Dawson but he's had a very good career. Here's a guy who won his first world title against a very good version of Tomasz Adamek back in 2007 for the WBC light heavyweight crown and then after a scare against Glen Johnson, he defeated Antonio Tarver twice (in picking up the IBF title). Most recently, Dawson did something proven to be difficult even now; he handled Bernard Hopkins.
That's not a bad ledger by any standard: Adamek, Johnson, Tarver (twice) and Hopkins. Boxers who are yellow-bellied cowards don't have this kind of success.
Now before I come off like I'm the president of Dawson's fan club, let's be honest; in terms of action, his fights leave much to be desired. Quite frankly, he's not a guy you'd pay your hard-earned money to watch perform. And this weekend in the States, most boxing fans will likely watch the Showtime telecast - featuring a bout between Marcos Maidana and Josesito Lopez that figures to be a very good scrap - live and then catch Dawson-Stevenson on the DVR.

Dawson is many things: talented, skilled, dull, enigmatic.

But a heartless quitter?

I think that's easy for any of us to say.

HBO

As of Wednesday, Jim Lampley going back to play-by-play duties on "Boxing After Dark" (replacing Bob Papa, who has an expanded role at the Golf Channel that will keep him from ringside) was the biggest news regarding HBO. But on Thursday, it was announced that executive Kery Davis was leaving HBO Sports at the end of the month.

The bottom line is Davis was part of a failed regime (going back to when Ross Greenburg was the head of HBO Sports) and it could be argued his departure came years too late.

Regardless of whomever assumes his duties, I hope it's someone who cares much more about the HBO subscribers than any personal relationships or alliances (with the likes of Al Haymon for instance). This job in many ways is a public trust; it comes with a hefty paycheck and many perks that the average working stiff could never comprehend. But it takes someone with an actual love and respect for the sport of boxing and a deep abiding respect for the network's subscribers for this very reason.

Quite frankly, that's been missing at HBO since 2000.

STORYLINES

It'll be interesting to see if Dawson's comments about the weight loss will be brought up on the HBO broadcast (which Ward will be calling alongside Lampley and Max Kellerman). Then there is Yuriorkis Gamboa, who has been linked to the Biogenesis scandal that has implicated a notable list of baseball players. Add to this Stevenson, who was essentially pimping (yes, you read that correctly) during his younger days.

Or will this just be about how Ward beat Dawson down in September?

FLURRIES

Golden Boy has gone through a corporate restructuring that sees COO

David Itskowitch leave the company after six years. Good luck to David in his future endeavors...OK, like any other press release, this should be taken with a grain of salt but Golden Boy CEO Richard Schaefer said that as of Friday, the fight card at the StubHub Center (geez, that hurts just typing that out) had around 800 tickets left

Marcos Maidana vs. Josesito Lopez. The question is how many tickets were on sale in the first place? But here's hoping for a great crowd tonight...Both the HBO and Showtime cards start at 10 p.m., ET..."The Next Round" is back: http://www.blogtalkradio.com/thenextround/2013/06/05/the-next-round-episode-436...Tony Parker is something else; isn't he?...Can Chris Bosh play out any further from the basket as a seven-footer..."Master Chef" has been great thus far...Are you mentally prepared for the season finale of "Game of Thrones" on HBO?... I can be reached at k9kim@yahoo.com and I tweet at www.twitter.com/stevemaxboxing. We also have a Facebook fan page at www.facebook.com/MaxBoxing, where you can discuss our content with Maxboxing readers as well as chime in via our fully interactive article comments sections.