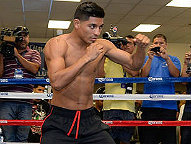 (Photo © Gene Blevins - Hoganphotos /Golden Boy Promotions)


When you start talking about the elite of boxing, usually Floyd Mayweather, Andre Ward, Juan Manuel Marquez and Sergio Martinez are the names thrown around first and foremost. But there is someone who is often forgotten about according to one Richard Schaefer (who, not so coincidentally, happens to promote this guy): Abner Mares.
For some reason, Mares, who defends his WBC featherweight title this weekend versus Jhonny Gonzalez at the StubHub Center in Carson, California (Showtime 10:30 pm ET/7:30 pm PT), isn't talked about as one of the sport's best despite winning titles at 118, 122 and 126 and consistently taking on solid opposition.

"I think he's totally overlooked and I think, finally, with his win over Daniel Ponce de Leon, where he won the [WBC featherweight] world title, he got recognition, generally, as one of the top 10 pound-for-pound fighters in the world," said the CEO of Golden Boy Promotions, this past Friday afternoon. "Even though he had a tremendous résumé before and some signature wins before, which might have meant more than even the Ponce win, winning the [Showtime four-man] bantamweight tournament and pretty much every opponent he fought the last two-and-a-half years, he was at the top level."
Schaefer is just getting rolling.
"I think the Anselmo Moreno win [at 122 pounds] was a huge win because I look at Moreno as one of the best fighters as well. And so he has so many of those signature wins but I think the difference was, when he fought on the Mayweather [vs. Robert Guerrero] card [in May], he fought in front of a global audience and a global media core as well. So I think the more media members maybe hadn't seen him before live. They were finally exposed to him and I think they realized this is one of the top 10 pound-for-pound fighters," he stated.
Now, it's no secret the disdain this scribe has for pound-for-pound lists (I'll say it again; I think they are exercises in mental masturbation and oftentimes make no sense) but Schaefer's underlying point is that in the past few years, nobody has gone through quite the gauntlet Mares has.
"I think that based on his résumé, you can look at all the top 10 pound-for-pound fighters, I only see one guy which has a better résumé - and I'm talking about the past two years - because these are current lists; this is not like an all-time pound-for-pound list; this is the current pound-for-pound list. There's only one guy: Floyd Mayweather, who basically has a better résumé of who he fought and how he won," said Schaefer, who added, "I think [Mares] has a substantially better résumé than Andre Ward, who won 'The Super Six' [super middleweight] tournament. Abner won the bantamweight tournament fighting the best in their respective divisions.
"But then look at what Abner did after that and look at what Ward did after that and I don't mean to knock Andre Ward; I think he's a very talented fighter. And you look at number three on many people's list, Juan Manuel Marquez, who lost every second of every round against Floyd Mayweather and frankly, with Manny Pacquiao till he landed the lucky punch. So does that make him number three pound-for-pound? I really don't think so."
Schaefer concludes by saying, "I firmly believe - and honestly believe - Abner Mares is overlooked and, yes, deserves to be in the number two pound-for-pound spot."
OK, Schaefer is biased (newsflash: a promoter's job is to push and sell his guys) and of course he's going to boost his clients while downplaying those he has no associations with. But he still has a very valid point as it relates to Mares. But a two-year bracket - in a day and age when fighters at the world-class level perform no more than two or three times in a calendar year for the most part - is simply too small a sample size.
So going back to 2010, let's see how the names Schaefer points out stack up.
Mayweather is considered the best fighter on the planet but he's been relatively inactive, facing Shane Mosley in 2010, then Victor Ortiz the following year and then Miguel Cotto in 2012. His most recent victory came over Robert Guerrero in May and he faces Saul Alvarez on September 14th. This is the first year since 2007 in which "Money" is partaking in more than one fight in a year.
Looking at Ward, he downed Allan Green and Sakio Bika in 2010 (as "The Super Six" was coming apart at the seams) and in 2011, he defeated Arthur Abraham and Carl Froch. His last outing was nearly 12 months ago as he stopped a drained Chad Dawson in 10 rounds. From that point on, he's been inactive, sidelined with injuries and battles with his promoter and HBO.
In 2010, Marquez beat Juan Diaz in their rematch and then halted the hard-charging Michael Katsidis in nine. The following year, he faced Likar Ramos, who rolled over and played dead in the first round. Nearly four months later, Marquez lost a controversial decision to Pacquiao in their third meeting. And last year, he won a decision over Sergey Fedchenko before exorcising the demons of the "Pac-Man" in their fourth meeting by knocking him cold in the sixth round.
A name that wasn't mentioned by Schaefer that should certainly be mentioned is "The Cobra," Carl Froch, who has actually lost a couple of times but has earned the respect of the boxing public by taking on all comers and always fighting respectably. He lost his first hook-up with Mikkel Kessler in 2010 as part of "The Super Six" in a hard-fought affair. Froch then defeated Glen Johnson before losing to Ward in the tournament's final in 2011. But when he really made his run and built his momentum is recently, when he bludgeoned Lucian Bute in five rounds, handing him his first loss and taking his IBF super middleweight belt in the process. After a stay-busy knockout of Yusaf Mack, Froch began his 2013 campaign back in May by getting revenge on Kessler for the WBA belt. He's now scheduled to face the undefeated George Groves in the fall.
As for Mares, he faced Yonnhy Perez in May of 2010 in his first attempt at a title but settled for a draw. Then in the opening round of Showtime's bantamweight tourney, he rallied back to beat Vic Darchinyan and then bested Joseph Agbeko (who had defeated Perez for the IBF bantamweight title) under controversial circumstances as he repeatedly hit Agbeko south of the equator. The IBF called for an immediate rematch and later that year, Mares easily outboxed the Ghanaian in their rematch. In 2012, he decisioned Eric Morel for the vacant WBC junior featherweight belt (admittedly, a soft title victory) and last November, he outfought the highly regarded Anselmo Moreno before scoring a stoppage victory over Ponce de Leon in nine frames.
You can make your arguments for each of these prizefighters.
But if you combine both the quantity and quality of fights and victories, Mares certainly makes a strong case; doesn't he?
I'm told by Golden Boy that the doors open at the StubHub Center (formerly known as the Home Depot Center) at 2 p.m. on Saturday and first bell is scheduled for 2:20. Here's the ticket info for this card:
Tickets priced at $150, $75, $50 and $25, plus applicable taxes, fees and services charges are available online at AXS.com, by phone at 888-9-AXS-TIX (888-929-7849) and at StubHub Center Box Office (Monday through Friday from 10:00 a.m. PT to 6:00 p.m. PT). VIP Suites are available by calling 877-604-8777. For more information on group discounts or VIP packages, please call 877-234-8425.
Top Rank announced that Glen Tapia will headline the September 28th edition of "Solo Boxeo" on UniMas from Bally's in Atlantic City, ensuring that Top Rank will do at least one show on that date (yeah, till I see Julio Cesar Chavez Jr. in that ring, seeing is believing)...2012 U.S. Olympian Jose Ramirez, coming off a first-round KO this past weekend, is scheduled to go on that Chavez Jr.-Brian Vera undercard and will headline a show in the Central Valley in California on November the 9th...Richie "Can't Stay" Incognito sure gets into a lot of stuff; doesn't he?..."Hard Knocks" has been outstanding this season on HBO...Fox Sports Live is interesting. At times, I can't tell if it's a parody or not...Ichiro is a Hall-of-Famer; right?...I can be reached at k9kim@yahoo.com and I tweet at www.twitter.com/stevemaxboxing. We also have a Facebook fan page at www.facebook.com/MaxBoxing, where you can discuss our content with Maxboxing readers as well as chime in via our fully interactive article comments sections.