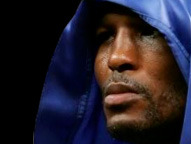 --


Former Undisputed Middleweight/light heavyweight champ Bernard Hopkins once again will be facing a much younger, stronger and faster fighter tonight. Over the last 10 years, Hopkins has shown these young lions that it takes more than just youth, speed and power to be successful in the ring against him. The reality is the former champ is 48 years young and has been older than the majority of his opponents since the '90s. We all know Hopkins has a résumé any fighter would die for. He's been in the ring with the "Who's Who" of boxing and has wins over former champs Oscar De la Hoya, Felix Trinidad, Roy Jones Jr., Jean Pascal and Antonio Tarver to name a few. On the other hand, Hopkins also lost a controversial spilt decision against former World Super Middleweight/World Light Heavyweight Champion Joe Calzaghe. Hopkins held the IBF middleweight belt for 10-plus years and in 2001, he won the WBC and WBA titles from Keith Holmes and Trinidad, respectively. One has to wonder how a man over 40 continues to defeat these younger, stronger fighters. Taking nothing away from Hopkins, the reality is the light heavyweight division is not stacked with the best talent at the moment - which is perfect for the veteran "Executioner."
That said, these fighters are not laying down for the former champ. What they are doing is falling into his trap and for his crazy tactics in the ring. I give Hopkins all the credit in the world for still being a very smart fighter, hitting on the break, throwing low blows and using his head (literally). He's arguably the best at not allowing his opponents to throw multiple punches and combinations. As soon as they attempt to get something going, Hopkins - being Hopkins - grabs and clutches over and over, which frustrates opponents and slowly starts taking them out of their game plan. That's when the fight turns into a Hopkins type of fight.

Hopkins, 52-6-2 (32), is a very smart fighter and should be given all the credit in the world for his success in the ring. He should be given even more credit for not fighting "bums" and merely trying to get a few more paychecks. Even though the division is not the most talented one at the moment, there are still candidates who are much stronger and much faster than Hopkins. At any given moment, obviously, age can sneak up on him and one of these young lions can send him into retirement -or at least force him to think about it.
Tonight (HBO, 9:30 p.m., ET/PT) will be IBF light heavyweight champion Tavoris Cloud's turn to try and convince Hopkins that this is, first and foremost, a young man's sport and he should just retire and enjoy the fruits of his labor. Cloud's coming off a very controversial victory over Gabriel Campillo over a year ago in a fight in which two ringside judges handed the win to Cloud. I watched the fight and had Campillo winning and felt judges David Robertson and Joel Elizondo deserved investigation. It wasn't a close fight and Cloud knows he caught a big break with that decision. Tonight, Cloud, 24-0 (9), should get the victory by being the younger and faster of the two. We know he has some pop and can get you out of there if he catches you but I don't think he'll be the one to change Hopkins' mind about his future in boxing. Beating Hopkins on points won't do anything to make him think any different; it's going to take a special fighter to flat-out destroy him and make him look like an old man in the ring. I just don't see Cloud doing that.
Realistically, Hopkins is a 48-year-old fighter and no one has come close to convincing him he should hang up the gloves. Pascal is the only fighter who had bad intentions on every punch and tried to knock out Hopkins with every punch he threw. Even though he came up short, he had Hopkins vulnerable more than once. Cloud will need to follow a game plan similar to that if he wishes to make a statement and not just settle for outpointing the former champ. Hopkins has a good chance for victory if he sticks to what has worked for the last 25 years: hold, hold, hit below the belt and hit on the break. Hopkins will do continue to do things his way until someone forces him to change his mind – by extreme force in a win not gained by decision…but reality.
Please visit our Facebook fan page at www.facebook.com/MaxBoxing, where you can discuss our content with Maxboxing readers as well as chime in via our fully interactive article comments sections.