Azad Championship Report - Hopkins makes history, captures light heavyweight title at age 48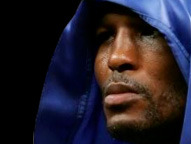 --

By John J. Raspanti, Doghouse Boxing

The old are in a second childhood.
Aristophanes, The Clouds

Bernard "The Executioner" Hopkins (53-6-2, 32 KO's) became the oldest fighter to capture a title by dethroning defending champion Tavoris "Thunder" Cloud (24-1, 19 KOs) by unanimous decision at the Barclays Center in Brooklyn, NY. The bout was televised by HBO as part of their "Championship Boxing" series.

The fight started slowly. Hopkins, who last fought in New York 12 years ago (stopping Felix Trinidad in 11 rounds) eyed Cloud suspiciously. The first punch was thrown by Cloud. Hopkins looked to counter. His overhand right missed. Referee Earl Brown lectured both fighters about dirty tactics. Hopkins used the ring and kept the pace at a minimum. Cloud tried to up the ante in round two. He landed a body shot inside. Hopkins countered with a right. Cloud missed a big hook. Hopkins jumped in and scored with a left.

In round three, Cloud caught Hopkins with a another clean body shot. His strong jab also connected. Hopkins landed his jab followed by a overhand right.

"The Executioner" boxed effectively in round four. A right found Cloud. Hopkins dodged a heavy hook, but also ate one. A combination by Hopkins cemented the round.

In round five, Hopkins kept utilizing angles. His subtle movement kept Cloud from setting his feet. He was timing the more aggressive champion perfectly. Cloud did land a hard. Hopkins jab was keeping Cloud off balance. Both fighters traded sharp right hands. The professor was outboxing the student.

Cloud,31, tried to land a home run in round six, but whiffed. Hopkins caught him with a left uppercut that created a cut near the left eyelid of Cloud. The action heated up in the last two minutes. Cloud, bothered by the cut, connected with a strong hook. Hopkins countered with a left hand.

In round seven, Cloud ripped to the body. Hopkins countered with two right hands. Cloud stalked, but missed. The blood from his eyelid was getting in his eye. Hopkins popped him with jabs.

Cloud jumped on Hopkins in round eight. His left hook caught the former two-division champion. Hopkins looked to work the cut. He ducked a hook and punched. A hard right stung Hopkins.

Round nine was all Hopkins. He snuck in a hook. His straight right landed. Cloud found the ribcage of Hopkins. A snappy right hand landed, but had no effect on the ageless wonder. Hopkins clearly won the round with superior boxing.

Hopkins took advantage of a stationary Cloud in round 10. His double jab and right hand found his chin. Cloud chased Hopkins along the ropes. The wily veteran slipped a huge right hand. His left clipped the chin of Cloud.

Cloud, likely behind on the scorecards, backed Hopkins into the ropes in round 11. The ultimate veteran strafed Cloud with a three-punch combination. Cloud was finding it very difficult to outfight Hopkins.

Cloud's corner told him he needed a knockdown to win. He tried, but Hopkins found him with a uppercut. He'd punch and walk away. His jab peppered a frustrated Cloud.

All three judges had Hopkins winning by scores of 116-112 (twice) and 117-111.

Doghouseboxing scored the bout 116-112 for the new champion.
__
Follow and visit John on Twitter: twitter.com/#!/johnboxing1
__
Questions/comments johnboxing1@hotmail.com



Subscribe to feed