Azad Championship Report - Hello, Brick City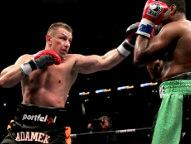 (Photo © Rich Graessle)


As I stated last week, one of my bucket list items was to cover a Tomasz Adamek fight at the Prudential Center in Newark, New Jersey, where Main Events has promoted "Goral" into one of the leading draws in North America. With the sense that opportunities to see him were dwindling, I eschewed the card at the Sun Bowl in El Paso featuring Julio Cesar Chavez Jr. vs. Andy Lee to see Adamek face Eddie Chambers.

Here's what fight day was like for this particular boxing scribe...
8:44 a.m.: I wake up in the man-cave of my friend, Bakari, who was nice enough to put me up for the weekend. Bakari is a longtime reader of Maxboxing and I've gotten to know him throughout the years at the fights. He's a big fan. Big enough that the week before, he actually flew into Vegas on Saturday afternoon, got in a round of golf, attended the Tim Bradley-Manny Pacquiao fight, stayed up all night and then flew back to Jersey. Bakari lives in Plainfield, which produced boxers like Tracy Spann and Glenwood Brown and trainers like Harold "Shadow" Knight and John Davenport (best known for being the original trainer of Lennox Lewis). His house is three stories and in a very nice area. I have to say, Jersey gets a bit of a bad rap. As we drive up to his home, I remark that this particular area is as small town and as suburban as they come. It's not all swampland and Sopranos out here.

We spent much of last night in Newark talking boxing with Kathy Duva and her Main Events staff. It was a good time. We got home late and we started watching the 1999 bout between Oscar De la Hoya and Felix Trinidad for some odd reason. Needless to say, I got to sleep real quickly. My plan is to stay up the whole night since I have an early morning flight (as does Bakari, who has a fraternity function to catch in Florida), so I go back to sleep.
1:17 p.m.: After my first nap, Bakari and I head out to get something to eat. But first, he wants to get cleaned up on top and he drops by Nu Cuts Barbershop, the first black barbershop I've ever been to. I tweet out that I won't dare bring up Rocky Marciano's name inside this place and as I tell Bakari this, he laughs. But then an older barber who's sitting next to me asks, "Well, what is your opinion of Rocky Marciano?" OK, this is a moment of truth here; last thing I want to do is start a scene from "Coming to America." I state that while I respect Marciano and how tough he was, he didn't fight in the strongest era of heavyweight boxing and that he's probably somewhere in my top 10-15 of all-time heavies. That answer seems to satisfy everyone. And no, I never brought up that he whipped Joe Louis' ass.
By the way, everyone there thought Pacquiao got jobbed versus Bradley. Perhaps, in the event of any controversial decisions in the future, barbershops all across the country will be the tie-breaking vote.
2:03 p.m.: We drive a few blocks and sit down to eat at the Rise N' Shine Restaurant, where I have a late, late breakfast of pancakes and Canadian bacon. Yeah, I'm getting the full Plainfield experience here. Carbs be damned; I can do extra minutes on the treadmill when I get back to Los Angeles.
3:01 p.m.: We're back at Bakari's spacious home, which would be ideal for doing haunted houses on Halloween or house parties at any time of the year, and I fall asleep watching the "Fab Five" documentary on ESPN Classic. It's a little different going to fights on the East Coast where the fights start much later; you have to be ready for late nights at the office.
5:32 p.m.: We leave for Newark, about a 15-minute drive from Plainfield. On 107.5 FM, I hear Chubb Rock as the host. I always wondered what he was up to. As we get into Newark, Bakari blatantly goes the wrong way on a one-way street to get into the Bank of America. He goes, "This is Newark; there are no cops around," he jokes. He tells a story of how he and his friends once foiled a robbery attempt of their car back in 1999 and how it took so long for the police to come, the offending parties they chased off actually came back- with guns blazing- to retrieve the stuff they had left behind. Hey, I guess in certain neighborhoods, 911 really is a joke. "That's Newark," said Bakari laughing.
(Fried catfish with collard greens and black-eyed peas)
6:10 p.m.: Bakari lands a prime parking spot and we are soon sitting at Je's Southern Cuisine Restaurant, a noted soul food place. And yeah, I'm the only Asian there. I decided to go all the way to the Mason-Dixon line by ordering the fried catfish with collard greens and black-eyed peas. "You're going all in," said Bakari. I then double-down by washing it down with sweet tea or, as he calls it, "a glass of diabetes."
6:47 p.m.: By this time, I've gotten my credential and I'm off to the Brick City Bar and Grill with Mike Coppinger and Ryan Songalia, who are also here to cover the fight. And the atmosphere I had heard so much about surrounding an Adamek fight, taking place on the streets and local watering holes before his fights, is non-existent on this occasion. It turns out that in a bad stroke of luck, the Polish soccer team played earlier, diverting much of the attention from the fight. Kathy told me the night before that many of her best ticket buyers (who buy rows of ringside seats) had actually flown over to the Euro Cup. Damn that forsaken sport.
We sit down at what is a virtually empty bar and we all get a vodka and club soda. Who knows, maybe there will be a late walk-up crowd.
(Prudential Center)
7:59 p.m.: I get my ringside seat in time to see Patrick Farrell pound out an exciting four-round slugfest against David Williams. The set up for the fights here at the Prudential Center has about half the arena being used tonight.
I have some time to kill and I see Vinnie Paz- the rapper, not the fighter- and we go up to the Fire Bar and have a drink or three. We have a good time catching up. Vinnie is a huge boxing guy, even wrote a few columns for Maxboxing (wish he'd do more, in fact). We have something else in common; we both take great joy out of torturing New York Knicks fans on Twitter. But I have to say, I have never seen anyone take greater pleasure out of the Knicks losing than he does. "Hey, I'm a Sixers fan," said Vinnie, who hails from Philly, "I know what we are but Knicks fans..." Yeah, I hear ya, V. They can be insufferable in many ways. He also loves to "bust balls" on Puerto Rican fighters because he has so many Rican friends.
Later on, I meet his mother and brother Lenny, who chides me about how soft Pau Gasol is. Yeah, he's not a fan of the Spaniard. While ringside, I say hello to Steve Cunningham, a former cruiserweight titlist who lost his belt to Tomasz Adamek in this very same building a few years ago. I also have a lengthy discussion with trainer Andre Rozier about Daniel Jacobs. He's just thankful that Jacobs has his health back. You can tell how much he cares for him. A year ago, it wasn't clear if he would ever function normally again due to a tumor in his spine but it looks like he is slowly working his way back to boxing.
(Photo © Rich Graessle)
9:19 p.m.: The NBC Sports Network portion of the show has begun with a heavyweight bout between Bryant "Bye-Bye" Jennings and Steve Collins. Jennings comes into this bout with a pretty good amount of buzz based on two prior appearances this year on the network. America is starved for any decent big man and based on his wins over Maurice Byarm and Sergiy Liakhovich, some believe the native from Philly is that guy.

But perhaps that bandwagon needed to put on the brakes. On this night, Jennings looks like a good athlete still learning the finer points of the game in winning a rather lackluster 10-rounder- which is precisely what he is. That's not a knock, however. Remember, he's still just 27 and has less than 15 bouts under his belt (he improved his record to 14-0) without much of an amateur pedigree and all this talk of moving him quickly for now will be shelved. It says here that's a good thing. He's still very raw and has a lot to learn about this game. The important thing is that Jennings has already had three bouts in 2012 and the plan is to keep him active.

It's the only way he'll continue to improve.

10:46 p.m.: An eight-rounder between junior middles Jamaal Davis and Doel Carrasquillo follows and there's no other way to put it; it was dreadful. This slot was supposed to be a fight between the former "Chin Checker" Curtis Stevens and Marcus Upshaw but I guess Upshaw had child support issues and was scratched. Ironic, given that this was Father's Day weekend. Davis and Carrasquillo are journeymen who are perhaps best served as steppingstones for prospects rather than facing the likes of each other on television. I think this is where Main Events (who might be getting more NBC Sports Network dates in the future) will have to start thinking about signing more talent. Honestly, these swing bouts are a lot more palatable when you showcase prospects who might have a future.

I tweeted that perhaps they would've been better off just going to the main event instead of this dragged-out affair. Nicole Duva, Kathy's daughter, who gave up a job as an attorney to get into the family business, explained to me after reading my tweet that this bout was a necessity as the network wanted the U.S. Open golf coverage to end before heading to Adamek-Chambers. Fair enough; that's a programming decision the promoters have to cooperate with. It is what it is. Speaking of Nicole, she's very bright and shares the same passion for the boxing business as her mother. It's interesting that as I spent time with Main Events on Friday night at dinner, other than matchmaker J. Russell Peltz, from Kathy, Nicole, Jolene Mizzone and Ellen Haley, this company is comprised mostly of females. That is certainly a rarity in this business. This is a close-knit group that really enjoys working with each other.


(Photo © Rich Graessle)
11:10 p.m.: Chambers has entered the ring and now loud chants of "AH-DA-MEK!" reverberate throughout the Prudential Center. But it's clear; the Euro Cup (and Poland's) loss has hurt them at the gate. The Polish contingent in Jersey was focused on soccer this weekend. No official attendance is given out but I'd estimate that there is about 4,000 fans in the building, far less than what they have averaged here in the past with Adamek. But those who are there are loud and passionate.

12:05 a.m.: The fight has ended and I'm sure by now you've heard that Chambers blew out his left bicep early in the fight but was still able to box effectively with that handicap. It was a very difficult fight to judge in my view. Adamek's aggression never seemed all that effective and because he only had the use of his right hand, for the most part, Chambers could only pick his spots offensively and throw counter right hands. I had "Fast Eddie" winning 115-113 but opinion on press row was split down the middle. Some preferred the activity of Adamek, others the precision boxing of Chambers but it was a fight that really lacked any flow or sustained action. And for large segments of the fight, the crowd really doesn't have that much to cheer about.

The first two scores read 116-112 and I think, "Hey, maybe Eddie did get this decision," but as I hear 119-109, you just knew that it wasn't going to be his night. Adamek would win a rather unfulfilling unanimous decision. A few minutes later, B.J. Flores, who worked the broadcasts, comes over and asks for my score. It turns out we saw the fight the same way. He was in disbelief that Adamek got the verdict. "I thought he was just outboxing him," he said as he stood over our ringside table. Regardless, while Adamek won, you wonder just where he goes from here.

Later, Kathy comes over and she seems perplexed; it was a tough night for her. A confluence of events (from the soccer game to the New Jersey Devils playoff run) had worked against this promotion and the fight failed to live up to expectations. I told her, "It's obvious the soccer game hurt you." She didn't disagree, stating, "Those people had to be exhausted by the evening; they probably all just went home."

12:24 a.m.: I plan on getting a drink with a young writer, Teron Briggs, but it turns out that Bakari, who waits for me at the Fire Bar, wants to get home and start packing for his trip. As we say our good-byes to Teron, we see Riddick Bowe in the concourse area leading to the exits sitting at a table. "Hey, that's Riddick Bowe," I say to Bakari, who walks over and says hello to him. Bowe then proceeds to give him the hard sell on an autograph photo. I hate to say it but "Big Daddy," once a bright and personable character, is now slurring, mumbling his words and difficult to understand. It's a sad scene, a guy who once made millions, now reduced to hawking autographed photos of himself. In the early '90s, as he started what looked like a long and dominant heavyweight run, I never imagined it would be reduced to this.

This is a harsh business, even harsher if you don't save your money and plan for the future. It's a lesson every young pugilist should heed. It doesn't last forever; it doesn't even last long. So save your money and be smart because once it's over, not that many people give a damn.

1:09 a.m.: Bakari ends up taking me to Red Tower, which he says was/is the spot for late night eats after a long night out. It's right across the street from a Kennedy's Fried Chicken, which I guess is Plainfield's version of McDowell's from "Coming to America." It looks just like a KFC but it's presidential chicken. I have to say, these Arab guys know how to make a cheesesteak sandwich. I gobbled mine up quickly back at Bakari's house. During our ride back to his place, we take great joy in recounting an old "Ali G" skit on HBO, the one where he asked a DEA agent about the slang terms for marijuana- and proceeded to rip off about 25 names for it- and the bewildered agent goes, "Uh, you pretty much got 'em all." Yeah, I miss that show; it was America's introduction to Borat.

1:41 a.m.: We both start packing up with the intention of watching the HBO broadcast. I'm done relatively quickly but Bakari is meticulous and he takes much longer.

3:06 a.m.: Bakari finally comes down and we start watching the Julio Cesar Chavez Jr.- Andy Lee fight. But while he starts, Bakari does not last long and soon he's out like a light. "I'm gonna take a nap," he says as he went back upstairs to his room. Me, I'm going good; I plan on staying up all the way till I hit my plane (which, by the way, worked to a tee as I slept like Rip Van Winkle on both my flights back home). His dog, Jack, a well-behaved boxer, follows him up.

3:51 a.m.: Chavez Jr. stops Lee in seven rounds. I have to say, this is the best he's looked. He attacked the body like his father, showed a stout set of whiskers and was able to walk down Lee. I read that Top Rank announced he would be facing Sergio Martinez on September 15th at the Thomas and Mack Center in Las Vegas. Now, I don't know if steamrolling Lee, who lacks physical strength, constitutes that Chavez is ready for "Maravilla" but the mere fact his handlers are so boldly stating they will face him next is telling. I flip around Bakari's FiOS DVR and see he has also taped "2 Days: Nonito Donaire," which I then throw on. Honestly, that beginning part where he's rapping nearly had me turning it off. By the way, I joke with Bakari that since he has FiOS, he's literally the only guy I know of who can watch the EPIX boxing broadcasts. He's the one; seriously, the only one.

I then decide to rewatch the Bradley-Pacquiao fight (and no, I didn't turn off the volume). Honestly, while it didn't change my opinion of who won on the night of June 9th, I never believed it was the robbery of the century like some had stated. I thought the "Pac Man" won in the 9-3/8-4 range but I thought there were a lot of close rounds that could've gone either way. To me, the difference in those frames was Pacquiao's overall power.

5:06 a.m.: We are headed to the Newark airport via car service. As we drive along, I notice a "White Castle." Yeah, I'm gonna have to do that the next time. We get to the airport with plenty of time to spare as we both have 7:30 flights. He's on Jet Blue; I'm on Southwest. We say our good-byes as we head to our terminals. I thank him for the hospitality; it was greatly appreciated.

One more item crossed off the bucket list. Now, it's back to California.
I can be reached at k9kim@yahoo.com and I tweet at www.Twitter.com/stevemaxboxing. We also have a Facebook fan page at www.facebook.com/MaxBoxing.



Subscribe to feed