Azad Championship Report - Good Fight, Bad Decision as Bradley Scores A Split Decision Over Pacquiao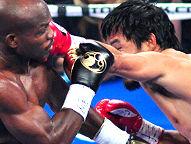 (Photo © German Villasenor)


In one of the worst decisions in a competitive one-sided fight ever, Timothy "The Desert Storm" Bradley showed toughness, mettle, tenacity and apparently enough offense to score a split decision over Manny Pacquiao.

The first round was a tactical round. Both men kept it long range working the jab and feeling each other out. Bradley moved well, allowing that left of Manny's to come in but making it miss or just glance off his lower lead hand guard and his shoulder. Late in the round, Bradley stepped things up, letting go with a left hook to the body and head with a right behind it. Pacquiao got in a left hand but it was a close Bradley round.

In the second, Pacquiao landed a one-two. Bradley took it well. He moved in and out and opened up on Pacquiao. According to Bradley, somewhere in the second he broke his left foot.

"I felt it pop on top of my foot," said Bradley afterwards sitting in a wheelchair before press row. "I persevered went through the pain to clear the last five rounds I feel, to get the victory. I am still shocked. I really don't know what to say."

In third, Tim came right out and let go two hooks at Manny. Late in the round, an explosive left by Pacquiao. In the round, he had begun to let his hands go. But up to that, he was simply explosive in spots, waiting and waiting. Late in the round though, Pacquiao let loose a long left hand, then another and another. Bradley came right back, making him miss a little more each time. And then right back to the jab. Late I the round, Bradley unloaded a combination and Pacquiao dropped in two straight lefts near the ropes. But as the round ended, Bradley shot his own combos, Manny opened up and the fight was on.

From this point on, the fight was incredibly one-sided. Pacquiao found his rhythm by the fifth and sixth rounds and from there, it was all him until late in the fight. Around the tenth and eleventh, Bradley had begun to move and box more, slowing the pace. HE would move and jab or move and leap in with a left or right. But Manny had the crowd with him. Each time he unloaded shots and strafed Bradley with uppercuts or left hand leads, he appeared to land. Several times in the fight, he had Bradley hurt. But the young champion, who now adds Pacquiao's WBO belt at welterweight to his collection, was unbowed. He kept trying, kept changing his game to adjust.

However, in no way, shape or form did he appear to win.

"We're not complaining about a close decision. What we saw tonight was ridiculous," said Top Rank promoter Bob Arum. "We're not morons all of us."

"I thought we won the fight. I was very proud of Manny. I thought it was the best fight he had fought since the cotto fight," said Pacquiao's trainer Freddie Roach.

As for the decision, "I think they had their eyes closed," said Roach. "Something wasn't right. What they saw and what happened were two different things."

According to Arum "The judges are decided on by a commission of five people in a closed meeting. And you can see in a fight like this all three judges in a fight like this were from Nevada. Because no one else in another state can judge a fight," he quipped.

The scores, 115-113 Pacquiao from Jerry Roth, 113-115 Bradley from CJ Ross, and Duane Ford's 113-115 made it a split decision. What they also did was outrage fans, damage their truth and set up a rematch, for which there is a clause, sometime later this year.

"Let's do it again in November and make it more decisive," Bradley.

One curious thing about the press conference was the absence of Executive Director Keith Kizer or any representative to explain the poor judging. Bob Arum challenged Kizer to present the three judges to the press in order to explain what they saw. Almost to a person, the room had the fight 10-2.

"I am ashamed for the sport" said Arum.

We all should be.

In a robbery defeat, Pacquaio showed true class.

"That's how we love this boxing," said Pacquiao afterward. "I respect the decision. But 100% I believe I won the fight. We have to respect my opponent also. That decision has already happened. We have to respect and give credit to him. The fans, in your heart, you know who won the fight. It's ok. It's part of the game. We accept that. The best attitude is respect and professionalism for this boxing world."

In the undercard, Guillermo Rigondeaux scored his tenth win and eighth knockout by dropping Teon Kennedy 5 times en route to knocking out along the ropes. Rigondeaux was brilliant, stalking Kennedy and unloading hard left hands and uppercuts that caught Kennedy off guard time and again. For a man considered boring by some pundits, Rigondeaux was anything but.

In a snoozefest that ended in stunning fashion, Randall Bailey waited all night to land three bombs that knocked out Mike Jones at 2:52 of the eleventh round. Bailey is now the vacant IBF welterweight title.

"My plan was just to let my hands go," said a jubilant and emotional Bailey. "I proved that I can hurt. I hurt him early in the fight, so I knew if I hit him flush, it would be over."

Bailey did just that, landing a hard flush one-two that dropped Jones hard late in the eleventh. Jones tried to get up and could not, prompting the ref to wave off a fight he was winning on every scorecard by a large margin.

In a disappointing outcome, Jorge Arce and Jesus Rojas ended in a no decision. Arce dropped Rojas early on in the first round but the kid rose and made a solid account of himself, rocking Arce with uppercuts down the stretch. In the second's opening moments, Rojas landed a hellacious low blow that buckled Arce and every other man in the room. He followed that up with a looping hook that landed on the left ear of Arce. It was borderline a rabbit punch. In any case, Arce was hurt badly and could not continue. Because it was considered an accidental foul before four rounds, the fight was ruled as such.



Subscribe to feed