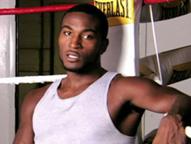 --


In the world of boxing, there are few surer ways to attract a top-level name fighter looking to extend his career (and wallet) with a win over a vulnerable, younger fighter than looking bad in a fight. IBF light heavyweight titleholder Tavoris Cloud did exactly that in his last outing, a February 2012 outing against Spain's Gabriel Campillo. Cloud, a crowd-pleasing Tallahassee, Florida native, had the worst of nights, winning a decision many felt he didn't deserve. His reward? A showdown this weekend with middleweight legend-turned-light heavyweight champion Bernard Hopkins, live from the Barclays Center in Brooklyn, New York (HBO, 9:30 p.m., ET/PT).
"That fight right there, that fight it was just it was an off-night for me," Cloud told

leaveitintheringradio.com, (hosted by this writer and David Duenez). "The off-night came from having [an off-night] a couple months prior to that fight. It is what it is. Once again, people, they have their opinions. Me, as a man, the only thing I can do is learn from my mistakes and keep pushing forward. I can't dwell on that."

The fight was the harshest of lessons. After a first round that saw Cloud drop Campillo twice, the fight slowly rolled downhill from there for the undefeated 31-year-old. In the fourth round, a cut over his left eye from a Campillo punch made things worse. More than anything, Campillo's long reach, straight punches, angles and footwork caused all kinds of problems for Cloud, who remained resolute throughout, trying to get close and do his work. In the end, however, two out of three judges had it for Cloud. A year later, after a change in trainers and another stretch of inactivity, (Cloud has fought only seven times since the end of 2007), Hopkins came calling.
"I really don't know," said Cloud, 24-0 (19), when asked why he thinks Hopkins, a master boxer at the tender age of 48, picked him. "Maybe he did see something in [the Campillo fight]. I don't know. I am glad I did get the fight. I don't know why he picked me. They said in the press conference that they are not paying attention to the fights prior to this. I don't try to figure it out. What I do is when the bell rings, I go in there to do my job. That's what I do."
By nature, Cloud is a no-frills fighter. He comes forward; he attacks the body, setting up the head. He's not looking to be flashy. He's determined to simply hurt you until you give in to his will. In Hopkins, 52-6-2 (32), Cloud is going to have to employ a non-stop, relentless attack that will push the pace on the aging fighter.
"My plan for this fight is to beat Bernard Hopkins in all areas inside the ring," said Cloud, "whether he is in the pocket on the inside, on the outside, whether he is trying to move around. I am just going to win the fight convincingly, through and through, and that is how I am going to come out victorious."
If there is one thing you can point to that has held Cloud's career back and perhaps stunted his growth as a fighter, it's his lack of activity. He barely fights more than twice a year since 2007. He fought twice in 2008, once in 2009, twice in 2010 and gave one performance each in 2011 and 2012. Then again, considering Hopkins himself has not fought since April of last year (a majority decision loss to Chad Dawson), perhaps inactivity or ring rust will not be a huge factor in the fight. For Cloud, the plan is to remind Hopkins that boxing is a young man's game every minute of every round.
"If you look at Bernard Hopkins fight, he doesn't fight the whole round," said Cloud. "He doesn't fight three minutes of every round. He does all the acting and the playing to the crowd and the judges and all of this stuff. You just gotta go in and there and make him fight. You can't let him tie you up and start all that bullsh*t. You just have to be really blunt with Bernard Hopkins with your fighting style, which is good for me. You just gotta go in there and beat his ass. That's what you gotta do. I'm not trying to get caught up; I'm not going to get caught up in what everyone is saying, this or that, and how big the fight is. I don't really give a damn. What I come to do is whoop his ass. That's what I come to do."
Cloud is fully aware how well Hopkins talks and intimidates at press conferences and weigh-ins. He knows Hopkins will try and bait into him foolishness and clinches in the fight. Tavoris Cloud doesn't care because Tavoris Cloud is coming to cut through Hopkins' illusion of fighting tactics and get down to brass tacks.
"I feel like that way in any fight," said Cloud. "I'm the type of fighter that I don't care who you are. I don't care what your reputation is. I come to fight. There's not going be any ducking and dodging. I don't believe in hype or "He say/she say." I am just a fighter. I come to work and get the win. Bernard Hopkins, he is a 48-year-old man. He talks like a legend but he doesn't fight like a legend. I am just going in there to do his job."
For this fight, Cloud switched from longtime coach Al Bonanni to Abel Sanchez of The Summit in Big Bear. Sanchez, a veteran who trained Terry Norris and now trains Gennady Golovkin among others, seems a good fit for Cloud.
"I learn something from every fight. The main thing is I learned how to prepare better for my fights and be ready for anything," said Cloud, who spoke highly of Bonanni but felt he needed to shake things up. "I made a change to Abel Sanchez and its working out well. I am having a good time. It's cold as hell but I am having a good time."
With sparring partners like Golovkin and Ola Afolabi available, Cloud might have gotten some of the best work of his career in preparation for the fight of his life vs. Hopkins.
When most fans and boxing people look at Tavoris Cloud, they see a rough-hewn fighter who very well could - and should - be outboxed by a top-level technician. At this stage, Hopkins is looking for fighters who aren't puzzles but straightforward machines like Cloud is seen as. But fighters like Cloud can be exactly the opposite of what an old fighter hopes for. Logic dictates the smart money bets on the house fighter with the high boxing I.Q. and so do the odds - all of which is exactly how Tavoris Cloud likes it.
"That's great for me because I always do good when my back is against the wall, when I am the underdog," said Cloud. "I am just using it as motivation."
You can email Gabriel at maxgmontoya@gmail.com, follow him on Twitter at www.twitter.com/gabriel_montoya and catch him every Monday on "The Next Round" with Steve Kim. You can also tune in to hear him and co-host David Duenez live on the BlogTalk radio show

Leave-It-In-The-Ring.com

, Thursdays at 5-8 p.m., PST.
Please visit our Facebook fan page at www.facebook.com/MaxBoxing, where you can discuss our content with Maxboxing readers as well as chime in via our fully interactive article comments sections.