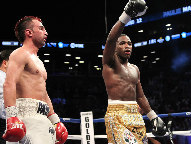 (Photo © Tom Casino / SHOWTIME)


In a terrific 12-round battle, Adrien Broner (27-0, 22 KOs) captured the WBA welterweight title by winning a hard fought split decision over scrappy defending champion Paulie Malignaggi (32-5, 7 KOs) at the Barclays Center in Brooklyn, New York.

One ringside judge had Malignaggi winning 115-113 while Broner was favored 115-113 by a second judge and 117-111 by a third.

The fight was televised live on Showtime Championship Boxing.

The bout started favorably for Malignaggi. He used the ring and boxed while Broner followed. The hometown hero worked behind his jab while throwing combinations to the body. Broner, with his chin tucked behind his left shoulder waited. A counter caught Malignaggi on the chin near the end of the stanza.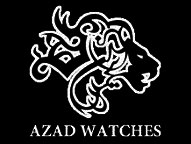 (Azad Championship Report)

Broner clocked Malignaggi with a lead right in round two. Malignaggi ducked and dodged. He went back to the body. His legs gave him some distance. Malignaggi flashed a combination that annoyed Broner.

In round three, Malignaggi worked the body. Broner, 23, landed a heavy hook to the head. Malignaggi feinted and popped Broner with a jab. He ate two hooks in return. Malignaggi connected with two shots to the body. A double hook by Broner knocked the Brooklyn native back a step.

Broner continued to close the distance in round four. Malignaggii varied his movement to keep the youngster thinking. A barrage of punches landed on the chin. Malignaggi jabbed, but was clipped by another right hand.

Malignaggi ,32, had won three of the first four rounds on guile and guts. He was boxing like a man possessed, but his lack of power, always an issue during his career, was hurting him.

Broner did better in rounds five and six. His heavier shots were landing more consistently. Malignaggi fired back with a barrage of punches. They weren't hard, but they kept Broner on the defensive. Broner backed Malignaggi up and hurt him with a left hook to the body. He unloaded multiple combinations to the body and head.

Malignaggi looked to be slowing down. He was still punching, but getting hit by more and more heavy punches.

Broner stalked Malignaggi in rounds seven and eight. Malignaggi couldn't keep the younger and stronger Broner off him. Another right snapped his head back. Broner went to the breadbasket with a four punch combination. Malignaggi, as tough as they come, fought back at the bell. A straight right bounced off his chin.

In round nine, the action stayed mostly in the center of the ring. Both fighters chatted with Floyd Mayweather between punches. A right knocked Malignaggi back. Two more punches appeared to hurt Malignaggi. A big uppercut jarred him.

Broner landed a chopping right hand in round 10. Malignaggi kept working off his jab. Broner connected with a thudding left to the chest. Malignaggi tattooed Broner on the ropes. Broner dismissed the punches with a shake of his head. Near the end of the round, a sharp left hook stunned Malignaggi.

Malignaggi tried to find Broner with his right in round 11. A double jab surprised Broner. The hotshot from Cincinnati went to the body. Two thunderous left hooks landed.

The last round was all Broner. He walked Malignaggi down like a hunter. A double left landed. Malignaggi landed his own left and right. Broner walked through the shots and countered with a hook. Malignaggi saved himself for the last 30 seconds. He landed a right on the side of the head at the bell.

"He's a world class fighter," Broner said in the ring after the fight. "To come to somebody's hometown and beat them on a split decision, that's saying something."

Broner has now won titles in three different weight classes.
John J. Raspanti responds to all his emails. Please send all questions and comments to John at: marlow_58@hotmail.com