Azad Championship Report - Alvarado gets his revenge, sets up third fight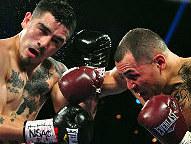 (Photo © German Villasenor)


The first meeting between Brandon "Bam Bam" Rios and Mike "Mile High" Alvarado was 20 minutes of blood, guts and glory.

Could the sequel live up to the original?

Alvarado (34-1, 23 KOs), defied the boxing experts by winning a scintillating unanimous decision over the previously undefeated Rios (31-1-1, 24 KOs) at the Mandalay Bay Events Center in Las Vegas, NV. The victory earned Alvarado the WBO interim light welterweight title. The bout was televised by HBO.

Alvarado had talked all fight week about using his boxing skills. Most felt the Denver, CO. battler wouldn't be able to stick to his game plan.

Rios certainly didn't think so.

In the opening stanza, Alvarado did come out boxing. He used his legs to make space. Rios cut off the ring and stalked. His left-right combination bounced off the chin of Alvarado. He dug a left hook to the body. Alvarado countered with two right hands.

Rios almost ended the fight in round two when a thudding jab staggered Alvarado. Rios, 26, smelled blood and went for the kill. Alvarado was staggered again, but used his bicycle effectively. By the end of the round the gutsy battler had his senses back.

Alvarado rocked Rios in round three with a sweeping right hand. His switching back and forth between southpaw and orthodox was keeping Rios off balance. A three-punch combination hurt Rios again. Somehow, the tough guy from Oxnard, Ca. remained upright.

Rounds four and five saw neither fighter gaining a significant edge. Alvarado continued to land punches, but Rios shots were heavier. Alvarado utilized angles effectively in round six. He'd move to the ropes and then jump in with a short hook or uppercut. The strategy was effective. A right hand down the pipe also landed squarely on the chin of Rios.

In round six, Rios found his rhythm by staying on the chest of Alvarado and punching. His inside hooks were landing. Alvarado, with both eyes swelling, connected with some well placed shots at the bell.

Alvarado, 32, started well in round seven. His lateral movement was just enough to keep Rios off balance. A hard combination found the head of Rios, who acknowledged the punch. A looping Rios left drove Alvarado back. Alvarado continued the pattern of getting off first in round eight. A volley of punches had the iron chinned Rios covering up. Rios landed a long uppercut that shook Alvarado.

The ninth and tenth rounds were tight, with both fighters having their moments. Alvarado moved side to side, his shots coming in bunches. Rios countered with a left hook that stopped Alvarado in his tracks. He ate two punches to land a right.

Rios trainer Robert Garcia informed his fighter before round 11 commenced - that he was behind on points. Rios tried to find the equalizer. He upped his pressure - chasing Alvarado around the ring. A booming right hand near the end of the round wobbled Alvarado. Rios pushed hard in round 12, but Alvarado boxed and beat him to the punch. A slick left hook hurt Rios.
 
All three judges scored the fight for Alvarado by scores were 115-113 (twice), and 114-113.

Doghouseboxing also had Alvarado the winner as well by 115-113.

"The game plan was to move and I stuck with it," said an ecstatic Alvarado after the fight.

A third fight seems likley between the two warriors.

__
Follow and visit John on Twitter: twitter.com/#!/johnboxing1
__
Questions/comments johnboxing1@hotmail.com



Subscribe to feed