Ask Gerry Cooney – September 13, 2013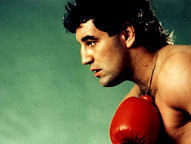 (Gerry Cooney - Fighting Days)


Hey, fans! Welcome to "Ask Gerry Cooney," where you get to ask former heavyweight contender "Gentleman" Gerry Cooney any boxing-related question you'd like. Your questions for Gerry's review will be featured at Maxboxing.com every Thursday morning (or in this case, Friday morning!).
Each week, Gerry will answer as many of your questions as he can on the Sirius XM radio show "Friday Night at The Fights," a show Gerry co-hosts with Randy "The Commish" Gordon, former Chairman of the New York State Athletic Commission.
The show airs every Friday on Sirius channel 92 and XM channel 208 from 6 – 8 p.m., Eastern Standard Time.

Our first question comes from Bobby L., who asks:
Gerry, based on his performance Saturday night against Seth Mitchell, what do you think Chris Arreola's chances would be against either Klitschko brother?
Our next question comes from David Galster, who asks:
Hi Gerry, It is an honor to be able to email you. I am sure you have been asked this question a thousand times but if you had to do it all over again, would you forget about pacing yourself to go 15 rounds and go for an early knockout against Larry Holmes like you did with Ken Norton?
Gerry answered the following questions on last week's show:
Our first question came from Jimmy G., who asked:
Gerry, I'm a big fan of Chris Algieri, who happens to come from Huntington, NY, our hometown. My question is, after coming off a huge win over Mike Arnaoutis, why would Algieri's promoter put him up against Wilfredo Acuna, a fighter with a dismal record. Shouldn't they keep moving him forward in competition? It seems to me like a major backward step, which makes me wonder what they know that we don't know about Algieri's ability to fight against stronger competition. What do you think about that?
Gerry felt Algieri's handlers are apparently keeping him busy and that at the time, they might not have been able to get get a stronger opponent.
Our next question came from Ricky T., who asked:
Gerry, this weekend, Chris Arreola will be squaring off against Seth Mitchell. I, for one, think Arreola is very overrated and that he does not have what it takes to defeat true quality competition. Am I wrong?
Gerry felt Arreola is a strong credible heavyweight and Mitchell's chin was suspect, which was proven on Saturday night when Arreola took him out in the first round.
Please visit our Facebook fan page at www.facebook.com/MaxBoxing, where you can discuss our content with Maxboxing readers as well as chime in via our fully interactive article comments sections.



Subscribe to feed