Ask Gerry Cooney- Nov. 22, 2012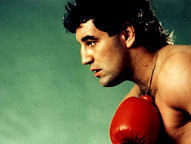 --


Hey, fans! Welcome to "Ask Gerry Cooney," where you get to ask former heavyweight contender "Gentleman" Gerry Cooney any boxing-related question you'd like. Your questions for Gerry's review will be featured at Maxboxing.com every Thursday morning.
Each week, Gerry will answer as many of your questions as he can on the SiriusXM radio show, "Friday Night at The Fights," a show that Gerry co-hosts with Randy "The Commish" Gordon, the former Chairman of the New York State Athletic Commission.
The show airs every Friday on Sirius channel 92 and XM channel 208 from 6 – 8 p.m., Eastern Standard Time.

Our first question comes from Warren M. who asks:
Gerry, as we've all heard, Hector "Macho Man" Camacho has been shot in Puerto Rico. Some reports initially said he had passed and others said he survived but might be paralyzed. The latest said he suffered from cardiac arrest and was brain dead. Do you have any inside info as to what's happening?
Our next question comes from Russell T., who asks:
Gerry, I seem to remember that the referee used to also have a scorecard in boxing. Why did that practice stop and do you think it should be brought back since the ref is the closest to the action?
Gerry answered the following questions on last week's show:
Our first question came from Robert S., who asked:
Gerry, this week Adrien Broner makes his debut at 135 pounds challenging Antonio DeMarco for his WBC lightweight title. Many people feel that this is Broner's toughest fight to date. How do you see this one and who do you think wins?
Gerry felt that Broner is up and coming and definitely making his mark. He picked Broner to win by stoppage.
Our next question came from Jimmy E., who asked:
This week, Gerry, Brian Viloria squares off against Hernan "Tyson" Marquez to unify the WBA / WBO versions of the flyweight title. Marquez has stated that he would rather die in the ring before he lets Viloria win. So how do you see this one?
Although Marquez has not been seen in the USA very much, upon reviewing his record against Viloria's record, Gerry felt Viloria would win.



Subscribe to feed