Ask Gerry Cooney- Jan. 18, 2012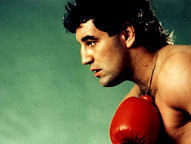 --


Hey, fans! Welcome to Ask Gerry Cooney, where you get to ask former heavyweight contender "Gentleman" Gerry Cooney any boxing-related question you'd like. Your questions for Gerry's review will be featured at Maxboxing.com every Wednesday morning.
Each week, Gerry will answer as many of your questions as he can on the Sirius/XM radio show, "Friday Night at The Fights," a show that Gerry co-hosts with Randy "The Commish" Gordon, the former Chairman of the New York State Athletic Commission.
The show airs every Friday on Sirius channel 94 and XM channel 208 from 7 – 9 PM Eastern Standard Time.
Our first question this week comes from Richie T., who asks:

Hey Champ! I heard you guys talking about various scholarships and things that are available to athletes outside of boxing on the show last week. My question is a little different. Suppose a boxer has a mediocre career and retires; are there programs that any of the sanctioning bodies or promoters provide to help them get a fresh start in a world without boxing?
Our next question comes from Victor R., who asks:
Hi Gerry, of all the fights you fought, what was your personal favorite?
Gerry answered the following questions on the air last Friday:
Our first question came from Jimmy F., who asked:
Hey Gerry, I've heard the saying, as the heavyweights go, so goes boxing. Champ! In my opinion, there's hasn't been much going on in the heavyweight division in quite some time, and yet boxing seems to be starting to thrive again. So, is the old saying wrong?
Gerry feels that although the heavyweight division is sorely lacking in talent these days, the other weight divisions have picked up the slack primarily because promoters are making better fights within those divisions.
Our next question came from Tommy K., who asked:
Gerry, since both fights had weird endings, do you think that Hopkins / Dawson should fight a rematch, and do you think that Mayweather should face Ortiz again?
Gerry would like to see Bernard Hopkins vs. Chad Dawson again but has absolutely no interest in seeing a Floyd Mayweather-Victor Ortiz rematch.



Subscribe to feed