Ask Gerry Cooney- Feb. 8, 2013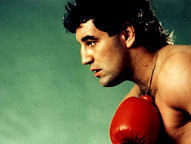 --


Hey, fans! Welcome to "Ask Gerry Cooney," where you get to ask former heavyweight contender "Gentleman" Gerry Cooney any boxing-related question you'd like. Your questions for Gerry's review will be featured at Maxboxing.com every Thursday morning.
Each week, Gerry will answer as many of your questions as he can on the SiriusXM radio show, "Friday Night at The Fights," a show that Gerry co-hosts with Randy "The Commish" Gordon, the former Chairman of the New York State Athletic Commission.
The show airs every Friday on Sirius channel 92 and XM channel 208 from 6 – 8 p.m., Eastern Standard Time.
Our fist question comes from Bernard Campbell, who asks:

Gerry, how much do you think sportswriters have contributed or inhibited a fighter's success in the past, such as Muhammad Ali, and how true does that ring today with fighters like Manny Pacquiao and Floyd Mayweather, especially with public opinion so easily placed on various Internet sites?
Our next question comes from Louie T., who asks:
Gerry, a lot of press is reporting that many football players are being concussed and suffering long-term or permanent brain damage but it makes me wonder - I know that some fighters have suffered terrible brain injuries and sometimes their speech is affected but, for the most part, you don't really hear of fighters committing suicide or falling into deep depressions. Am I missing something?
Gerry answered the following questions on last week's show:
Our first question came from Bernard Campbell, who asked:
Why hasn't Dmitry Pirog continued to fight and how did he lose his title? With Sultan Ibragimov, [Nicolay] Valuev, the underdevelopment of [Alexander] Povetkin, the inactivity of [Beibut] Shumenov and Pirog's problems, it sure seems like something's fishy in the Kremlin! What gives?
Gerry and Randy pointed out that many good fighters came out of the various countries once part of the Soviet Union. However, in many cases, even though they are tough fighters, their careers seem to stall sometimes.
Our next question came from Bobby L., who asked:
Gerry, I've heard you and Randy talking with Chris Algieri a few times on the show and I know he's fighting on February 23rd. This fight, I understand, will be televised on NBC [Sports Network]'s "Fight Night" and I think his handlers have moved him along perfectly so far. So at this point in his career, do they need to start moving him up to more serious competition?
Gerry thinks Algieri did a very smart thing by moving to California to train with Robert Garcia and that it gives him an opportunity to train with some very serious contenders and, yes, Gerry feels it is time for Algieri to start stepping it up, although he does feel he has been brought along perfectly so far.
Please visit our Facebook fan page at www.facebook.com/MaxBoxing, where you can discuss our content with Maxboxing readers as well as chime in via our fully interactive article comments sections.



Subscribe to feed