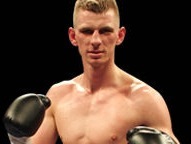 --


Heading into this Saturday's "Showtime Championship Boxing" card featuring Adonis Stevenson versus Andrzej Fonfara, the prevailing wisdom is this is a prelude to nothing. Originally, this fight was going to be on HBO as a precursor to a unification bout with fellow light heavyweight titleholder Sergey "Krusher" Kovalev but Stevenson, the WBC light heavyweight champion, signed with uber-manager Al Haymon and the fight fell apart. The news that Stevenson-Kovalev wouldn't happen spawned a lawsuit from Main Events, who promotes Kovalev, against Haymon, Showtime and several others. Amid the excitement and subsequent disappointment among boxing fans and media alike over the potential signing then eventual loss of Stevenson-Kovalev, someone forgot to tell Fonfara he's only there to lose.
At age 26 with a 77-inch reach to go with his 6' 2" height, Fonfara is the taller man with the longer reach against Stevenson, who brings a height of 5'11" and a 72" reach to the proceedings.

"

I'm used to fighting taller guys with long range," Stevenson told assembled media at the final press conference. "That won't be a problem for me. We'll use my speed and power to [to negate that]."
With a style that is equal parts aggression and technical boxing, Fonfara has a veteran cornerman in Sam Colonna among his assets. He's going to need Colonna if this thing goes into the deeper rounds.
"

This is a dream come true for him. He's been working his whole life to come to this level and now he's here," Colonna said at the final press conference. "Andrzej has always been the underdog but he's always come out on top. Come the 24
th
, we're going to surprise some people."
"

It's a tough challenge," acknowledges Stevenson. "I'm not overlooking him because I know he is very dangerous. I know he'll be ready for me."
For this camp, Colonna brought his charge to Big Bear, CA for three weeks, where the fighter acclimated to the high altitude of about 6-7,000 feet and endured high exertion training in the oxygen-deprived environment.
"

We started out sparring in Chicago and moved to Big Bear," said Colonna. "We had some great sparring partners; we couldn't pick better guys."
Colonna and Fonfara, 25-2 (15), have been together since after his first pro fight. Together, they have put together a solid resume that has improved in difficulty as Fonfara has grown as a fighter. He has some tactical options at his disposal. Respectable power, functional speed, straight punches (starting with a solid jab that doesn't come back too low too often) and a shell defense will all have to be on display for Fonfara to dispatch Stevenson.
"

I've got a good punch with both hands. He's gotten knocked out before. It proves he goes down too. He's not 'Superman' like he thinks he is. He went down and he lost the fight," a confident Fonfara said, referring to Stevenson's lone loss to Darnell Boone. Stevenson eventually avenged the KO loss by stoppage.
Fonfara, on the other hand, has also been stopped once, in the second round against Derrick Findley. That was 17 fights and six years ago. Today, Fonfara is rising contender who can boast the aged scalps of Gabriel Campillo and Glen Johnson on his ledger. But in 2014, Stevenson, Campillo and Johnson will not be confused for each other. Fonfara is stepping up and will likely be fighting uphill all night on Stevenson's home turf at Montreal, Quebec's Bell Centre.
"

This is not my first time as an underdog. I've proved people wrong before and I'll do it again," said Fonfara. "Everyone will see what I bring to the ring. I can handle his power. That doesn't worry me."
"

He's confident. I'm confident. But I have the power to end this fight quickly," said Stevenson.
Stevenson is something of a mystery man. At age 36, he is peaking. He's riding a 10-fight knockout streak while displaying that there is more to his 23-1 (20) record. Stevenson's head movement, awkward defense, willingness to be a counterpuncher or lead when necessary and his blistering one-punch knockout power have placed him in the driver's seat of the light heavyweight division.
Despite all that innate danger in the favorite Stevenson, his trainer understands and respects who he is facing.
"

I know the Fonfara camp very well," said Stevenson's trainer, Javan "Sugar" Hill, a protege of the late Emanuel Steward. "Sam and I go back to the amateur days. I know he trains fighters as well as I do. This is another level we have to fight on, only this is a world championship level. We can't wait to test our skills against each other."
At its best, a fight consists of two guys going for the knockout all night in tandem until someone gives. That's awesome. This fight has that potential. Fonfara can box and bang. Stevenson can box and blow your whole block up with one punch. But the danger in wanting that KO is in looking for it too intently. It's interesting to note both Stevenson and his trainer have set a knockout as an expectation in the fight. It's refreshing and interesting but potentially dangerous. Looking for one outcome might cancel out the potential for other avenues.
"

My trainer trained me for the knockout, so I'm looking for it," said Stevenson. "I know he is a good fighter and he's the best contender, so you have to watch Saturday night. It's going to be a good fight, exciting."
"

Everything is perfect. The training camp went well. Adonis is ready - his main focus is fighting Fonfara and the other objective is to get a knockout. I'm looking for a knockout from Adonis Stevenson and I hope everyone else is," said Hill.
Talk is cheap. Its time for punches. Fonfara was thought to be a walkover, a gimme before we got to the main course. But guys like Fonfara are generally the most dangerous, the guy you didn't see coming because you were looking off in the distance. The champ is likely the safe bet - but in boxing, stranger things have happened.
"

Everything is at stake. I have the chance to make history, so I have plenty of motivation for this fight," said Fonfara. "He has power but I can knock him out too. A knockout would be the best offense for me. With our styles, it will be a good, exciting fight."
Please visit our Facebook fan page at
www.facebook.com/MaxBoxing
, where you can discuss our content with Maxboxing readers as well as chime in via our fully interactive article comments sections.