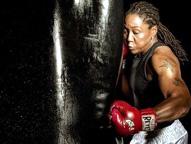 (Photo © Eric Doggett)


Last Saturday night, former world champion-turned-trainer Ann Wolfe's most renowned pupil, James Kirkland capped off his latest prodigal son act by stopping favorite Glen Tapia in six violent rounds. In the wake of that victory following a 20-month layoff, Kirkland has once again become a hot property. Thursday night, Wolfe joined David Duenez and me on www.leaveitintheringradio.com to talk about the fight, the stoppage and the future.
Any Kirkland fight is a war. It's as if Wolfe trains Kirkland to work at an intensity reminiscent of someone locked in a room, certain no help is coming and fighting to the death. Thus far, the two are undefeated together in smashing through opponents' guards, defenses and wills. This recent fight, designed to be a steppingstone for Tapia, was no different.

Touted by Top Rank Promotions to be the "Next Arturo Gatti," the hometown and odds-on favorite Tapia was supposed to get a Kirkland with a new trainer and new promoter (50 Cent) who was ripe for the picking. But this is boxing and fortunes turn quickly. Five weeks out from the fight, Kirkland returned to Wolfe and the two worked frantically to prepare for war.
The result was a fight that was competitive for the first two minutes with a couple of last-grasp efforts in the third round by Tapia followed by a prolonged beating for two rounds. It was a coup de
grâce
finish that had many boxing fans angry with Kirkland for doing his job in finishing off the young, formerly undefeated "Jersey Boy."
Tapia's trainer, Alex Devia, perhaps believed too strongly in his young fighter, wishing for a second wind that never came. The result was Tapia taking 76 power shots in the fourth, a junior middleweight record, and eating 24 unanswered punches in the final round before being knocked out as referee Steve Smoger finally stopped the fight.
"
I think he was caught up in the moment," Wolfe said of Devia. "I don't think he did anything on purpose. He might not have never worked a fight on HBO. He really wanted Glen to win. I don't think he would do anything to hurt him. He wanted him to win."
If Wolfe had a particular critique, it's that Devia never gave a specific instruction to turn the fight around.
"If you go look at the fight, [Devia] never gave [Tapia] not one instructions. He just said 'hold.' He never said 'jab.' 'Move your legs.' 'Hit him in the nuts.' Something. Anything. That's the only problem I had is that he never gave him instructions."
Devia seemed to not be seeing reality at times, telling Tapia that Kirkland was done after the end of the first round when his man had just finished getting hit for a full minute with no answer. Or when the corner was questioned by the ringside doctor and Smoger as to whether or not Tapia was OK to continue.
"
This is a sparring session, Steve," Devia said after the fourth round when his man was hammered into the ropes time and again by Kirkland.
"
I would never tell my fighter [the opponent] is done," said Wolfe. "As long as they are standing up, they have a chance to win. I'm not being disrespectful to [Devia] but I would never tell a fighter he's done. He's not done until the fight is over."
Wolfe sympathized with Devia, offering perhaps he was like that father who refuses to believe his son is losing and tries to command him to victory despite the score.
"
Glen, to me, looked like he was damn near unconscious on the stool," she said. "After the fifth, there is no way I would have sent my fighter back out there. Because in the fifth, [Tapia] showed a little bit but that was the last of it and you have to know. The last 30 seconds, he took 24 shots. He got 24 times; he was done. I would have stopped it in the fourth round. When he went in the fifth round and started taking shots, I would have stopped in the middle of the round. He would have never seen the sixth. Sh*t, I don't know if I would have let him see the fifth. I would have damn near stopped it in the middle of the fourth."
Wolfe also defended Devia, stating that fans don't understand what happens in a fight in terms of what a trainer can see. She pointed out that throughout the fight, Tapia was pinned on the ropes near Kirkland's corner, so she could see the beating Tapia was taking but perhaps Devia could not.
Still, that fateful round, the sixth, likely should not have happened. Tapia sat on his stool, Devia opening his eyes and imploring him to tell the ref and doctor he was going to come back and stop Kirkland, not reacting to anything. Once allowed to continue, Tapia never once responded to Devia commands. He didn't bounce on his toes, his nod of acknowledgment to Devia barely perceptible. To Wolfe, this was a major signal the fight was over.
"
I guarantee [Tapia] didn't know where the hell he was," said Wolfe. "All he did was he had a warrior heart. He wanted to stop. If you look at the beginning of the sixth round, he had a look like, 'What in the hell am I going to do?' When the cornerman said, 'Let me see some hop' and he didn't hop, that lets you know right then and there that he was done and he wanted you to save him. He never hopped; he never did sh*t. Right then and there, that let you know that he was done."
The end of the fight, less than a minute into the sixth round, saw Tapia on the ropes with Kirkland working at him toward a finish. Smoger got close, looking to end things. Tapia sat in his guard, taking shot after shot that wobbled his head as Kirkland worked in uppercuts underneath. A left uppercut hit paydirt and Tapia shot upright as if struck by a bolt of lightning. Smoger put his hand out, facing Tapia and Kirkland landed one more left hand that some critics feel was an illegal and unnecessary blow.
If you look at the history of Kirkland in the ring, all his fights are this intense and he often has to be pulled away at the end of rounds, after knockdowns and at the finish of fights. A strong move to stop him is needed. Even in this fight, Smoger had to aggressively stop him at the end of a round.
"
That referee didn't get in the way. He just stuck his hand in there. When you in a battle...when you have a dog chomping on your nuts, if somebody put your hand right there, are you going to stop punching the dog? Sh*t no. He just stuck it in between where their body was at," Wolfe observed. "Number one, he's close, so you see him. You're looking at him. If he sticks his hand in there, he's just as close. You don't know. He got real close to them; right? He continued to let James beat the hell out of him. Then when he stuck his hand out, James isn't going to look at [Smoger]'s hand. He stuck his hand out like that. So James Kirkland is going to continue to crack your ass.
"
If you look at the rest of the fight, right when the bell rang, boom! Steve grab James under the arm and near drug him off. So why when you want to stop the fight, why didn't you grab James Kirkland? It's not like Glen Tapia would have hit him. He was covering up. He should have put his hand in and pushed Kirkland away. He was turned towards Glen. He put his hand in the way and, sh*t, [Kirkland] should have hit [Tapia]."
Wolfe also commented that there was no question that Tapia being part of the that East Coast scene and as the favorite in the promotion led everyone from the commission doctor to the ref to the trainer to let the fight go too long in the hopes the hometown franchise would pull through as expected.
"
It's like in the Bible when the king said, 'I am going to cut the baby in half,' and the real mother said, 'Don't cut my baby in half. Just take the baby,'" surmised Wolfe. "They should have said, 'Instead of cutting this dude in half, take the fight. Because I love him too much to let the ever-living sh*t get beat out of him. I love the fighter more than the game.'"
After 20 months off, its somewhat amazing to think Kirkland landed 76 power punches in round four, a CompuBox record for junior middleweights. His 54 power shots-per-round average was, according to the punch statistics company, four times the average of every current 154-pounder. Not bad for such a hiatus.
"
If I say we have a set from one to 100, he was 75," said Wolfe of where Kirkland is in terms of fighting sharpness. "He tried to feel out Glen in the first round and got the sh*t knocked out of him and cracked up. [James] tested him out. If anybody knows anything about boxing, this was Glen's fifth fight of the year and James' first fight in two years. So [Tapia] had everything going for him. If you have been off for 20 months, I don't care how good of shape you are in; your body is different inside and out than if you are fighting [often like Tapia]. Glen went through five training camps as opposed to James going through five weeks of training."
As she had after his one-round loss to Nobuhiro Ishida in April of 2011, Wolfe reclaimed her fighter and worked him back into winning shape. But unlike that run where she had two fights and a final training camp to prepare for Alfredo Angulo, this time, she had just five weeks to take an in-shape Kirkland to the Promised Land. It was a piece of work that landed her a "Trainer of the Year" distinction on some lists for 2011. In truth, how she prepped Kirkland for Tapia is simply further proof of how talented and underrated a trainer Ann Wolfe truly is.
"
I had to prepare him in five weeks to fight an undefeated guy who had had five training camps who understood [the situation]," said Wolfe. "I had to prepare James for that. Everyone thinks I am just some crazy training with just aggression. Man, I am a very disciplined, good trainer. I know what I am doing. How many people do you know can prepare someone that has been off for two years to fight another guy who is decent and fought five times in a year. He had a 130 amateur fights and only 13 losses. I taken someone who had been off for two years and take them for five weeks. So guess what? I trained that kid for five weeks, day and night. I had to get him rest so I wouldn't overtrain him. So the process of not overtraining him and rest him and peak him the day of the fight...guess what? We trained the day of the fight. We ran in his pads; we sparred three light rounds the day of the fight." In case you didn't know, that's highly unorthodox.
A big part of preparation includes Wolfe giving Kirkland pep talks from hell.
"
I told him, 'Listen, we are going to go to battle. [Tapia] is going to be boxing. We're going to go fight. We're going to kill this motherf*cker. I want you to try to go kill his ass soon as the bell rings," said Wolfe. "People say, 'Do you really mean kill him?' Yes. Do I want him to die? No. But you have to have that mindset. I tell James, 'I want to see some skin on the gloves when you come back over here. Because guess what? If he doesn't, that's Kirkland going to the hospital. That's him telling his mom he lost. This is a savage, savage, murderous sport and people trying to make it tennis. We are punching each other in the damn head. If you ain't trying to kill somebody, why the hell are you punching people in the head until you render them unconscious?"
The results speak for themselves. 30 fights together. 30 wins. 26 knockouts.
As for the future, no one can say. Kirkland said he is with Ann Wolfe "right now and forever more" after the fight. To Wolfe, Kirkland is two fights away from being 100% of what she feels he can be. At his best, Kirkland is fighting often, staying in the gym between fights and sharpening his tools. Where he goes from here, who can say? A title fight with WBO 154-pound titleholder Demetrius Andrade is possibly on the table.
Love it or hate it, Ann Wolfe's training of Kirkland once again took him to a victory no one expected him to get. How long this partnership lasts this time is anyone's guess. The only thing that is for sure is when the two of them are together, they are thus far unstoppable.
To hear the Ann Wolfe interview in its entirety, hit the link:
Please visit our Facebook fan page at
www.facebook.com/MaxBoxing
, where you can discuss our content with Maxboxing readers as well as chime in via our fully interactive article comments sections.