Andre Ward shines in return, Adrien Broner a dud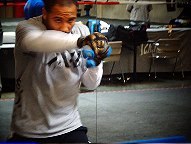 --


Away from the place he calls his "office" for the past 19 months, Andre Ward returned to work last Saturday night with a dominant performance by stopping overmatched Paul Smith at The Oracle Arena in Oakland, California.

Prior to his appearance, 31-year-old Ward had been stuck in legal hell with his former promoter, the late Dan Goossen. Ward wanted out of his contract. Both sides pointed fingers. Ward sued, and lost. His career sat in limbo. He came close to calling it quits several times.

But, after Goossen tragically died last October, Ward found himself looking to his future once again. Within a few months he raised eyebrows by signing with entertainment company Roc Nation.

Roc who?

Seen as something of a rebel, maybe even a trendsetter, Ward wanted control of his career. So instead of signing with a familiar promotional company like Golden Boy, Top Rank, or even the polarizing Al Haymon, Ward linked up with a company with no real boxing experience.

Criticism from social media was quick to follow. Some (most) called Ward crazy; a few said the move was gutsy.

I'm with the latter. Ward has always seemed like something of an outsider in the big ugly world of professional boxing. He doesn't brag, but he's obviously confident. He won't call out another opponent, but he responds to a challenge by basically saying, "Ok, let's talk."

His opponent last Saturday night, Paul Smith, had lost his two fights in a row to a pretty good fighter named Arthur Abraham. Smith is a decent boxer, but no top 10 guy. He shocked many when he came in overweight for his fight with Ward. He seemed stunned too. He had that deer in the headlights look at the weigh-in. He was ultimately fined 20 percent of his purse, approximately $45,000, with half of it going to Ward and half to the commission. (It was reported after the fight that Ward returned the money that was owed to Smith).

Ward wondered aloud if Smith had missed the catch weight of 172 pounds on purpose.

Was he hoping the extra pounds would give his punch a little extra oomph? Possible, though Smith said it was his mistake and apologized.

After a slow opening round of mostly jabs, Ward began to open up—by going to the body and head. Ward was sharp and forceful. He threw combinations, with his left doing most of the damage. Smith was bewildered. He stayed patient and tried to catch lightening in the bottle.

He nailed Ward with a pretty good punch to the chin in round six and a hard shot to the midsection a few minutes later. Ward rolled with the chin check and ignored the body shot. He teed off with rights—many catching Smith coming in or moving away.

One final combination broke Smith's nose, convincing his corner to throw in the towel. Smith wasn't unhappy about the stoppage.

"The towel couldn't have come soon enough," Smith said in an article by the Associated Press.

Ward ended up landing almost 40 percent of his punches. Smith's rate of success was 17 percent. Some said after the match that Ward looked slow—like he's lost a step.

Ridiculous. Ward looked like Ward. He controlled Smith with ease, doing whatever came naturally.

"It took some time to get the ring rust off," Ward said in the same AP article. "I started with the jab. I wanted to come out big bang and get a first-round KO, but I have a great coach and he told me to take my time and the knockout will come."

Ward hopes to be back in the squared circle by October or November.

  Over twenty years ago a movie with the title, "The Problem Child" premiered. The film's plot centered on a boy named "Junior" who wreaks havoc on everything around him. Some thought it was cute, while most loathed it. The film did do wellenough at the box-office to convince Hollywood to make a sequel. It sucked too.

After witnessing the pathetic performance of Adrien "The Problem"Broner a few days ago, I'm convinced that Broner should give up boxing and star in the third installment of "The Problem Child" series.

The soon to be 26-year-old is an immature diva who loves to see his name in lights, but refuses to pay the price.

Broner has won world titles in three different weight divisions, but it's obvious that none of that matters. He's in love with his own celebrity. His quote after the fight was revealing.

"Listen, I still will fight anybody. It don't matter, man. I'm a real animal. I'm an animal," said Broner. "This time I didn't get the decision, but it's OK. At the end of the day, everybody in here will take my autograph and take my picture."

Really?

Boxing isn't like that, Adrien. Boxing is more like, "What have you done for me lately"?

Broner has been on the losing side in two of his last five bouts. He's arguably the most unpopular fighter in the sport. He has some talent, but obviously the only thing he seems good at these days is wasting it. See you in Hollywood.


---



Subscribe to feed