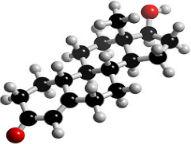 Nandrolone Molecule Structure


Professor of Physical Chemistry Paul May BSc, PhD(Bristol), CChem, MRSC at the University of Bristol said in 2000 of Nandrolone: "The drug known as nandrolone (also known commercially as Deca-Durabolin) has the IUPAC name 17b-hydroxy-19-nor-4-andro-sten-3-one, and is an anabolic steroid (a muscle-building chemical) which occurs naturally in the human body, but only in tiny quantities. It is very similar in structure to the male hormone testosterone, and has many of the same effects in terms of increasing muscle mass, without some of the more unwanted side-effects such as increased body hair or aggressive behavior. As such, it is being actively examined in clinical tests as a possible treatment for wasting diseases, and to strengthen and increase body tissue and musculature in HIV infected men. In this form it is usually injected in its decanoate form, after first being dissolved in a suitable edible oil."

"However, what is detected in the drug tests is the metabolism product of this molecule, called 19-norandrosterone, which is excreted from the body in urine, making it easy to obtain samples. A limit of 2 ng per ml of urine (set by the International Olympic Committee) is the maximum concentration thought possible to occur in human body by 'natural means', and if this is exceeded the drug test is considered positive. Since some samples given by athletes have shown levels up to 100 times higher than this, the conclusion is that the athletes must have been taking extra quantities of the drug to enhance their performance."

In essence, nandrolone is the parent drug. Norandrosterone is its metabolic byproduct. It gets left in your urine and even the tiniest trace is louder than a bomb when going through a standard (World Anti-Doping Agency) WADA-code approved drug screening. To understand how minute the allowed limit of 2 nanograms (ng) per milliliter (ml) of urine is this is equal to 2 parts per trillion! This is considered an "ultra-trace concentration" in scientific terms.

Another theory from the paper is that a combination of overtraining along with certain supplements i.e. protein and creatine, can result in a positive test for nandrolone.

"A much more likely theory has recently emerged from the results of a preliminary investigation at Aberdeen University," states Prof. May. "The findings are that dietary supplements themselves are harmless and produce no increased levels of nandrolone. Exercise alone, too, doesn't cause any problems. But a combination of both dietary supplements (none of which contain a banned substance) and exercise, can result in a positive nandrolone test. The reason for this is still unclear, but one theory is that there is a link between heavy training, the dehydration that goes with it, and their effects upon the components of high protein diets. Until more work is done, however, the 'nandrolone mystery' goes on..."

One further theory states that contaminated food such as cattle meat, liver, and other edible parts can be contaminated with traces of nadrolone.

Nandrolone is extremely potent. One salt-sized speck in your system could last up to six months and trigger a positive test. However, it is not considered to be a drug a sophisticated performance enhancing drug (PED) user, doctor or dealer would administer. It's far too hard to mask and there are better things on the market such as testosterone gels, creams, patches, and injections.

Contamination can also occur if a substance was bought or created on the black market, for example, if the person mixing a certain supplement containing nandrolone did not clean his equipment properly and made a batch of another substance, those tiny trace amounts could easily trigger a positive test for a long time to come.

In any case, sources informed this writer that on early Saturday May 12, VADA as well as Berto's adviser Al Haymon, were notified of the first positive test by the UCLA Analytical Laboratory. By as late as Thursday, Berto's "B" sample was being tested. The results were released Friday morning and it was confirmed that Berto's "B" sample had tested positive for nandrolone. Berto was caught in the standard (World Anti-Doping Agency) WADA-approved anabolic steroid drug panel conducted by VADA that tests for roughly 35-40 banned substances on the WADA list.

Berto's team released this statement:

"Andre Berto Denies Use of Any Banned Substances, Investigation Underway Regarding Cause of Positive Test

Los Angeles (May 18, 2012) - Andre Berto was recently advised that he has tested positive for low levels of 19-norandrosterone, a metabolite of nandrolone or nandrolone precursors. So far, neither Andre Berto nor his lawyer have been provided with any laboratory documentation other than a 1-page, summary report of the laboratory's findings. Mr. Berto's lawyer has requested the complete laboratory documentation package, including all chain of custody documentation and scientific data supporting the laboratory's summary report.

Mr. Berto issued this statement:

"At the present time, I cannot explain the positive drug test, which was provided as part of a voluntary anti-doping program in which I agreed to participate. I know that I have never used any steroids or other banned substances, and I am investigating all possible causes of the positive test with my attorney Howard Jacobs. I have never cheated, and all of my success has come from hard work and dedication."

Victor Ortiz' manager Rolando Arellano told Maxboxing.com's Steve Kim, "I don't want to make any conclusions, make any inappropriate statements because I'm on a fact-finding mission. I want to make sure that there are no mistakes, there's no problems with the lab or anything like that. I'll give the guy the benefit of the doubt because we want to fight him. If it comes back that the evidence supports the conclusion that he tested positive on steroids, I gotta move on with Victor's career."

The first thing that came to minds not paying attention to the anti-doping movement in sports in general and boxing specifically in the past few years was that nutrition guru and former BALCO owner Victor Conte had to be behind Berto's positive test. Conte and Berto's connection was made public last year in preparation for the September 3 bout for Jan Zaveck's IBF welterweight title. Berto won in an excellent fight but relinquished the belt to rematch Victor Ortiz whom he had a Fight of the Year candidate with in April of 2011.

However, a review of the facts reveals that Mr. Conte is in fact no longer working with Andre Berto in the same capacity he was during Berto's prep for Jan Zaveck. Mr. Conte released a statement to the press after stating as such on twitter Friday afternoon.

"I had absolutely nothing to do Andre Berto's positive drug test for nandrolone," stated Conte. "Andre enrolled in the VADA drug testing program in early 2012. While using my nutritional products and protocols Andre's blood and urine were randomly tested twice before his recent bicep injury and all tests were negative. After his positive test was revealed, Andre admitted that he recently took some supplements that were not provided by me and did so without my knowledge. It is possible that one these supplements was contaminated with trace amounts of nandrolone and caused his positive test result. My understanding is that an investigation is being conducted in an attempt to determine the culprit. I was the person who encouraged Andre to enroll in the VADA program and I will continue to encourage athletes to do so. There have been hundreds of nandrolone positive drug tests in the past that I believe were a result of contaminated supplements. Nandrolone is the longest lasting anabolic steroid known to man and therefore it is unlikely that any elite athlete would ever use it in an attempt to cheat. However, the strict liability rule makes an athlete responsible for whatever is in their body regardless of how it got there. I do my best to help athletes to make good choices, but unfortunately they do not always listen to my advice."

Conte was at the center of a firestorm that surrounded Barry Bonds and boxer Shane Mosley among other high profile elite athletes ensnared in the BALCO scandal. Conte ultimately served four months in a federal correctional institution with four months home arrest. He never turned anyone in and he didn't provide evidence against anyone else in the case and instead accepted full responsibility. In recent years, he has educated the public on performance enhancing drug issues through constant media interaction on stories ranging from the Ryan Braun case to PEDs in boxing. Conte has been ahead of the curve from warning anyone who would listen about the issues with testosterone abuse to the current therapeutic use exemption for the prescription testosterone problem sweeping combat sports. He has also been an advocate for using Carbon Isotope Ratio testing as far back as five years ago. This is a man WADA founding chairman Dick Pound entrusts to give advice and his ideas on strategy to catch drug cheats.

For the Zaveck fight, Berto and his trainer Tony Morgan worked out at the Undisputed Boxing Gym in Northern California. For his rematch with Ortiz, Berto changed locales. First he was in Los Angeles at the Ten Goose Boxing Club in Van Nuys. But a left biceps injury postponed the rematch with Ortiz. After he became healthy, Berto and his team returned home to Winter Haven, Florida to train near his home. A sample collected at the Winter Haven location May 3 is the one that resulted in the positive drug test far from Conte who has not visited that camp.

Understanding both the advanced methods Conte used in the BALCO case and the primitive drug nandrolone is, one need only to use logic to decipher Conte's statement and the situation. At a time like this in boxing, self-education is key.

The now defaulted rematch with Ortiz, scheduled for June 23 at Staples Center in L.A. was to be Showtime's first big event under new head of boxing Stephen Espinosa. Instead, it has become the second successful test for VADA, who recently caught WBA/IBF junior welterweight champion Lamont Peterson with synthetic testosterone in his system using a highly effective and revolutionary screening test method known as Carbon Isotope Ratio (CIR) testing.

Peterson's positive result and its implications with CIR testing as a screening tool were the topic of discussion at the WADA board of directors meeting today in Montreal, Canada. The results of that discussion could change the way this summer's London Games will be tested.

"VADA carried out the testing that we were asked to perform. Apart from that, I would hope that VADA can educate fighters and others in the sport with regard to the risks inherent in using PEDs," said VADA president Dr. Margaret Goodman in a statement released to Maxboxing.com.

This is the second high profile boxing match to be cancelled in nearly the eleventh hour of promotion this month. As for the immediate future of that June 23 date, Golden Boy Promotions CEO Richard Schaefer told Maxboxing.com on Friday afternoon that the rematch was likely off pending the results of Team Berto's internal investigation. Any administrative action that the California State Athletic Commission executive director George Dodd might decide to take will be determined later. On Friday neither Dodd or his chief second, Che Guevara were in the office to comment and could not be reached.

However, according to Schaefer the card will go on. Victor Ortiz will now have his pick from a short list of fighters to replace Berto while the rest of the card, featuring a great fight between Humberto Soto and Lucas Matthysse, will go on as planned. Schaefer told me adding Chris Arreola to the undercard is also a possibility.

In the Lamont Peterson case, Golden Boy was not notified of a positive test for three weeks after that first "A" sample tested positive. Schaefer praised Al Haymon for informing him promptly so that the entire card can be saved, with the exception of one fight, unlike Khan-Peterson II which was cancelled nearly two weeks from the fight.

"I was told Saturday night by the adviser for Mr. Berto that the sample had come back positive and that [Haymon[ was going to insure that the "B" sample would be tested right away no matter what the costs were," Richard Schaefer told Maxboxing.com. "Haymon would push for an immediate testing of the "B" sample. And that "B" sample and those tests were done within a few days. [Writer's note: Thursday to be exact] They came back positive as well. Obviously by the way this was handled, it was professional. I was only informed by VADA Friday. It was less than a week from when they found out the "B" sample tested positive. In this way, in this case, I had an opportunity to find a replacement. I can assure you the event will stay on. And we will find a replacement and Victor Ortiz will be fighting June the 23rd at Staples Center and so will all the other fighters that would be on that card. And Chris Arreola as well. It will be a big night for boxing in Los Angeles. It's unfortunate what has happened here again but how it was handled by Al Haymon, who is a pro, as opposed to Lamont Peterson's people which was very amateurish."

As things stand, the actual readouts from the tests performed have not been received by VADA or Team Berto and their lawyer Howard Jacobs.

It should also be noted that Golden Boy Promotions has been behind better drug testing in boxing since day one, promoting seven major fights using either the United States Anti-Doping Association (USADA) testing or VADA testing. They're bearing the brunt financially while anti-doping advocate Victor Conte and VADA put their reputations on the line during this intense period of change within boxing. It is an exciting time to be a fight fan.

More details to come as this story breaks.