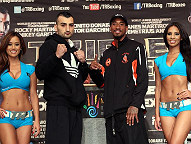 (Photo © Chris Farina / Top Rank)


Saturday night on HBO, live from the American Bank Center in Corpus Christi, Texas, junior middleweight contender Demetrius Andrade faces Vanes Martirosyan for the vacant WBO title. The bout is a featured attraction on a Top Rank Promotions card featuring a rematch between Nonito Donaire and Vic Darchinyan and Mikey Garcia vying for Roman Martinez's 130-pound title. The fight is the first title shot for both men. The Star Boxing-promoted Andrade was originally supposed to fight for the belt against former incumbent Zaurbek Baysangurov but the former titleholder withdrew due to injury. Now Andrade gets the Top Rank-promoted Martirosyan.
"It has its ups and downs. I was little upset," Andrade told Maxboxing.com of the canceled title shot. But things worked out for the better, he says. Andrade restructured his team and returned home to his roots, bringing his father and brother back into the mix.

"[It's been great] with my dad and my brother back in the situation, everyone that has been there since pretty much day one as far as training," explained Andrade. "In the gym, they're keeping my spirits up, giving me the motivation to know that someday soon, you will be there. 'Let's not frown about it and falter in staying on top of things.' So that's what we kept doing. We stayed focused. We knew [the title shot] was going to come and now it's here."
At the time of the cancelation, Andrade was up in the Bay Area, working briefly with trainer Virgil Hunter as well as sprint coach Remi Korchemny and SNAC Systems owner Victor Conte. While he enjoyed the experience, the fit wasn't right.
"Being out there in the Bay Area doing the sprint work and learning some new things, I felt like I needed my dad there for the boxing aspect of the game because there is nobody out there that knows me and understands what I am capable of doing. He also had some unfinished work. [My dad] deserves to be there for my first title shot because we have passed from the bottom and ate our way up. Therefore, that's why I made that decision. Everything else is perfect."
The trainer and fighter union is a delicate relationship, requiring an inexplicable connection. I asked Andrade what it is that his father, Paul can do for him in the corner that no else can.
"I mean, he told me everything I know, so, mentally, how can somebody else teach or show me a different way when I been winning?" asked Andrade. "I'm winning every fight off everything I know from my dad. Going into the ring, he knows what shots to use, what's going to work for me and what's not going to work. He knows this and other people have to learn me and take time to catch up. So why do that? I just decided to work together and capture this title together."
A 6'1" southpaw, Andrade is at least two kinds of problem. Long, lanky and with a 19-0 (13) record, a 2008 Olympic pedigree (he lost in the third round), an athletic build and a good, all-around game, Andrade looks like "The Guy." If there is a knock on him, it's that he has yet to step up in class. Andrade's best win is against Freddy Hernandez, a solid fighter but perhaps not total proof one is ready to vie for a world title shot. But Andrade sees this fight more about styles rather than experience.
"I look at how he fights in the ring, not who he fought or his résumé, this guy or that guy," said Andrade when I asked him to assess Martirosyan. "Every fight, I am learning and developing. Every fight, I feel I am getting better. What is defining me is I have the ability to win, no matter what. I have the skills to overcome what is in front of me."
Beyond that, Andrade says that he is becoming more complete and more importantly, more comfortable between the ropes.
"My growth, my maturity, my development, my strength, my power, my skills, everything is greater than it was before," Andrade said. "I feel confident about myself and what I am able to do in there. At this point, I am the complete package. If I have to use my power to keep somebody off me, I have enough power to do that. Also, my speed and my accuracy will set up my power shots. Also, my reach will keep them at bay. And if I have to go inside, I will either lock them up or work inside."
At 6'0" with a 73" reach, the 27-year-old Martirosyan, 33-0-1 (21), is a bit of a puzzle. Also an Olympian (2004, lost in the second round), he is a guy who has not quite broken through to the next level. In June of 2010, he had a shot at being a TV fighter of note against Joe Greene and instead, he helped stink out the joint in a boring fight and has been working to get into the spotlight ever since (unless you count the Alfredo Angulo fight he turned down in Mexico that James Kirkland took, ultimately resurrecting his own career). A June 2011 scrap with Saul Duran that saw Martirosyan hit the canvas in the second round but win by stoppage in the seventh, excited fans but seemed to stall him further. A third round TKO of an ancient Troy Lowry in February of 2012 did nothing but provide a sad highlight reel of how bad the licensing process in Texas must be.
Most recently, Martirosyan was in another so-so affair, this time against Erislandy Lara, a southpaw counterpuncher, that ended in a draw after Vanes suffered a cut in the ninth. In June, Martirosyan stopped an overmatched Ryan Davis in two rounds.
"The only fight he had was against Lara so I don't understand," said Andrade. "He has 30 fights but he hasn't fought anybody that's the same caliber as me. After Lara, who did he fight? A guy, 'Something Something,' who knocked him down in the second round on an HBO undercard? That's not…after that, you stepped back down when you supposed to be on the way up so…I believe I am better, smarter, faster, stronger and November 9, we are going to find out. May the best man win."
While Andrade may not have been matched very hard, Vanes has done well when matched soft. That said, when matched hard, he's failed to rise to those occasion. It will be interesting to see if Martirosyan learns from that and pushes through or if Andrade, in his first time on the big stage, becomes the boss and never lets him.
"I'm always prepared to go 12 rounds but I train like it's a 15-round fight, said Andrade, assessing Martirosyan himself and the possible outcome. "But knowing who I am and what I am doing, my punch count and the way I feel stronger and faster than in my previous fight, I feel I can stop him. He doesn't do too much head movement. He's stationary. With my speed and my accuracy, my angles and everything, I do and bring to the table, I believe I can stop him.
"I feel like he is a simple fighter," continued Andrade, referring to Martirosyan's style. "I'm not taking anything away from him. He worked hard to get where he did but he hasn't fought anybody else either. His step up was against Lara, Joe Greene. I don't think he is a step up either. I was sparring Joe Greene when I was kid of 15, 16."
The first title shot says a lot about both men. They persevered in a sport that is almost impossible to do so. Whether they end up elite fighters or journeymen, getting to this point is impressive. As Harrison Ford's Colonel Graff says in the film "Ender's Game," 'You're never ready. You go when you're ready enough.' This is their ready enough moment. Let's see.
"I trained for 18 years. I been working hard for 18 years. I am ready for the opportunity," said Andrade. "I have the skills. I have the ability. I have the will. I have the heart. I have everything it takes and I am doing everything necessary to be that.
"So if the time is now, I'm ready."
Please visit our Facebook fan page at www.facebook.com/MaxBoxing, where you can discuss our content with Maxboxing readers as well as chime in via our fully interactive article comments sections.