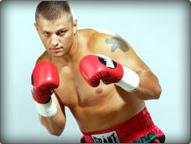 Sergei Liakhovich


Today's EPIX broadcast is reminiscent of HBO's celebrated "Night of the Young Heavyweights" show back in 1996, in which future world title challengers John Ruiz, Shannon Briggs, David Tua, Andrew Golota, Michael Grant and Jameel McCline shared the same ring. Tomorrow's promotion is appropriately dubbed "Night of the Hunters" in Germany, since the winners are in line for title shots. There are only four heavyweights on the EPIX telecast but as a whole, they represent nearly a third of The Ring magazine's heavyweight top ten with numbers three, five, and nine displaying their wares. Outside of the Klitschko brothers fighting on the same card, it is hard to imagine a promoter putting together a more important heavyweight event the rest of the year for any network.

Forget about the bogus WBA "regular" heavyweight belt on offer, it is only of significance for making the main event a 12-round affair. These matchups are about fresh heavyweight faces positioning themselves to challenge Wladimir Klitschko for the legitimate World Heavyweight Championship. The winner of the Ruslan Chagaev – Alexander Povetkin bout is guaranteed that opportunity, a title shot Povetkin was ironically talked out of accepting by trainer Teddy Atlas last year. The winner of the co-feature, Sergei Liakhovich versus Robert Helenius, is a logical challenger to the winner of the Vitali Klitschko - Tomasz Adamek bout on September 10th. Travis Pomposello, EPIX senior executive in charge of boxing, was attracted by the new future theses bouts symbolize. "EPIX looks forward to providing U.S.-based boxing fans exclusive live coverage of the Povetkin- Chagaev heavyweight title fight and presenting a preview of the heavyweight division's next generation of world champions and title challengers."

The opener features hot Scandinavian prospect Robert "The Nordic Nightmare" Helenius against Sergei "The White Wolf" Liakhovich, an interesting match-up of boxer-punchers who lack flair but produce entertaining fights. Their stand-up, straightforward styles make for clashes at center ring and neither has shown much use for defense once they establish an offensive rhythm. Helenius is attempting to make Liakhovich the third former world titleholder notch on his gun, after Lamon Brewster and Samuel Peter, in only his 16th professional fight. The 35-year-old Liakhovich understands anything other than a victory relegates him to opponent status for a hungry pack of young heavyweights emerging from Europe at this time.

Sergei Liakhovich, from Belarus but fighting out of Scottsdale, Arizona, looked an interesting contender (yes, even though he held the WBO title) before a last-second loss to Shannon Briggs in his first title defense. An erratic boxer, Liakhovich can look good defeating Lamon Brewster in one of last decade's better heavyweight clashes, or horrible losing via stoppage to Maurice Harris. Has even shown that tendency within a fight, dominating large stretches against Shannon Briggs before Liakhovich was counted out with one second remaining in the fight. Liakhovich took a year-and-a-half off before losing lopsidedly in a subsequent title challenge to behemoth Nikolay Valuev. In his most recent incarnation, Liakhovich has scored two knockouts against trial horses over the last two years. At 6'4" and a solid 230 pounds, Liakhovich can be dangerous, doubly so since returning to trainer Kenny Weldon, who seems to get the best out of the perplexing puncher.

The 27-year-old Robert Helenius does not look the part of a heavyweight champion, even at 6'6½" and 240 pounds, with a receding hairline and equally unimpressive musculature reminiscent of the aging Larry Holmes. A quality but unspectacular amateur, Helenius won bronze and silver medals at the European level but nothing spoke to such future success at the pro level. Notable wins over Samuel Peter and Lamon Brewster before his 15th pro bout belie Helenius' first impression. His promoter's confidence in scheduling difficult opposition has paid off in a top ten ranking by The Ring magazine. Helenius exercises a patient game plan, waiting for openings or mistakes, dominating frustrated opponents before scoring emphatic stoppages. Finland's finest is eerily effective, his accurately thudding punches taking an increasing toll as the rounds ratchet up. As importantly for fans, Helenius has displayed a killer instinct once he gets the upper hand. Helenius has managed to stuff a high-octane Porsche engine in a Volkswagen body.


The Helenius – Liakhovich bout has the look and feel of a classic crossroads battle. It features a former champion with miles left on his boxing odometer against an aspiring contender set on supplanting and taking on the prestige of a vanquished foe. Liakhovich has sported a confident look all week and is saying the right things. "Helenius is a good fighter. He does certain things in the ring very well but my job is to take that away from him. I will beat him at what he does badly and will take away what he does well. Fans are going to see a high-quality level of boxing." Helenius left no room for excuses himself, "I am in great shape and I am ready for Liakhovich. He is a very accomplished fighter who boasts a great deal of experience but I have also been in the ring with former champions." It was Liakhovich who provided the quote that stuck out in my mind. "It was me who picked Helenius, not the other way round."

In the main event, Alexander Povetkin attempts to strengthen his claim as the best heavyweight without a Klitschko surname and a win over a former champion and respected veteran like Ruslan Chagaev will do just that. Although, discussions over a disjointed training camp dominated the last press conference and took some of the spotlight away from Povetkin. A forthright Teddy Atlas spoke about less than optimal preparation from his standpoint. "We had a very condensed training camp (three weeks instead of Atlas' preferred eight), not the amount of sparring that we would normally want to have, especially southpaw sparring." On the upside, both combatants have been complimentary of each other, a change from recent heavyweight promotions where David Haye and Dereck Chisora made fools of themselves before suffering humiliating defeats, on which Povetkin commented, "That should be normal. After all, we are role models for a lot of young people. The sporting aspects should always be more important than business aspects."

Alexander Povetkin is one of the last Russian boxers with an old-style, Soviet amateur pedigree, recording a 125-7 record and avenging every loss in the unpaid ranks. Made his first impact on the international amateur stage, winning the Goodwill Games gold medal in 2001. After that triumph, Povetkin entered 16 competitions winning all but one (upset in the Russian national title final) over a span of three years. Despite burly stature, 6'2" and 225 pounds, collected gold medals at the Russian, European, World Amateur Championship, and Olympic Games. At 2004 Olympics, no opponent came within 12 points of defeating the juggernaut. Importantly, Povetkin gives his best performances on the biggest stage, like when Povetkin overcame a slow start to dominate fellow unbeaten prospect Eddie Chambers, building up momentum and steamrolling Chambers like a locomotive. This came after Povetkin showed an ample arsenal defeating former champion Chris Byrd in only his 14th pro bout. The level of opposition has declined markedly since the Chambers victory but Povetkin looks like a thoroughbred waiting to have his reins released.

Ruslan Chagaev is a powerful southpaw with great fundamentals honed during a celebrated amateur career. Not one to shy away from challenges, Chagaev beat legendary amateur Félix Savón and won gold at the World Amateur Championships twice. Represented Uzbekistan in two Olympics as well. Outside of a one-sided setback to Wladimir Klitschko (certainly forgivable), Chagaev has never lost and rarely allowed fights to get close on the scorecards. Began his career in America but later signed with German power promoter Universum, who moved Chagaev rapidly and intelligently to the WBA throne, defeating John Ruiz and Nikolay Valuev. At 6'1", he lacks height but Chagaev puts all 230 pounds behind every punch and has proven adept on the inside. Dishes out powerful shots during infighting and is not at a loss when at a distance. Has a powerful jab, timing it perfectly to out-jab seven-footer Valuev. In fact, Chagaev has been hampered more by injuries, a torn Achilles tendon and Hepatitis B and the inactivity they have brought, than opponents.

This is an intriguing pairing and, given the duo's pro and amateur successes, I expect a lot of this high-level showdown. Chagaev and Povetkin's complex skill sets elevate both but I do not expect either man to run away with the fight and would not be surprised if an early stalemate devolves into a brawl. Therefore, it is good to see both men respect each other, as it won't allow their emotions in the moment to effect the action in ring. Povetkin told Maxboxing's Anson Wainwright, "[Chagaev] is a great boxer and very experienced. He is a fair sportsman. I have a lot of respect for him." Teddy Atlas, as usual, was analytical about the task before him. "Povetkin needs to avoid Chagaev's left hand, to move to [Povetkin]'s left to avoid Ruslan's power, his left hand. I think we can have a spot when we can hit him with our right hand. I think there's an opportunity inside to land certain punches."

Promoter Kalle Sauerland is rightly proud of the event, both for the match-ups and how the promotion has returned boxing to a good light. "The show is not out in front; it has been pushed to the back by the sport of boxing. We have four potential heavyweight champions in the two main events. That´s about as good as it gets. This is going to be heavyweight boxing of the highest form, with Povetkin and Chagaev having a lot in common." Sauerland accentuated the boxers' similarities instead of dividing them by status. "Both celebrated a lot of victories in the amateurs. Their physiques are similar and both have shown great respect for each other. Ruslan has more experience in the professional ranks but Alexander is the man of the future. He (pointing at Alexander) will win." Sauerland parted the dais with praise for his two combatants. "Povetkin is younger, faster, and stronger. I expect him to win, just as I expect our Scandinavian heavyweight sensation Robert Helenius to knock out the third ex-heavyweight champion in a row to continue his march to the top."

The EPIX network deserves a special mention and praise for obtaining the American rights to this event, which would otherwise only be available via a questionable stream on the internet. The live broadcast originates from Erfurt, Germany (starting at 5 PM ET.) and as has become custom for EPIX, it will simulcast the fights on the Times Square JumboTron. Viewers watching the live stream, on EpixHD.com, are given round-by-round blog analysis by Sports Illustrated's boxing writer Chris Mannix. The studio crew consists of Mike Crispino, former Undisputed World Heavyweight Champion Lennox Lewis and ESPN's Dan Rafael. Frankly, outside of Rafael's candor, this is the weakest part of EPIX otherwise excellent presentation of boxing.

Overall, this should be an entertaining fight card and will remind the older boxing crowd of their youth when live Saturday afternoon boxing was a staple of sports television.