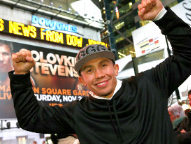 Photo © Will Hart / K2


Unlike most opponents of WBA middleweight titlist Gennady Golovkin, Curtis Stevens, who faces him this weekend at the Theater in Madison Square Garden (HBO, 10 p.m., ET), has not been particularly reverential or even all that respectful of Golovkin. In fact, in many respects, he's been downright dismissive. The Brooklyn native comes in with a sense of swagger and confidence unseen by past opponents.
No, he's been anything but a "good boy" during the lead-up to this fight.
When asked about Stevens, Golovkin just shook his head and said, "Big mouth, y' know? Too much for me, his talk. It's very bad. And on Twitter, it's too much. For me, it's a sport."

"A little bit," he admitted with a laugh on the night of September 28th inside the media room at the StubHub Center, where Julio Cesar Chavez Jr. was battling Bryan Vera. Despite his concussive power, Golovkin always has looked upon boxing as an athletic endeavor and a way to make a living, nothing more. However, for this contest, he states, "Just for me, I want a street fight, for my parents, for my friends. They say, 'Hey, please relax. It doesn't matter who's talking. You know your power, your style. Just relax.' So for me, OK, I understand. It's a sport."
Abel Sanchez, Golovkin's trainer, told Maxboxing last week, "It's not agitation. It's just that [Golovkin] feels the guy's got a big mouth and he's consistently said, 'I've got a surprise for him.' It's not agitating to him because he can't do nothing about it. Curtis is going to do what he wants to do. It's not Gennady's style to talk but I've said a couple of things but we're not going to be derogatory, especially after Franky Leal's death just a couple of days ago.
"For Curtis to be doing what he's doing, it's ridiculous in this sport."
But this is why Stevens was perfect for this event. Not only is he from the local area but his personality and bluster provide a perfect foil for the gentlemanly Golovkin.
"Absolutely. Curtis Stevens was the right choice for this fight," said Tom Loeffler, Managing Director of K2 Promotions, which handles Golovkin's career. "He's from Brooklyn; he has a great following in New York; he's known as a big puncher in the middleweight division. He's really known for being a super middleweight. Now he's fighting at middleweight and he brings a lot of promotion and publicity with him. With his last knockout over Saul Roman, there's a lot of momentum with his career as well.
"That's why we're excited about this promotion and also the fact it's two of the biggest punchers in the middleweight division, which will provide a lot of fireworks."
So is there any chance Golovkin gets reckless and pays for it against "Showtime"?
"He's going to be himself; he's had too many fights and we've had too many talks and too many experiences in the gym, discussions regarding what happens the day after the fight. We don't want to make any mistakes in there," said Sanchez with confidence.
According to Golovkin, the only other opponent who has ever gotten under his skin was Kassim Ouma, who he stopped in 10 rounds in Panama in June of 2011. It was a fight where Golovkin was actually touched up quite a bit. Stevens possesses much more power than Ouma.
"Right now, my focus is just fighting," said Golovkin. "I know the strategy; I know the plan for this fight. I think knockout."
Photo © K9 Photos
Q-RATING
On this late September night, one thing was evident as you saw Golovkin walking around the StubHub Center, he is a much more popular entity than he was the same time last year. Throughout the evening, he was mobbed by the mostly Mexican masses looking to snap a photo or get his John Hancock.
"First of all, just thank you to my fans," he said when asked about the reception he received. "Just a lot of them like my style and I'm happy too because I think it's good for everybody. For the sport, for TV."
"GGG" has come a long way in 2013.
"It's very good for my career, for my life. It's very good."
TNR
Here's the latest episode of "The Next Round" with Gabriel Montoya and Yours Truly:
http://www.blogtalkradio.com/thenextround/2013/10/29/the-next-round-episode-455
DECEMBER 14TH
On Thursday (2 p.m., CT), the public is invited to a press conference to formally announce Golden Boy Promotions' big December 14th card in San Antonio, Texas at the Alamodome.
I'm told the venue will be configured for 30,000 for that card and tickets will be priced at: $250, $200, $150, $100, $75, $50, $25, $20 and $10.
MIDWEEK FLURRIES
It's never boring with Adrien Broner; is it? And if you don't know what I'm referring to, go to MediaTakeOut.com...I thought it was a pretty good scrap between two young middleweights, Paul Mendez and Louis Rose. I thought Rose edged it but it was close...Till I see LeBron and the Heat knocked off, they're my pick to win the Larry O'Brien Trophy...So has Saul Alvarez announced his plans for 2015?...I can be reached at
k9kim@yahoo.com
and I tweet at
www.twitter.com/stevemaxboxing
. We also have a Facebook fan page at
www.facebook.com/MaxBoxing
, where you can discuss our content with Maxboxing readers as well as chime in via our fully interactive article comments sections.