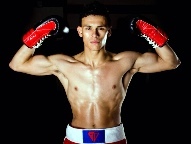 -


Bakersfield, California featherweight Edwin "The Hitman" Sandoval is looking forward to his pro debut after an outstanding amateur career and it looks like fight fans are going to have an exciting, young featherweight to follow. While the 20-year-old, 122-pound amateur phenom knows it will be a different game with new pressures and adjustments to the pro style, he is excited and knows the time is right to start to punch for pay.
Sandoval entered the ring at age 10 and hasn't looked back since. The early years of his amateur career included six state titles and five regional championships. 2007 saw him awarded the Police Athletic League's (PAL) most "outstanding boxer" distinction in his age group (14-15). He followed that up in 2008 by winning the silver medal in the National PAL Games. In 2009, he won silver at the Junior Olympics and again, captured a silver medal at the National PAL and Junior World Games. Sandoval had become the "one to watch" in U.S. amateur boxing after taking the bronze medal in the 2010 Golden Gloves. He was then called to compete in a 2011 box-off for a chance to go to the USA Olympic Trials. Sandoval came up short in the Trials but went on to win gold in the 2012 World Series of Boxing in Tahiti. Sandoval closed out his amateur career with impressive numbers, going 72-13 in 85 bouts before deciding to turn pro.

The personable, friendly young fighter recently signed to Los Angeles based Sheer Sports Management and is living and training in Santa Monica, California. In a recent chat, Edwin expressed his excitement about his imminent pro debut as he is more than excited to be stepping through the ropes for the first time as a professional.
"I'm hoping to turn pro soon. I think I'll be fighting in Mexico", he said. "I've been training with my new coach [former heavyweight contender] Courage Tshabalala and it has been going really good. We are clicking well." When not preparing for his pro debut, Edwin is a busy young man who cites music as an extracurricular passion. "I play the guitar and I also play the accordion," he said. He also busies himself with his education as he pursues college courses at Bakersfield Community College.
Sandoval will fight at 122 when he turns pro but says he may look at "dropping down to 118 if my body feels OK. We'll see how I feel." Citing Juan Manuel Marquez as one of his "favorite fighters growing up," he also expressed his admiration for former multiple world champion Oscar De la Hoya in and out of the ring. "I liked Oscar a lot. He was a great fighter and I admire what he's done in boxing after his career in the ring was over with," said Sandoval. "I will be involved in boxing my whole life in some capacity, maybe coaching or managing."
The young fighter continually pays homage to his Mexican heritage, mining his strong body-punching arsenal with a phenomenal body attack in every round. "My goal is to turn pro and stay busy. I'd like to fight four or five times this year, fight as much as I can. But my ultimate goal is to be a world champion. I really want to win a world championship."
Please visit our Facebook fan page at www.facebook.com/MaxBoxing, where you can discuss our content with Maxboxing readers as well as chime in via our fully interactive article comments sections.