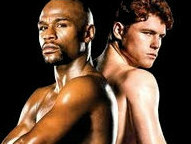 --


Look. I'm not going to lie to you. Boxing is every bit as shady as you think it is. There are night spots of honesty, loyalty, compassion and humanity. But those are rarely found in Las Vegas, where on Saturday night, Floyd "Money" Mayweather Jr. and Saul "Canelo" Alvarez will meet and fight for Alvarez's WBA and WBC junior middleweight belts. The bout will be contested at a 152-pound catchweight. Billed as "The One," the Showtime pay-per-view pits the 44-0 (26) Mayweather, 36, (the sport's top star, reigning WBC welterweight champion and best technician/tactician) against the 42-0-1 (30) Alvarez, 23, a burgeoning supernova from Guadalajara, Mexico with red hair, a giant following and quite possibly the right combination to unlock the mystery of "Money."
The fight is the second in a six-fight $300 million dollar deal Mayweather signed with Showtime as part of the mass exodus of Golden Boy Promotions, Mayweather and manager/adviser (and the man some insiders say actually runs Golden Boy), Al Haymon. That move timed perfectly with former Golden Boy lead legal counsel Stephen Espinoza being named as head of Showtime Sports' programming in November of 2011.

Roughly two years later, the Golden Boy/Haymon/Showtime/ Mayweather connection has rocketed its way into top boxing network contention with a bullet, offering multi-fight cards filled (mostly) with action-packed fights.
Fight number one of the Mayweather deal amounted to an expensive tune-up fight against interim WBC titleholder Robert Guerrero that industry insiders claim lost Showtime enough money. "The One" had to be made sooner rather than later.
Boxing is a business first and a sport last. Fights of this magnitude with lucrative possibilities such as rematches and rubber matches (in boxing, the money is in title defenses and sequels) are generally made with purpose.
In my opinion, this fight between undefeateds is about graduating "Canelo" from support to "Pay-per-view headliner." The fight will go the distance and when it's over, win, lose, or draw, Alvarez, who brought 50,000 screaming Texas fans to the Alamodome in April, will never be on anyone's pay-per-view undercard again.
For all his "lifestyle: flash" ways, the cornerstone of everything Mayweather is his undefeated record. He's a multi-division champion, yes. Arguably a first-ballot Hall-of-Famer before he ever fought at 140 pounds and the biggest moneymaker in the sport (he's earning a record 41.5 million dollar guarantee for this fight plus PPV revenue) he influences everyone to center around that "0" when it comes to marketing. In his second of six fights to be fought in 30 months in order to earn that 300 mil, it's hard to believe the wily fighter would put himself at risk of losing so soon in the deal.
At 5'9" with a 70.5" reach, Alvarez is a big kid for a junior middleweight with a growing build that may push him to 160 pounds sooner rather than later. One might argue that this fight wasn't rushed but rather right on time in terms of the young man's growing musculature. At age 23 and within catchweight reach, now is as good a time as ever for Alvarez who is three years into the extension he signed with Golden Boy. A win here and it's options galore for the young champion. Though young in years, Alvarez is very much an adult when it comes to business, running his own promotional firm out of Mexico. The way he handled his quick rise to fame is that of an old soul born to do this. Doubtless on the night, he will perform.
In terms of experience, Mayweather's résumé is hard to beat. He's collected more titles and has beaten more champions than Alvarez has had title fights. At age 36, he appears at the top of his game physically, mentally and technically. Sure, he gets hit a couple times more than he used to but Mayweather is still the best defender in the game, a master counterpuncher and possesses a supernatural ability to home in on opponents' weak spots and hammer them one shot at a time with scary accuracy.
Alvarez brings youth, strength, straight punching, functional speed and hard-hitting combinations to the table. His biggest test so far has been Austin Trout, whom he won the WBA title from in April. Trout, a southpaw with decent power, gave Alvarez a technical boxing test but "Canelo" has yet to face a physical threat who will manhandle him on the inside with old-school tricks. He's yet to be hit with punches he did not see thus risking knockout. He's never faced anyone near Floyd's level.
In terms of styles, Alvarez is not your typical Mexican fighter. He wants to counterpunch and, at times, waits too long to be in the perfect position to throw. Though he has 30 knockouts to his credit, he's not known as a one-punch KO artist. Rather, he commits to the body and breaks you down slowly. But Alvarez needs - and has generally been matched with - willing opposition. Mayweather is anything but that.
Offensively, Mayweather is arguably the quickest one-punch quick draw in the sport. He can get you with a single jab, a single right or lead left hook before you know he's about to fire. But rare anymore is the Mayweather combination.
Add the styles together and we have a boxing duel with offense at a premium, two lucrative PPV futures (one with an immediate conclusion in sight, the other stretching as far as least 10 years) and sequels to think about. Most of all, there are two precious undefeated records on the line.
If boxing is a business first and a sport last then the safe play is the draw. Both men get to keep their zeroes; Floyd can still say, "No one has ever beat me," "Canelo" can be marketed as "The One who did not lose to Mayweather - and he's only 23!" and fight fans will surely clamor for a sequel because no matter who got "robbed" of victory, each side will argue for their man. Meanwhile, Floyd pockets his 41.5 mil plus PPV revenue; Alvarez bags 11 and change and the promotional beat rolls on. While you can't get it at 35:1 as it originally opened, in a sport where the firewall between the promoters and the judges doesn't exist and the blurry line between legal counsel, promoter, adviser, manager and head of a network's sports division doesn't seem to either, a few bucks on a 25:1 prop bet that will ensure everyone prospers doesn't sound like the worst play ever.
Please visit our Facebook fan page at www.facebook.com/MaxBoxing, where you can discuss our content with Maxboxing readers as well as chime in via our fully interactive article comments sections.