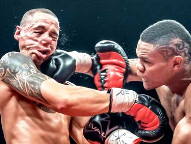 Photo © Vincent Ethier/GYM


Recently, Eleider Alvarez served notice to the light heavyweight division with a highly impressive beatdown over Nicholson Poulard in three rounds. The 29-year-old isn't one to stand on ceremony, originally scheduled to appear in support of the highly-anticipated Lucian Bute-Jean Pascal dust-up until Bute injured his hand. His fight was moved back two weeks, so now, Alvarez will see action on the undercard of Chad Dawson-Adonis Stevenson at the Bell Center, when he faces the toughest opponent of his career to date, former world title challenger Allan Green. Despite only having fought 12 fights, all wins with eight stoppages among them, Alvarez has an extensive amateur background, including the World Championships in 2007 and the Olympics the following year, giving him the experience to move relatively quickly in the pro game. In the aforementioned Olympics, he lost in the opening round on countback to eventual bronze medallist Tony Jeffries yet made an impression on Yvon Michel. Michel, founder of GYM, liked what he saw and signed both Alvarez and fellow Colombian Oscar Rivas, who operates at heavyweight, currently 12-0 (7). Currently, Alvarez is ranked number four by the WBA and seven by the WBO at 175 but over the coming months, he's sure to enter other organizational rankings.

Anson Wainwright - A few weeks back, you impressively stopped Nicholson Poulard in three rounds. Can you tell us about the fight? How happy were you with your performance?
Eleider Alvarez - That was a very emotional fight because there were two local fighters unifying the NABA and NABO titles. I'm very happy about my performance.

AW - You fight Allan Green on Saturday on the Chad Dawson-Adonis Stevenson undercard. What are your thoughts on fighting Green?

EA - Green had made two successful trips to Quebec, against [Renan] St. Juste and [Sebastien] Demers, but this time, he will go back home with a KO loss on his record. I want to challenge all light heavyweight champions this year. The Green fight is a showcase for my talent and means.

AW - Could you tell us about your team? Also where do you regularly train?

EA - My promoter is Yvon Michel [of GYM]; Marc Ramsay is my trainer and Montreal businessman Stephane Lepine is my manager. We all work together like a family to reach our common goal - to be world champion!

AW - You're from Apartado, Colombia. What was it like for you growing up there?

EA - I'm from Turbo, Colombia and I moved to Apartado when I was on the national amateur team. My wife and daughter still live there. I come from a good family and if sometime life is tough. We always stick together.

AW - How did you first become interested in boxing?

EA - My mother wanted me to box because I was getting into trouble, that way, I stayed busy. She passed away when I was younger and today I still box in her memory.

AW - You were a very good amateur and competed in the 2008 Olympics. Could you tell us about your amateur days and what titles and tournaments you won? Also, what was it like to be in the Olympics? What was your final amateur record?

EA - I don't know exactly how many amateur bouts I had but it was a lot. (laughs) I won the 2006 South America Games, Pan-American Games and the Continental championship. I had a draw [5-5] in my first Olympic Games match against Tony Jeffries from England but they gave him the fight on a tiebreaker. I sincerely think the way I box will bring me more success as a professional.

AW - After the Olympics, you came to Canada and turned pro. Can you tell us how that came about and how you find living in Canada?

EA - I was approached by Bernard Barré from GYM and trainer Marc Ramsay at the 2007 World Amateur Championships in Chicago. After the Olympics, they brought me and my friend, Oscar Rivas, to Canada. We miss our families a lot but living in Montreal is great.

AW - What do you think of the light heavyweight division and the champions, the WBC's Chad Dawson, the WBA's Beibut Shumenov, the IBF's Bernard Hopkins and the WBO's Nathan Cleverly?

EA - They are all good boxers and I respect everybody who steps into a boxing ring but they will see me very soon.

AW - In closing, do you have a message for anyone at light heavyweight?

EA - No, not particularly. I'm just on my way and nobody will stop me.
Please visit our Facebook fan page at www.facebook.com/MaxBoxing, where you can discuss our content with Maxboxing readers as well as chime in via our fully interactive article comments sections.