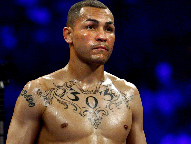 (Photo © Chris Farina / Top Rank)


Tonight, Mike Alvarado makes his first appearance in Denver, Colorado since 2009 where he faces Gabriel Martinez from Softball Country Arena as the featured performer on this week's edition of "Top Rank Live." In preparation for their return to the 303, "Mile High" Alvarado and his manager, Henry Delgado, spent a few weeks in Southern California at the Maywood Boxing Club- located just a few minutes from Los Angeles- preparing for this outing.
They came for a very specific reason- a higher caliber of sparring.
"I love it out here," said the 30-0 Alvarado, who has scored 22 stoppages in a career that began in 2004. "I mean, the boxing, the scene out here is great. All the best work you can get is here in California. It's just a blessing to be out here and training out here with all these top pros. So it's good."
While the Wild Card Boxing Club (the home of Freddie Roach, Manny Pacquiao, Amir Khan and Julio Cesar Chavez Jr. among many others) is perhaps the best known gym in the world, this gym is located in the heart of a working-class community made up of mostly Mexicans. The Maywood Boxing Club has its share of blue-chippers that come in on a regular basis, including Daniel Ponce de Leon, Carlos Molina, Ronny Rios, Brian Viloria, Abner Mares, Alfonso Gomez, Alfredo Angulo and Leo Santa Cruz.

The amount of talent Alvarado saw out here was eye-opening. "You go to Colorado, you'll never see this kind of work, this type of talent in one gym, so it's overwhelming at times", he admitted, "but you get out here and you get to work. You get so involved with it, it's just a blessing."
Alvarado's run-ins with the laws are pretty well-documented (http://www.examiner.com/boxing-in-denver/mile-high-mike-alvarado-apparently-again-on-the-wrong-side-of-the-law); perhaps the quality of sparring wasn't the only reason why they headed west. "No, I came to visit my family," joked Delgado, originally a native of Los Angeles. But he admitted, perhaps the lack of, say, temptations and distractions was a good reason to come out here. "It's a little bit of both; we've used the same sparring partners for all 30 of Mike's fights and we get different looks out here. It just opened my eyes up too, with the work you get over here. So we're making this our training camp home now. We're going to be over here on the West Coast, from now on."
What's abundant in Denver is Coors. Out here, it's boxers. It's actually a testament to the natural ability of Alvarado (who only began boxing after a standout career as a high school wrestler) that he would go this far with the type of work he had gotten for years at Delgado's gym. "Exactly, that's what I tell everybody. Nobody has really seen his potential, in spite of the sparring we've had, where he's come. That goes to show you the talent of this guy. With the sparring we're going to get now and the training, I just foresee bigger things for him."
Of his time in Los Angeles, Alvarado said, "It's helped me out tremendously. I would never be getting as much work as I am like right now, here in L.A. It's a good thing."
During their stay in Maywood, they were helped out by a familiar trainer to the local L.A. scene, Rudy Hernandez, the brother of the late Genaro "Chicanito" Hernandez. He says of Alvarado, "Lots of ability, he's a very talented fighter and I can't believe he only started at the age of 20. I don't know if you know this but he was also undefeated as a wrestler, 105 wrestling matches; he won 'em all and he's 30-0 as a professional boxer."
In sizing up Alvarado, Hernandez stated, "He's got natural talent and he's a hard worker. He comes and he puts in the work. He doesn't take the easy route out; the hardest workout I give him, he'll take it." Perhaps it's from his days grappling but one thing Alvarado has always possessed is natural strength. However, Hernandez says his real strength is upstairs between his two ears "because mentally, he can't be beat and that's one of the things that he has but he also knows that just because he's mentally strong, it's not going to come easy. But he has the mentality and the work ethic to go with it but he knows everything takes time and when you learn something, you just gotta practice it."
What Hernandez focused on is having the heavy-handed Alvarado strike with more precision and accuracy. As he starts facing a higher grade of opposition, brute power will not be enough. Right now, he is rated at junior welterweight by the WBC (10), WBA (11) and the IBF (15). After this bout with Martinez, Top Rank will begin to make their move with him.
"Yes, I definitely think after this fight, it's on to bigger and better things and they want to fight the best fight out there," said Top Rank matchmaker Brad Goodman. When asked to get specific, he said, "Listen, we'd love to fight, say, like Amir Khan but I know [Alvarado] wants big-name kind of fights but we would have no problems fighting any of the guys at 140."
Alvarado is a fighter who makes for good television and he has built a sizable fan base in Colorado. "He's crowd-pleasing; he's a real good puncher and he makes fun fights," said Goodman. "He goes out there to try and knock your head off."
He's now 31; the time is now. He can't afford any more hiatuses away from the ring due to legal issues but his team swears the fighter is now on the straight and narrow.
"They're all in the past; everybody keeps bringing 'em up. It's like we're just trying to move forward but every interview we have, they bring those up. I'm tired of it. We're just moving forward," said Delgado, who never believed these things would derail Alvarado's career. "I didn't think it would but like I said, these are things that happen in life and you just have to make the best of them. Now, he's made a complete turnaround. He's fought already- this would be his third fight this year- and everything's been good. I don't foresee any problems in the future."
"Yeah, man, it's been a crazy experience," Alvarado said of the stops and starts that have plagued his career, "but at this point, it's just all uphill now. I have so much to look forward to so it's just a blessing to get everything behind me and to look forward to now."
Without these pauses, Alvarado believes he'd already have a major world title belt around his waist.
"I guarantee I would be [a champion] already at this point. At the rate I'm going already, the sky's the limit still but knowing the issues that I had, I would've already been there."
As he resumed his career, Delgado didn't jump into Alvarado's arms like agent Drew Rosenhaus did with Plaxico Burress. That's not really their thing but it was a time of reflection for Alvarado, who vowed that he would never wind up behind bars again.
"I sure did; I broke the chains. I said, 'Hey, man, it's time to move forward and do right. It's time to make the right choices and be a better man.'"
Golden Boy has a show from Mazatlan that features streaking bantamweight Leo Santa Cruz against Everth Briceno that is streamed at:

www.att.net/boxeo

. It starts at 9:30 ET/6:30 PT. It's a quality stream too...Also on that show in Denver featuring Alvarado is the return of Robert Marroquin, coming off his first pro defeat. The fight will be televised on Fox Sports Net/Fox Deportes (as always, check your local listings)...Billy Dib is the new IBF featherweight champion as he decisioned Jorge Lacierva in Australia..."MaxBoxing Radio" was not on this week as my partner-in-crime, Corey Erdman was on vacation/assignment. Understandable but I will no longer call him "Cal Ripken Jr."...The Eagles signed corner deluxe Nnamdi Asomugha? They are primed to make a run but they need to keep DeSean Jackson content. He is very definition of "playmaker"...NBATV replayed Game Five of the 1991 Western Conference semis between the Lakers and Golden State Warriors. I have to say, Tim Hardaway's patented "UTEP Two-Step," in my mind, is still THE crossover dribble of all crossover dribbles, using different variations of it...By the way, the trio of Hardaway, Mullin and Richmond (RUN TMC) was so much fun. Do you remember when RUN DMC actually did their intros for their playoff game? That was great. Can't believe "Nellie" broke them up for Billy "F'n" Owens...I can be reached at k9kim@yahoo.com and I tweet at www.twitter.com/stevemaxboxing. We also have a Facebook fan page at www.facebook.com/MaxBoxing.