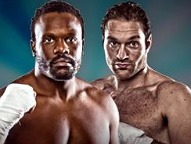 --


Undefeated British heavyweight contender, and big-time braggart Tyson Fury has engaged in only two fights in two years. Some are wondering if he'll be rusty this Saturday night when he faces Dereck Chisora at the ExCel Arena in London, England.

Fury, 26, had two fights with David Haye, and one with Chisora, cancelled due to injuries suffered by his opponents during training.

In the ring, or outside the ropes, one aspect of Fury's personality remains a constant, his jabber.

Just this past week, the 6-foot 9-inch giant has compared himself to both Muhammad Ali and Alexander the Great. He also shaved his head and grew whiskers.

"The beard is to show what type of­ ­animal I am at the moment," Fury told Nick Parkinson of the Daily Star.

"I've let this beard grow for three months - the same length of time I've been in my training camp," said Fury.

His bout with Chisora (20-4, 13 KOs) is a rematch. They first swapped fists in 2011 with Fury (22-0, 16 KOs) winning an easy decision.

Chisora, 30, admitted that he didn't train very hard for his first fight with Fury. He came in fat and fought slow.

Fury easily out boxed him.

"I see him as a great threat, but with the way I'm training right now, I think this will be one of the easiest fights I will have in my career," Chisora told talksport.com/drive.

Fury disagrees.

"When Dereck gets in the ring on November twenty-ninth, he won't be in there with any ­mediocre heavyweight. He will be in there with a wild animal," Fury said.

Chisora has rebuilt his career since his loss to Fury. Being knocked out by Haye in 2012 appears to be at least on the surface, the best thing that ever happened to him. He hasn't lost since.

"I hope he's training hard," said Chisora. "It's going to be a great fight from both sides. It's going to be amazing, and I'm going to bring it on.

"Can he live with me now when I'm fit and my mind is focused?"

Fury is not convinced.

"He's lost four times now and he believes that gives him an edge," Fury told Steve Bounce of The Independent. "I have shown that I can fight and shown that I can come back when hurt, get up from the canvas and win. I have not just been banging out unknown quantities.

"I'm world class and Chisora is brave, mediocre, and a slapper," he added.

Fury will bring with him an 11-inch reach advantage on Saturday night. His constant boasting masks the fact that the giant has skills. He throws decent combinations, but is open to counter shots. His chin has been dented by Steve Cunningham and Neven Pajkic.

Chisora has flattened four of his last five opponents.

Unless he gets caught, Fury should be able to outbox Chisora and win another decision.

His goal is to fight undisputed heavyweight champion of the world Vladmir Klitschko sometime next year.

The promoters could dub that fight "The Quiet Man" versus "The Motormouth"

--
E-mail John now at: marlow_58@hotmail.com