Al Bernstein's 30 Years, 30 Undeniable Truths in Boxing, Sports, and TV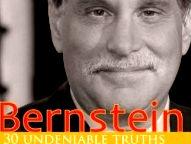 --


I am going to be straightforward with you. I am not a book reviewer. I am boxing fan and writer who loves to read. This book satisfies both passions.
In his foreword to the Al Bernstein's new book, 30 Years, 30 Undeniable Truths about Boxing, Sports, and TV, former heavyweight champion George Foreman writes, "When I think of Al Bernstein and his career, there's one word that comes to mind—growth. In all these years, he has always continued to grow. He's always doing something new and challenging himself to be better. I admire that and it's the reason I am so proud of his career."
To a relative neophyte writer like myself, I've always thought of Al Bernstein as the voice of so many of my favorite memories. In a dark sport, Bernstein is a light presence quick with a quip or observation and perpetually about to tell a good story. But in this book, a wonderfully straightforward memoir from Diversion Books available on Amazon.com, I learned what Foreman meant. Whether he is learning how to ride in rodeos, doing musical theatre or creating his new passion,

www.boxingchannel.tv

, this book showed me is how much Al Bernstein loves life and the people who make it up.

The book is divided into 30 chapters titled "Undeniable Truth" with corresponding numbers. It's an affective that takes us through not only the lessons Al has learned along the way but the experience of seeing cable sports coverage born and grow into its current form.
There is certain amount of cynicism in almost every boxing person's sense of humor. Like homicide cops, we preside over the most dangerous and dark part of our particular worlds. Mr. Bernstein, a particularly bright and lively presence, is one the only people in boxing I have met whose sense of humor, while acknowledging the gallows, never strays into the negative. His humor is good-natured even when explaining how bad a situation might be. In chapter one, "There is Always Time for Humor," he begins by explaining ESPN's early stages, detailing a Christmas raffle he and Dick Vitale presided over at a 1980 Christmas party. I won't ruin the story but, suffice to say, the network and Al have come a long way.
The through line of the chapter, and in many ways the book, is what I see in Bernstein whenever I speak to him. I first introduced myself to him at my first fight in Vegas as a reporter. My assignment for Doghouseboxing.com was to cover Jose Luis Castillo vs. Diego Corrales III, a fight that did not happen because Castillo failed to make weight for the second time in a row. The first time it happened, Corrales, a fight fans' fighter if ever there was one, agreed to fight despite the weight disparity and was knocked out in the fourth for his trouble. Not wanting to risk it again, he declined and all hell (as well as my first big story) broke out.
I met Al on the way to the Thomas and Mack Center where the fight was being held. He was calm as always, smiling and talking about the fight we were going to see and lamenting the one we didn't. As with everything that goes wrong for the broadcaster in this chapter, Bernstein's philosophy was clearly to make the lemonade (in this case Vic Darchinyan vs. Luis Maldonado as our new Showtime main event) as sweet as possible.
One of the things that struck me about the book and Bernstein's writing style is that his voice is clear. He has a point of view and a way of talking that is unmistakable and it translates straight to the written page. It's comforting, like being told a series of great stories at the bar by a good friend.
Mike Tyson is a subject often brought up to Bernstein and his observations of the former in "Undeniable Truth #2: Beware of Anyone who Calls You Mister," are both hilarious ("The Ernest T. Bass Theory," in particular, kills me) and educational. As wise writer once said, "You don't change the game. The game changes you." Rarely is that more evident than in Bernstein's description of Tyson's career journey. This chapter is arguably my favorite and I didn't even grow up a Tyson fan. The descriptions of press row in this one actually made me laugh out loud and had a bit of a Hunter S. Thompson feel, a bunch of animals crowded in a pack waiting to write whatever story emerged that day.
Referring to Tyson as a prospect, Bernstein, having not seen him truly tested thus far in his many ESPN fights, surmised, "Mike Tyson has demonstrated the kind of quickness, power, and finishing ability that could carry him a long way." An interesting observation considering how the division was butter to Tyson's hot knife. That is, until he finally met a man who demonstrated Bernstein's criteria for judging heavyweight hopefuls by punching back and taking what Tyson could give. Bernstein also asks solid questions about the polite Tyson who later turned into the man screaming at a reporter from the podium at a Lennox Lewis press conference.
In "Undeniable Truth # 26: The Rear Naked Choke Hold is Here to Stay," Al explains why mixed martial arts is not a fad but another sport we will have to contend with. OK, maybe boxing fans won't like every chapter but this chapter is just one illustration of the journey Bernstein takes us on. He shows not only how a small cable news network became a giant but how a sport once referred to as "human cockfighting" joined the "Other Sports" tab on the ESPN website just below boxing.
Al Bernstein has worked with everybody under the sun in this game. From Steve Albert and Gil Clancy to Tommy Hearns and Ray Mancini, Bernstein has partnered up with some of the best this sport has ever seen. I found this chapter especially poignant because like Al, I work in other mediums, radio and webcasts with two very distinct partners. Al's descriptions of life on the road or in production hit home.
In "Undeniable Truth #29: Gene Kelly Said It Best: Every Partner Brings with Them Something Special and Unique," Bernstein recalls longtime partner Barry Tompkins (whom Bernstein first began working with back in 1988) among many others to hilarious effect. The two did 40 shows a year in all manner of venues across the country. Most people think being ringside at fights is all glamour and fun. Mr. Bernstein illuminates the uninitiated.
"Another frequent location was the Showboat Hotel in Las Vegas, a property that was also a bit long in the tooth," Bernstein writes. "The boxing was fun there, but we hated having to stay at that hotel. Barry fixed that. During one telecast, we were bantering a bit and Barry channeled his inner vaudevillian and said, "My room here is so small the flies have to walk." I laughed, but the Showboat management didn't. I can thank Barry for many things, one is getting us out of the Showboat."
Al Bernstein has been commentating fights as long as I loved watching fisticuffs. He's part of the very fabric of our sporting life. I could recall every story and chapter I loved but that would spoil it for you. I'll simply say, "Go buy it." It's more than worth it and an essential piece of sports TV history, in my opinion. What I loved about the book is that you can pick it up and just read from any chapter and it sings. Each undeniable truth is a life lesson learned by a man who loves his craft, the weird places it takes him and the bizarre and wonderful people who are there to greet him once he arrives. One would do almost anything to enjoy such a journey.
What I took away from the book was a confirmation of what George Foreman wrote, the theme of growth as this man goes from one situation to another, one stage of the sport he covers to another. Boxing is about inevitable change. As do fighters' careers flow and ebb only to ultimately flow again with someone new to watch, so does the sport as a whole. Always moving forward, Al Bernstein is an ever-developing creature, curious and open to the next adventure as evidenced by his new endeavor into the web:

boxingchannel.tv

., a full-service boxing news site he launched in 2010, complete with video interviews, press conferences and historic fights, showing once again that trying something new has a way of spreading your passion to others. Al Bernstein is undeniably one of our sport's greatest treasures. His stories, 30 Years, 30 Undeniable Truths in Boxing, Sports, and TV are just the newest gems he has to offer us.
You can email Gabriel at maxgmontoya@gmail.com, follow him on Twitter at www.twitter.com/gabriel_montoya and catch him every Monday on "The Next Round" with Steve Kim. You can also tune in to hear him and co-host David Duenez live on the BlogTalk radio show

Leave-It-In-The-Ring.com

, Thursdays at 5-8 p.m., PST.
Please visit our Facebook fan page at www.facebook.com/MaxBoxing, where you can discuss our content with Maxboxing readers as well as chime in via our fully interactive article comments sections.



Subscribe to feed