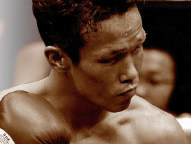 Akifumi Shimoda


The most indelible moment from the night of fights in Korakuen Hall on February 21, 2009 was of José Arboleda violently scissoring his gloves across each other in a burst of anguish. His opponent, Akifumi Shimoda, stood behind him on the other side of the ring, his corner dabbing the blood that was still running from the gaping diagonal gash in his forehead.
The two fighters came together from a world apart at a crossroads in their careers—bright futures had long been predicted for each of them in their homelands and although neither had yet lived up to their expectations, each was still young, talented, and ambitious. For either of them, a win against the other would have propelled him up the World Boxing Association super bantamweight rankings and one step closer to a mandatory opportunity at a world championship.
Their chance clash of heads, which carried all of the suddenness of a knockout punch but none of its glory, ended their fight after just seven minutes of combat. Though Shimoda took the physical brunt of the blow, he could not be blamed if his emotions were of relief. Arboleda's body looked no worse for the wear but returned to Panama City bearing massive disappointment. The "TD" that was written on their official records was the same in its appearance but not in its significance.

Since their brief encounter, Shimoda has accomplished monumental feats. In January, he won the long-sought WBA world championship in a hard-fought victory and when he fights American prospect Rico Ramos on Saturday in Atlantic City, he will attempt to make history as the first Japanese fighter to successfully defend a world title on United States soil. Arboleda is now dead, a forgotten figure outside of Panama. It is likely that, if their heads had not converged in that one coincidental moment, both men would have had entirely different fates.
José "Maco" Arboleda could not have known it at the time but in December of 2001, he was the foundation of a movement in Panamanian boxing. That was when countryman Pedro "Rockero" Alcázar, a popular world champion and Roberto Duran protégé, decided to take on a second gig as a promoter. Arboleda—a promising teenager with two professional wins (against the same fighter)—was Alcázar's first major signee. Alcázar dubbed the first card he promoted "Los Rockeros del Futuro" and made Arboleda the featured fighter. He quickly became a mentor for the young prospect.
In July of 2002 in Las Vegas, Alcázar suffered his first defeat, losing his title to Fernando Montiel via technical knockout. The next day, he felt a mild headache. The day after that, he was found dead in the bathroom of his hotel room in the MGM Grand. The autopsy revealed that he had a small amount of blood in his brain, undoubtedly a result of the punishment he took from Montiel.
When Rockero passed, Los Rockeros became an institution. Alcázar's promoter, Rogelio Espiño, took on Arboleda as his own fighter and soon, Arboleda was united with the catalogue of Panama's best young fighters in the newly-named Alcázar Gymnasium.

Los Rockeros expanded to over 20 members and as a unified front, they trained, sparred, made promotional appearances, and ultimately propelled one another to professional success, all under the proclaimed spiritual guidance of Alcázar. Arboleda, the incidental springboard of the movement, was one of the greatest beneficiaries of this unusual alliance. He became close friends with other top national fighters like Renán Acosta, Vicente Mosquera, and current titlist Anselmo Moreno. By sparring daily with the other Rockeros, his boxing continued to improve.
From January 2003 through July 2004, Arboleda won eight consecutive decisions. When he was scheduled to face countryman Roinet Caballero in the main event of his next fight, his trainers encouraged him to go for the knockout this time; he stopped Caballero in the sixth. A year later, he faced Jorge Otero, against whom Alcázar had defended his world title four years earlier. Alcázar had won a competitive decision; Arboleda didn't lose a single round. In all, Arboleda won 18 of his next 19 fights following the death of Alcázar, climbing to the rank of the number one challenger for the WBA world title. The only blemish on his record over that five-year span was a three-round technical draw, due to an accidental headbutt.
Arboleda had also become ranked by the International Boxing Federation and in late 2007, he was matched in an IBF title eliminator with Fernando Beltrán Jr. of Mexico. The two fighters fought a bloody battle that was close through seven rounds but Arboleda, who suffered a serious cut over his right eye, eventually succumbed to Beltrán, and his corner threw in the towel during an assault in the tenth. The IBF dropped him several spots in their rankings and the WBA removed him altogether.
Espiño gave Arboleda another opportunity the following year by matching him with close friend and fellow Rockero Ricardo Cordoba, with whom he had sparred on countless occasions. Arboleda was dealt his second strike, this time by a majority decision in what Espiño recalls as a very close fight.

Cordoba went on to fight for an interim world title in his next fight, which he won. Arboleda traveled to Japan for his. The Far East was a long distance to go for one fight but the opponent was highly ranked by the WBA and the opportunities to regain his place as a challenger were slipping away.
Korakuen Hall is in a small, boxy building that is further shrunken by its situation under the massive shadow of the Tokyo Dome in downtown Tokyo. Inside, the arena is equally modest. Its status as a boxing mecca would surprise the unknowing visitor but indeed, for the past half-century, virtually every heralded Japanese fighter has fought on its center stage, from the legendary Fighting Harada to recent stars like Daisuke Naito.
On February 21, 2009, the hall was filled with an energy that fairly represented the largest agglomeration of humans on Earth. The main event was a national title bout between two popular local fighters and their respective legions arrived in strong numbers. The veteran champion's supporters wore red robes in solidarity.

On the opposite side of the arena, the challenger's fans waved translucent purple signs imprinted with his logo.
The night of fights began as many do, with several sloppy affairs between inexperienced or unevenly-matched fighters. Two young prospects debuted consecutively—the first routinely outboxed his opponent with straight punches; the second overwhelmed his helpless foe in 22 seconds. The undercard eventually concluded with a painfully uneventful eight-rounder that left the crowd restless. When the bell finally rang for the co-feature bout between Shimoda and Arboleda, the two fighters engaged each other with refreshingly swift and graceful movement. It was hard to tell if they were truly world-class fighters or if they simply appeared that way because of what had preceded them.
But while both fighters looked expert through the first round, Arboleda appeared to control the ring and land the cleaner punches. Then midway into the second round, the fight took a turn: Arboleda spun Shimoda off-balance in the center of the ring and landed a perfect right cross square on Shimoda's chin, sending the Japanese fighter straight to his backside. It was the first time Shimoda had been knocked down in a fight. He rose immediately but for a moment, his body language betrayed a sense of doubt.
Years ago, Akifumi Shimoda's stint as a high school student lasted all of two months; he had already decided at age 15 that he was going to become a professional boxer. That was the age at which he joined the renowned Teiken Gym and demonstrated a natural gift for the sport, an unteachable quickness. He also demonstrated a flair for the dramatic, embodied in his slogan, "My dream is myself."
Shimoda's could have chosen as his idol Masao Ohba, the most legendary fighter out of Teiken Gym, who became known as the "eternal champion" because his untimely death occurred while he still held the WBA world title. Shimoda instead chose Sugar Ray Leonard, even adopting his nickname—"Sugar" Shimoda. Yet early in his career, Shimoda did not exhibit Leonard's calm self-control. Watching an early fight of his against Gerardo Martinez, one sees a fighter who is constantly on the offensive, winging punches to the head and body with abandon. Shimoda takes his fair share of punches as he attacks but eventually, he breaks down his opponent with sheer volume and tenacity.
Shimoda's early impatience also led to early fluctuations. After beginning his career with 12 wins, he performed poorly in his next fight and lost a majority decision to an unheralded compatriot. The fight after that was when he stopped Martinez, a much more accomplished fighter than the one to whom he lost, and he subsequently entered the WBA rankings for the first time. Five straight unanimous decisions followed in the next two years and he shot up to fourth in the rankings.
Then Shimoda lost again, this time by split technical decision, in another poor performance against a less talented countryman, Kazuma Miura. The fight was stopped after a clash of heads in the eighth round, which badly cut Miura. Joe Koizumi of Ring Japan wrote that "Shimoda was about to show his last surge against...Miura, who apparently ran out of gas."

He also noted that Shimoda's recklessness cost him and if he had been more patient, he could have easily stopped Miura. Shimoda acknowledged this mistake himself in his blog, which he updates almost every day. "I was in good shape before the match and got carried away," he wrote. "I wanted to show off how strong I am to everyone."
A few months later, he reflected more, "After the loss, I have been thinking a lot about boxing...I realized that it is important to make my own rhythm. I found myself becoming a fighter who rushes in using only his physical ability and not his brain." By that time, he was two weeks away from his next fight and once again, he was following his loss by taking on an even bigger challenge. "The next opponent is a lower rank than me but I think he is stronger than me. He is world-class. I am excited but also scared." He concluded his post by thanking an old friend for giving him a lucky charm.
Had his fight with Arboleda gone on much longer, Shimoda may have recovered from the flash knockdown and turned the tide. It will never be known, because one minute and eight seconds into the third round, he decided to move in on Arboleda and Arboleda happened to make the same decision at the same time. Their heads met and as soon as Shimoda stepped back, the blood began to run. The ringside doctor examined the cut and ruled that Shimoda could not continue. If the clash had occurred in the fourth round, Arboleda would have presumably won the important decision for which he had traveled so far. Instead, both fighters received a draw.
It is difficult to imagine the disappointment Arboleda must have felt in the moments after his horrible turn of luck. After months of training and days of travel, he knew he had performed exceptionally—yet he was right back where he started, unranked and unsought by most other top fighters as an opponent. The opportunity he chased to Tokyo was gone, by no fault of his own, and whether or not another one would come was not in his hands.
For his part, Shimoda wanted to continue fighting but at the same time, he certainly recognized his fortune—a second consecutive loss would have removed him from the WBA rankings entirely and set his career back substantially. The crowd responded to the proceedings with what felt like a collective shrug and soon turned their attention to the main event.
With no meaningful fights on the horizon, Arboleda returned to Panama and resumed his regular training alongside the other Rockeros. After several months of inactivity, Espiño arranged a showcase fight for Arboleda against a mid-level opponent, Colombian Feidor Viloria, on an in-house September 5th card he was organizing called "KO Drugs."
On August 6, Arboleda boarded a full bus to the hills outside of Panama City, where he was planning to jog back to his home to prepare for his fight. Shortly after the bus departed, a tire blew and the driver lost control of the wheel. The bus flipped over into a roadside ditch, leaving two passengers dead. Arboleda's father drove down the same road several minutes later and saw the overturned bus and his son lying on the ground nearby.

Arboleda was conscious when he approached. "I'm drowning," he said to his father, "I want to sleep."
That night, many members of Los Rockeros joined Arboleda's family at the hospital to give blood to their teammate. In the end, he received over 30 transfusions but his body rejected them. He died at 3:00 AM on August 7, 2009, leaving behind a wife and three children.
The Panamanian boxing community grieved deeply for Arboleda. His funeral was attended by many past Panamanian champions, including a tearful Roberto Duran. Anselmo Moreno vowed that each of his fights would now be dedicated to Arboleda, his "big brother through thick and thin." Los Rockeros now continue to train together in the Maco Arboleda Gymnasium.
Espiño, who calls Arboleda an "outstanding example of a fighter," says he believes that after his next fight, he would have again been on the road to a world title. However, one could still wonder whether if Arboleda's luck had been different against Shimoda, he would have already been training for a bigger fight, with a different opponent and a different schedule that would not have led him to his bus on the day of the accident. The newspaper Panama America reported that despite his misfortune against Shimoda, Arboleda had proven in his three rounds that his career was beginning to regain form but proclaimed that "life and destiny had a different story for him."
For Shimoda, the head clash may have been his moment of good fortune but the knockdown was the one that was his wake-up call. After the fight, he wrote that "people might laugh but I swear that I will become champion...Now is the time." Above that, he wrote that by fighting Arboleda, he had become inspired to go abroad, for the first time in his life. Within a month, he was working with top international trainer Kenny Adams at Top Rank Gym in Las Vegas.
At first, Shimoda admitted that he hated being away from home but when he returned to Japan to resume his career, he asserted that he had learned more in his four months in Vegas than in all his previous experience. Shimoda won his next three fights against solid competition and climbed back up the rankings. In late 2010, fellow Japanese fighter Ryol Li Lee won the WBA championship in a huge upset and shortly afterward, Shimoda received an offer to be his first challenger.
Lee was an adept and crafty champion but was not the most gifted—he had narrowly taken the belt from his hard charging Thai opponent, Poonsawat Kratingdaenggym, by stinking him out, perpetually moving backward and making it as difficult as possible to hit him while landing just enough counters off of his back foot to steal the majority of the rounds. Shimoda fought Lee on January 31, 2011 and from the opening bell, the gap in speed and skill level was very evidently in favor of Shimoda.
The fight was exciting and competitive at times—Shimoda was even knocked down once by a right cross not so dissimilar from the one landed by Arboleda but he also scored three knockdowns of his own. By the end of the fight, Lee barely could muster any power into his punches while Shimoda's continued to be sharp and accurate. The decision was never in doubt and Shimoda had fulfilled his promise. "It was my destiny that I entered the Teiken Gym to learn how to box and thus became the world champion," Shimoda said in his emotional post-fight victory speech.