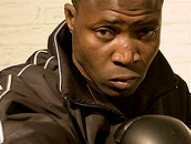 Ajose Olusegun


Back

on September 30

, the WBC held a title eliminator for the junior welterweight belt Erik Morales now holds. The fight was between Ali Chebah and the man who nearly shut him out, Ajose Olusegun, 30-0, (14), from

Lagos, Nigeria

by way of

Kentish Town

,

London

. A 5'9" southpaw with speed, solid movement and an aggressive style, Olusegun took the fight to Chebah all night, dropping him twice in the third and never losing control. With that win, live on Showtime's "ShoBox," Ajose became the mandatory challenger to Erik Morales.
But there are two problems for the mandatory challenger. For one, Olusegun is largely unknown to US audiences. The other is that he is physically primed and has the size, speed, and style to be a problem for Morales, who is currently looking for a fight against a big name that possesses a style he can be successful against. It's not a knock on Morales, who is as brave a warrior as there is in the ring, showing against Marcos Maidana, that he is a problem for the young guns at 140 on any given night.
However, there is also a problem for Morales. Like it not, he won a WBC belt and that belt comes with mandatory challengers. If he wants to keep it, he is going to have to relinquish the belt or fight Olusegun.

"Erik Morales is running scared right now," said a bold Olusegun on

Leave-it-in-the-ring.com

radio show this past week. "With what he saw with Ali Chebah, he knows I am going to be a big threat. I am not going to be an easy opponent for him. So he hasn't decided yet to fight me. I hope he does because I want to fight him. He has been holding my title for me for a little while but I am here to take my title off him. I know he is good. He is a legend. I know I am better than him. So what I want to prove to the rest of the world is that I am better than Erik Morales."
I'm not sure if Morales has seen the fight or not but if he had, he saw a man bigger and younger than him, with a slicker style than Maidana or Pablo Cano, whom he won the vacant belt against in a box-off.
"He has never fought a boxer like me," said Olusegun. "My style is totally different. I am hungry. I am determined. Technically, I am better than him. I have been boxing probably longer than he has been boxing. Forget how long you have known him. I have been boxing all along, international and national as an amateur before going pro. I have a lot of experience and he knows that I am big threat. If he agrees to come to the ring to fight me, great. Let him come and prove that he is better than me. If he wants to relinquish, then relinquish. Don't waste my time. I am going to beat him either way."
Now granted, Olusegun has not come close to doing what Morales has done over the years. At 31, he is beginning to break through to fans. The Chebah fight certainly helped that but considering Morales' age (35) and the fact that he is not exactly a very strong junior welter (much less a natural 140-pounder), Olusegun does pose a problem in terms of style and ability. Several problems actually.
Olusegun found boxing at a young age, trying it out at the behest of his father.
"I began when I was six years old. My dad is a boxing coach. I didn't want to box. I wanted to do basketball. They gave me gloves and I sparred a boxer and I got knocked down three times. So I was angry with myself that I got beaten up and two weeks later, I went back to the gym and I never stopped. I was raised in soccer and boxing. I was good at both but better at boxing so my dad told me to stay in boxing," said Olusegun.
Speaking to his adviser, Damien Ramirez, the paths are clear here. Either Morales takes the fight or Olusegun fights for the vacant belt against someone the WBC mandates. Nothing short of the WBC following their guidelines will do.
"In regards in what we are looking to do, we are not looking to do anything but enforce the WBC's own rules," said Ramirez. "We fought to become the mandatory. That's what we are going to do whether it is against Erik Morales, Danny Garcia, Lucas Matthysse, whomever they put in front of us. At the end of the day, what we are going to abide by is to get them to abide by their rules and either [Morales] vacates the title or he fights, one or the other. The excuses that Ajose is not a money fight or he wants a big fight, this or that, then if that is the case, then relinquish the belt because you are legally obligated to face us. So if you don't want to face us, then relinquish the title and let us do what we need to. As a world-class fighter that [Morales] is and as a fighter that came up hard in the ranks, he definitely should know what it is like for somebody to have his career on hold because [the beltholder] don't know what they want to do or they know but they want to do it when they are ready to do it. For me, that does not show professionalism and courtesy from Erik from one fighter to another."
And so the challenger waits, hoping for justice in a sport that rarely displays it. WBC President Don Jose Sulaiman always makes sure to remind the masses how gentlemanly, fair and just his organization is and, most importantly, how it loves fighters and the sport of boxing.
Don Jose, it's time to show it.
"We are going to continue to talk to the WBC and get them to make a decision," said Olusegun. "I will leave that to my manager and promoter. They will get the fight ready and I will go to the ring and do my job. That's what I do. I am willing to let them do what is necessary."
You can email Gabriel at

maxgmontoya@gmail.com

, follow him on Twitter at

www.twitter.com/gabriel_montoya

and catch him on each Monday's episode of "The Next Round" with Steve Kim. You can also tune in to hear him and co-host David Duenez live on the BlogTalk radio show

Leave-It-In-The-Ring.com

, Thursdays at 5-8 PM PST. Gabriel is a full member of the Boxing Writers Association of America.