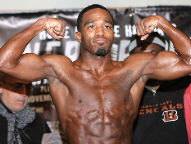 Photo © Pat Lovell - Hoganphotos/Golden Boy Promotions


"This goes out to all you haters out there:
Actin' like a brotha' done did somethin' wrong
'cause he got his game tight.
Don't hate the player; hate the game."
Tonight,
you will see a young man you've probably seen only twice fight for a vacant WBO world title against a completely unknown fighter you will never see again live on HBO. It's become the norm on the network this year to have titleholders/challengers fight people you've never seen on US soil fill the fight slots against fighters either deemed as stars or fighters preordained to become so. Hell, we have seen this even before this year. Think Andre Berto vs. Miguel Rodriguez back in 2008 for a vacant WBC welterweight belt. That belt was vacated by Floyd Mayweather Jr., a fighter advised by Al Haymon who also happens to represent Berto. This weekend's version of that fight is between Adrien "The Problem" Broner and Vicente Rodriguez (no relation to Miguel). Broner is also a Haymon-managed fighter.

Now some will blame Broner, who won a highly contested (and very boring) decision over Daniel

Ponce de Leon

in March for his HBO debut before blowing out Jason Litzau in one round. "He doesn't deserve the shot." "He lost to Ponce de Leon." "He's just another Al Haymon fighter."
And maybe they are right but it seems to this writer that a fighter with good management is not the problem. In fact, considering the careers of so many fighters, the respective aftermaths of their high-profile fights and post-retirement lives, we should encourage fighters to get better management that helps them get the most money for each fight while helping them keep it in the long haul.
The problem is that what you will see on HBO is not really the truth. The fight will be shown in conjunction with Saul Alvarez vs. Kermit Cintron live in

Mexico

, which is promoted by Golden Boy Promotions. On this same card, you have Broner, who is co-promoted by R&R Promotions out of his hometown in Cincinnati,

Ohio,

and Gary Russell Jr. also a Haymon fighter. Both Broner and Russell have been featured on Golden Boy cards. From what I understand, according to several sources, ranging from high-to-low-level promoters to trainers and a few fighters, all of whom wished to remain anonymous due to fear of reprisal, no fighter with Al Haymon is signed to a promotional agreement. Meaning, when you see Andre Berto promoted by Lou DiBella or you see Broner and Russell on a Golden Boy card, what you are seeing are promoters taking a cut, getting a fighter on TV but having little-to-no say in when and how that all happens. The person pulling the strings is the manager- Al Haymon.
Why is this a problem? Well, if true, it's breaking the Muhammad Ali Act or, putting it simply, federal law.
From Section 17: Conflicts of interests (b) Firewall between Promoters and Managers.
(1) In General. ---It is unlawful for ---
A) a promoter to have a direct or indirect financial interest in the management of a boxer; or
(i) to have a direct or indirect financial interest in the promotion of a boxer; or
(ii) to be employed by or receive compensation or other benefits from a promoter, except for amounts received as consideration under the manager's contract with the boxer.
Now can I prove this? Not with so many who seem to want to talk yet clam up when a recorder is clicked on are afraid to go on record. When you press the

Nevada State

Athletic Commission about fighters and their vanity promotional companies like Manny Pacquiao's MP Promotions or Mayweather Promotions, they are certainly open to telling you they do not have licenses to promote and as such, really don't exist. But when it comes to the issue of Haymon, well, some commissions and fight people seem either unwilling to talk or clueless to begin with on the subject.
In sum, what you are seeing is a talented fighter who sells tickets in his hometown (these are good things) maneuvered quickly up the super featherweight ranks to a title shot despite controversially beating a featherweight and Jason Litzau (who is not ranked in the top 15 by the WBO). He will do this against a Vicente Rodriguez, who the WBO ranks at number six and, to be fair, was available while the rest of the top five either just fought or are about to. Still, he is an Argentinean who has fought only once outside the country (in

Australia

. He lost by decision to William Kickett) and has beaten zero fighters of note.
Is Broner the problem? No. Is Al Haymon and his ability to make this kind of magic happen the problem? Well, again, no. This is boxing, the sport where everything is possible. You can't knock the hustle especially when the sport practically begs to be hustled.
A sport that refuses to recognize the Ali Act, which was so graciously given to it back in 2000 and was an extension of the Boxing Reform Act in 1996, that's what. Boxing loves to be like this. It loves having a fighter that fight fans were bored to tears with in March back on its airwaves in June and once more for a title shot in November. It loves backroom deals and promoters who are willing to use themselves as human shields for, what I am told, not all that much money in order to slot a name fighter on a major network. Oh, throw in some chaos in general for garnish. Boxing will never leave the backroom. After all, that is its true hometown.
As for the fight itself, Rodriguez should be very aggressive. Broner, the talented fighter that he is, will shine and become a titleholder as he has dreamt for years of being.
I spoke with Rolando Arellano

on Friday

and he told me that the rematch with Andre Berto is not signed but that he sees no reason why the fight will not happen as planned.
As it pertained to the drug testing issue in the fight, Arellano said he was all for it. He told me he was open to comprehensive, cost effective and impartial testing of any kind from USADA testing as was done in the Mayweather fight. I asked if he was interested in something impartial like Dr. Margaret Goodman's proposed Voluntary Anti-Doping Agency (VADA) and he said yes. Arellano seemed very interested.
You can email Gabriel at

maxgmontoya@gmail.com

, follow him on Twitter at

www.twitter.com/gabriel_montoya

and catch him on each Monday's episode of "The Next Round" with Steve Kim. You can also tune in to hear him and co-host David Duenez live on the BlogTalk radio show

Leave-It-In-The-Ring.com

, Thursdays at 5-8 PM PST. Gabriel is a full member of the Boxing Writers Association of America.