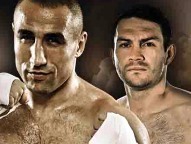 --


WBO super middleweight titleholder Arthur Abraham (42-4, 28 KOs) defeated Paul Smith (35-5, 20 KOs) for the second time in five months Saturday night, but this time more clearly at the O2 World Arena in Berlin, Germany. All three judges had Abraham winning the rematch comfortably by scores of 116-112, 117-111, 117-111.

Maxboxing.com and DogHouseBoxing.com scored the fight 116-112 for Abraham.

The more motivated Abraham, 35, worked behind his high guard in the opening stanza. Smith, 32, was the more active fighter. He jabbed and tried to land his right. Abraham connected with a left hook at the bell.

In rounds two and three, Smith was the busier man--while Abraham landed the heavier blows. Abraham began to apply his left to Smith's face. He was beginning to find the range.

Smith kept boxing in rounds four and five. His goal was to get off first. Abraham stung Smith with a heavy hook. A combination to the head and body also rocked him. The Liverpool boxer fought back, but Abraham pushed Smith into the ropes. Smith worked the body, but Abraham landed a jolting right.

Smith connected with a good body shot that stopped Abraham in his tracks in round six. The blow must have hurt because Abraham ceased his offensive advantage. Smith peppered him with more shots.

In rounds seven and eight, whenever Smith was on the ropes, Abraham picked up the pace and did his best work. Smith continued to bang to Abraham's body. Abraham landed some punishing punches to the head and body. His edge in strength was apparent.

Abraham landed a big right in round nine that staggered Smith. The defending champion had all the momentum on his side. Smith was slowing down. Abraham clubbed him with more blows at the bell.

The last three rounds were more of the same. Abraham backed up Smith and unloaded. A flurry landed. Smith absorbed the punches, but his return was weak.

''It was a tough fight," said Abraham in the ring after the fight. "He fought to the end, and he took a lot of hard punches. Respect to him.''

---