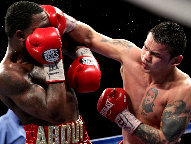 (Photo © Tom Casino / SHOWTIME)


The best thing about boxing is that once the bell rings, all the hype and circumstance go out the window, allowing two warriors to fight it out like skilled animals, putting every ounce of will into breaking each other. Whoever is better prepared weathers whatever storm the other brings and - if the judges ain't corrupt - wins. Saturday night, the judges were clean as a whistle and Argentine boxer-puncher Marcos "El Chino" Maidana, 35-3 (31), fulfilled his dream of becoming WBA welterweight champion of the world by solving Cincinnati's Adrien "The Problem" Broner, 27-1 (22), and delivering his first loss.
Maidana, formerly the WBA light welterweight titleholder, shot out of the corner run by Robert Garcia of Oxnard's Robert Garcia Boxing Academy and into Broner's chest to start the fight, winging shot after shot at every available opening. The strategy seemed wild and go-for-broke and it was. Maidana gambled by mugging Broner when he was cold. All Broner could do was mug for the cameras, strut away from Maidana and in one moment he will regret forever, Broner got behind Maidana and "humped" him.

Maidana remained undaunted by all that crap and kept coming, winging leather.
The strategy paid off in the second with a left hook that hurt Broner followed by another that sent him down awkwardly to the canvas. The knockdown was the first of Broner's career and he handled it by tying up and trying his best to get the hell out of the round.
Its safe to say that for the first two rounds, if punches were men, it would have been raining men on Adrien Broner. He simply could not get into a groove.
But by the fourth, the early Maidana onslaught slowed down a bit. Broner began to capitalize throughout the next few rounds, boxing from the outside.
It should be noted that Broner's fighting style appears to be based on Floyd Mayweather Jr. at welterweight when Floyd is in his shoulder roll defensive posture. Broner keeps his L-shaped guard crossing his body and his shoulders held up high. But unlike Mayweather, Broner is not fluid at all. He's quick of foot and hand though not blindingly so, certainly not "reclaim control of a fight"-fast. And unlike his 130-135 pound days, at 147, he's physically not a monster nor a one-shot knockout artist. Broner is stiff around the middle and can't get into a simple stance that protects him from right hands and left hooks leaping in or being lobbed at a distance. With his guard too high and his body exposed, Adrien Broner was in with the wrong man in Marcos Maidana.
As for the Argentine's style, a good boxing friend of mine describes Maidana as an angry honey badger. 31 knockouts in 35 wins against three losses, Maidana brings more than power to his game. Like Ruslan Provodnikov or James Kirkland, there is a relentless nature and a deep belief that no matter what the opponent does or how far behind they are, they are going to win. Though his right hand is thrown wide and looping, it's powerful. His left hook, a major weapon in this fight, can take you out if you're not careful. What was most impressive on this night were the feints, the steady jab and the misdirection attacks employed in the first half of the fight.
Maidana was the picture of controlled rage the way he poleaxed Broner in the gut, right where he is most stiff and open to be controlled by a punch, time and again. Beautiful game-planning by Robert Garcia, who told me before they fought Josesito Lopez, that Maidana's true gifts and skills would not be revealed for a few fights. His prediction was a little off. Saturday showcased everything Maidana has learned to do.
There was a progressive, indirect attack Maidana employed where he established his jab to the head and body early on. Then he would feign the jab and explode into a hook to the head or body.
By the middle of the fight, Maidana certainly was pressing and not flagging but Broner had found some semblance of calm on the San Antonio sea.
Then the eighth came. Broner was down on points but rising in confidence until Maidana exploded out of a crouch and landed a left hook to Broner's jaw followed by a right to the body that almost punched all the way through. The finishing shot was a left upstairs and Broner crumpled once again.
While Broner rose, his hopes fell. He held on and got butted and elbowed by Maidana for his troubles. The tenacious "El Chino," who tattooed an owl on his leg for luck, would not be denied but he would be docked a point by referee Laurence Cole, who felt more WWE than WBA-approved throughout.
Ref Cole allowed Broner to wrestle, push Maidana in the face and body while holding him in a lock and employ a forearm to the throat on a number of occasions. Safe to say, Ref Cole had the uniform but none of the tools of a good ref in this fight.
The ninth was particularly brutal. Maidana hurt Broner again with a left hook and then pounded the body all round long. But as the round closed, Maidana seemed a bit gassed. He bounced on his toes and shot the jab but Broner returned with a left hook and an uppercut. However, Maidana attacked Broner's ribs.
The 11th was a whole lot of Maidana killing Broner's body though the young man from Ohio tried to give as good as he got. An uppercut here, a right hand there or a lead left hook as Maidana came in, Broner tried to get something going. Maidana simply willed himself forward, tired but punching to the ribs or splitting the guard with jabs and right hands.
And that earlier Broner hump attempt? Yeah, Maidana returned the sexual favor, an ugly cherry on top of a brutal beating Broner will never forget.
The final moment of the round, which saw Broner swing a late left hook that shook Maidana and sent him to the ringside doctor before heading to his corner, kicked off a much discussed sequence in the Maidana corner.
After being looked at by the ringside doctor, Maidana walked slowly back to his corner, breathing heavily and sat down. Garcia began to offer instructions. Maidana's conditioning coach, Alex Ariza, already the subject of speculation when the news broke of his other client, Brandon Rios, testing positive for DMAA (http://www.maxboxing.com/news/sub-lead/rios-tests-positive-for-dmaa-suspended-five-months-by-cpbo), appeared to put something into the center of a gauze square. He seemed to pinch it, close the gauze around it and quickly place it to Maidana's nose. Then he takes it away. The second time Ariza puts it to Maidana's nose, the fighter shakes his head back and forth and pushes away Ariza's hand.
All through this sequence, Garcia is talking to Cole, complaining about his guy getting hit after the bell. The shorter female Texas inspector is obstructed by the cutman in front of her. They are on Maidana's right. The other inspector appears to be watching Garcia talk to the ref.
Maidana inhales. The camera pulls back. Garcia comes back tighter into the corner and finishes instructions and Ariza appears to take whatever he put into the napkin out, move towards Maidana's left eyebrow and then appears to drop it behind Maidana.
During this exchange in the rest period, Cecilio Flores, a Garcia camp conditioner/nutritionist, poured water on Maidana's head and rubbed it. Cutman Dr. Roger Anderson used an Enswell under Maidana's left eye. Ariza and Anderson crossed swords as Ariza dove in to blow Maidana's nose time and again.
As the 12th started and Maidana rose from his stool, Ariza has the napkin in front of his nose and is the last second to leave the apron. Maidana immediately blows his own nose onto the mat.
On Fighthype.com, Ariza claimed it was a dental roll he was going to put into Maidana's mouth if he had a cut in it. I am curious why you would put such a small piece into a fighter's mouth. Several people I spoke to in the industry said a piece that small is dangerous and time-consuming. It seemed more like a smaller piece several described that a cutman would use for an eyebrow laceration or another abrasion whose bleeding needed to be stopped.
When Maidana's mouth didn't need attending, Ariza instead set about the task of blowing his nose for the round break, something he hadn't been doing (to the television viewers' eyes anyway) all night - certainly not this diligently. And after all that help, Maidana still blows his own nose on the canvas. Also, why is Ariza worried about doing the job of the very capable cutman Anderson? That appears to be a pattern with him.
What is going on in this sequence? What could be possibly be going on? That will be up to the Texas Commission to investigate. It will be up to the media to make sure the commission does a thorough job.
The 12th showcased what was on the line for both. "Keep moving forward," Garcia commanded and Maidana complied, shooting combinations to the body and pounding his point home on Broner.
The judges got this one very right, scoring the bout for Maidana 115-110, 117-109 and 115-109, fulfilling his dream and restoring boxing fans' belief in Karmic justice. The "Million Meme March" of Broner getting knocked into the ropes, getting revenge-humped by Maidana and his immediate exit from the ring will live on in internet infamy.
As for the winner, I wouldn't be surprised to see him face another welterweight titleholder before facing someone like Keith Thurman or Floyd Mayweather Jr. It will be in-house but a match-up both fighters can win.
Where Broner goes from here, it's hard to say. He says he wants a rematch but the last trash-talking villain to get humbled over 12 tortuous rounds, Naseem Hamed, said he was all good after his first loss too. It's too soon to tell if "The Problem" will ever figure out what went wrong Saturday night.
Please visit our Facebook fan page at
www.facebook.com/MaxBoxing
, where you can discuss our content with Maxboxing readers as well as chime in via our fully interactive article comments sections.