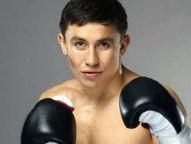 GGG


Veteran boxing trainer Abel Sanchez has something special going on at his gym in Big Bear, CA. The Summit Boxing Training Center, located two hours north of Los Angeles, is a coveted spot for boxers looking to train and live at high altitude. Most famously, WBA middleweight champion Gennady "GGG" Golovkin, 28-0 (25), has made his training home there with Sanchez. Together, the two have been scoring knockout win after knockout win while the spotlight on them has continued to shine brighter. As the attention has grown, so has Sanchez's stable both in terms of size and experience. I caught up with Sanchez to discuss both Golovkin's stellar 2013 as well as a look ahead to 2014 for the middleweight champ and the rest of Sanchez's growing stable.
"
What I think is exciting about the year is that [Golovkin]has improved and worked on the things that we wanted to work on for every training camp to make sure we are prepared for the elite fighters, whether it is in his division or other divisions," Sanchez told Maxboxing.com on Monday.

I asked Sanchez what "divisions" he was considering. In the past, he has said that Golovkin would consider moving down to 154 or up to 168 in order to pursue a big-name fight that seems to be eluding him at 160.
"
The only reason we would go down to 154 would be for Floyd [Mayweather Jr.]. That's the only reason. That's the only fighter we would do that for," said Sanchez.
The possibilities at 160 are slim. Martin Murray, who fights Jarrod Fletcher on February 1st, is one distinct possibility as is linear and WBC middleweight champion Sergio Martinez later this year. The latter could be a passing of the torch fight every fight fan seems to be demanding. Arguably, the third piece of business for "GGG" at 160 is Peter Quillin, who holds the WBO version of the belt. However, "Kid Chocolate" fights on Showtime while Golovkin fights on HBO, possibly putting a unification bout out of reach.
"
As far as 160 is concerned, I think that it is only fair to [Golovkin] to allow him to exhaust all possibilities before he does anything above 160. I think that there's three or four guys that, hopefully within the next year, all those problems, network problems and all those issues get resolved and we end up fighting because they have to fight him. If [Golovkin] reigns supreme at 160, then I don't doubt that we will move up to 168. And there's several fighters there at 168 that we can go after," said Sanchez.
At 168, the recognized champion is Andre Ward, who has cleaned the division out and then some. Ward shares Golovkin's problem in that he is also an HBO fighter with no marquee name to fight at his weight beyond the brand name of Julio Cesar Chavez Jr. But that is a hard fight to promote considering Junior was exposed by Martinez, who is perceived to not be the boxer Ward is. All of this makes Ward-Golovkin an attractive fight for both men. Another name that would make for an interesting fight for Golovkin is WBA/IBF titlist Carl Froch, who brings a tough style and drawing power both at the gate and on TV.
"
I think that all those three names are possibilities and they would be good for boxing," said Sanchez, "but the Ward fight may not be the most exciting fight for boxing but I think that in order to be considered the best at 168, you have to fight the best at 168 and Ward right now is the best. But all three of those fights would be easy to make. In order to control the division at 168 like [Golovkin] would at 160, you have to fight those guys. Hopefully, Chavez Jr. stays at that division and he doesn't grow out of it. Froch would be a great fight in my opinion. And just because of the styles, Ward may not be as great a fight but I think it would be a tactical fight between two guys that can really fight."
Golovkin is a fight fan favorite. With an extensive amateur background and what is turning into a dominant pro career, what is missing is an opponent who can take him to the limit. To Sanchez, Ward and Chavez Jr. offer potential to bring out what many consider latent greatness in "GGG."
"
I think that for the purist, it would be [Golovkin] controlling Ward. A domination would give [Golovkin] a lot of credit," assessed Sanchez. "But for a fight fan who wants to see some action, I think the Chavez fight would be a really exciting fight because Chavez has a great chin; he has a good punch. He is going to take a good punch and I think it would be one of those classic wars between them."
Sanchez reflected back on a powerhouse 2013 that included a stoppage of Gabriel Rosado in seven rounds, a highlight reel KO of Nobuhiro Ishida, a nasty third round body shot KO of Matthew Macklin and a systematic breakdown of Curtis Stevens in eight rounds.
"
The most challenging, I think for me because I wanted to call off the fight, was the Rosado fight," said Sanchez. "Only because, I'm telling you, [Golovkin] was so sick, he couldn't breathe. On Thursday night, when he called us to his room, his throat was completely closed. He couldn't even swallow water. We were at that point where were going to call the fight off. He wouldn't allow me to. I think that was the most challenging. I think the most entertaining, as far as boxing, was the Curtis Stevens fight."
Sanchez predicted an easy and very early night. Instead, fight fans were treated to Golovkin's longest and most action-packed fight of the year. Dropping Stevens with a left hook in the second round, "GGG" seemed to be on his way to making Sanchez's prediction come true. But the fight ended up going rounds.
When asked if he was surprised by this, Sanchez answered, "Yes and no. Yes, because it did go [eight rounds]. But no, because I noticed something in Gennady after the fight and his brother also. They were very disturbed by some of the antics [Stevens] did before the fight," said Sanchez, referring to Stevens' pre-fight antics, macabre to say the least. "And I honestly believe that [Golovkin] tried to punish him, just punish him and punish him until they stopped it because he never hit [Stevens] with the type of shot like he hit Ishida or Macklin with. He hit him with shots just to control him, turn him around and just punish him. Just the way [Golovkin and his brother] were acting afterward led me to believe they were very disturbed by all the coffin sh*t and all that stuff. I think he was trying to make a statement to Stevens and it wasn't by knocking him out. It was by punishing him."
Golovkin is generally a very friendly and respectful person when it comes to his opponents. But the more Stevens talked trash, the more Golovkin's mean streak began to appear. He didn't respond with trash talk. Instead, he let his heavy hands do the talking for him until referee Harvey Dock and Stevens' corner put an end to the increasingly one-sided violence.
"
Even when one of his [Stevens'] guys picked him up, I could see [Golovkin] pointing down to Stevens and that's not Gennady," said Sanchez. "He would never say anything about it but just by knowing him, he's a nice man. He's a guy that never really has any kind of emotion like that. This particular fight just by how disrespectful Curtis was. I believe that [Golovkin] just let him hang around."
Golovkin is now preparing at The Summit for Osumanu Adama, a rugged middleweight out of Accra, Ghana. While fight fans aren't very familiar with him, the man can fight. He's the kind of fighter who will come to fight and give an elite-level fighter quality rounds.
"
I think you are absolutely right," said Sanchez. "I saw [Adama] fight [former IBF middleweight titleholder Daniel] Geale live on TV. He is a tough guy. He is kind of, to me, the Grady Brewer of three or four years ago. Like the Darnell Boone of three or four years ago when they were still good enough to compete with the top guys and nobody wanted to fight them. He's not going to be an easy fight but we have to stay busy. I think it is Gennady's work to stay busy and make sure we stay relevant for the next fight so we don't let the public forget."
Besides Golovkin, Sanchez has a bright young potential star in junior lightweight prospect Joel Diaz Jr. A 21-year-old 14-0 (12) boxer-puncher, Diaz is "must-see TV" every time he fights. The problem as of late has been that he has not been very active. He sat on the shelf most of 2013 despite finishing with three fights. Sanchez feels that in 2014, this will change.
"
With a talent like that, to develop it, you have to take him in the ring," said Sanchez of Diaz. The veteran trainer surmised that this will be the growing Diaz's last year at 130. "Right now, the next two or three fights will be at 131-132 and if we get an opportunity at 130, Diaz doesn't have a problem making 130. If we get an opportunity in the next three or four fights at some kind of belt, then we'll fight for it. But I would say by the end of the year, he will be at 135."
Heavyweight Mike Perez, 20-0 (12), burst on the scene against Magomed Abdusalamov as the co-feature to Golovkin-Stevens. Though the fight has been understandably overshadowed by the tragedy that befell Abdusalamov afterward, Perez's talent should not be overlooked. The Cuban fighter is a well-schooled fighter with a proclivity for action.
"Mike is another guy because of his amateur background, I think he is a guy we need to keep busy. He is ready to evolve into the next step," said Sanchez. Perez returns next week in support of the Jean Pascal-Lucian Bute card. "They are going to fight him on the 18th and hopefully fight him again in April. He is the kind of heavyweight that is going to be exciting to watch and he is the kind of guy who is exciting to watch. And being around this group, being around Gennady and some of these other guys that we have around here that are doing well, is going to help him formalize his style of entertainment."
It will be interesting to see how or if the Abdusalamov tragedy will affect Perez. Some fighters are never the same after permanently injuring an opponent.
"
I think it affects all the guys when something like that happens whether they want to admit or not but this is a tough business, man. This is a business that it could have happened to Mike also. Mike has got three daughters. So we all make sure that we are ready, prepared. That we don't take too much punishment in the gym. That we don't have wars in the gym because all those little things like that add up. And then you get in a tough fight like 'Mago' and Mike had and bad things happen. In my gym, we try not to have those kinds of wars. We try to learn. We try to school so that you are not damaged goods once you get into a fight," said Sanchez.
Should he be successful next week, Perez will find himself in the mix to fight for Vitali Klitschko's recently vacated WBC title.
"
Absolutely. I think that the fact that Vitali has vacated the title and [Perez] is ranked number five [by the WBC], within in a year, we're in the mix for something special for him. He wants to fight. He wants to make sure that he gives you your money's worth. Being around this group, being around Gennady, they get along very well. Like Gennady says, '[Perez] is serious about his business just like I am.' He's going to go a long way," said Sanchez.
The list of Sanchez fighters goes on and on including WBC featherweight contender Jayson Velez and IBF featherweight contender Alexander Miskirtchian. "I have a heavyweight named Oleg Platov, who is 30-1. He's had some injuries and some promotional issues. He is sparring with Mike right now. He is on the verge of breaking out. Hopefully, he will be fighting on the [next Wladimir] Klitschko card. And then from there, we will develop him a little more. But yeah, I think we have a group that is coming into their own with the help of a vehicle like Gennady Golovkin."
It's safe to say that as Golovkin ascends toward elite status, the rest of Sanchez's stable appears to be on the verge of breaking through to the upper levels of the sport as well.
"
I think so," agreed Sanchez. "I think that Gennady is opening the door. I think that there always has to be that marquee fighter in a stable that opens the doors and makes people take notice of our gym so that the other guys get some recognition. Gennady is doing that for us. He's doing that for Mike.
"
Being around this group, I think success breeds success," continued Sanchez, "and when you have a lot of good guys around, you tend to want to be as good as they are. The young kids are taking a lot of what Gennady is passing out whether he knows it or not and we are winning; you know?
It's rare to have a top-level talent in a gym. Trainers spend lifetimes looking for one. When that talent emerges, it's even rarer when a marquee name opens itself up to the rest of the stable, sharing ideas, strategy and life lessons. Golovkin is that rare fighter who is both a natural leader and a natural teacher.
"
You know something funny? We have a workout at 11:30 [a.m.] and a workout at 3:00 [p.m.]. Well, today, after the workout at 3:00, for an hour after the workout at 3:00, the four guys that worked with Gennady sat and listened to him for an hour today at the end of the workout. Just listened to him impart not only boxing knowledge, boxing wisdom but just different issues and different subjects for an hour after the workout. I was there for an hour not wanting to leave because Gennady was talking to these kids," said Sanchez. "Funny thing is, 'GGG's' standing in the middle of the ring, talking. He's standing in the middle of the ring, shadowboxing with Mike Perez, showing him how he is supposed to move, how he is supposed to do this, how he is supposed to do that. We're talking about a guy in Mike Perez, who will be fighting for a world heavyweight title and you've got this middleweight in Golovkin and him imparting some knowledge and some moves and some steps. It was something to watch. And Mike is saying, 'Thank you; thank you. You're right.' It's just nice to watch camaraderie, first of all. But second of all, just that you can have a leader like that who is willing to impart knowledge. It's seldom."
The sky appears to be the limit for Sanchez and his Summit stable.
Jean Pascal Post-Script...
Light heavyweight contender Jean Pascal is also preparing in Big Bear, CA but not at The Summit. Instead, he is training at Shane Mosley's nearby gym with his team which includes controversial conditioning coach Angel "Memo" Heredia. When I asked Sanchez if Golovkin and Pascal had sparred together, it was my turn to be surprised.
"
No, no, never. Back in November, I talked to [Pascal's trainer] Mark Ramsey and I talked to some of [Pascal's] people. Pascal came up to my gym and looked at my gym and decided he wanted to train at my gym. He rented a house and he was going to be up the last week in December. But right after I talked to Pascal and we came to an agreement on terms, I found out that he was working with 'Memo' Heredia. And I really don't want that in my gym, so I asked him to back out. I told [Ramsey] that I was going to back out on our agreement because I really didn't want to be involved with somebody that was working with Heredia."
Heredia is a former P.E.D. dealer-turned-government witness whom, in recent years, has reinvented himself as a conditioning coach in boxing, working with Juan Manuel Marquez, Jhonny Gonzalez, Jorge Arce and Pascal among others.
Despite Heredia's insistence that he is now working clean, it is understandable why Sanchez would not want someone with Heredia's history in his gym.
Please visit our Facebook fan page at
www.facebook.com/MaxBoxing
, where you can discuss our content with Maxboxing readers as well as chime in via our fully interactive article comments sections.