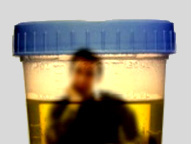 --


A Testy Issue...
The random anti-doping testing issue makes some boxing people touchy but it seems like some fighters, following the example set by Floyd Mayweather Jr. over three years ago, definitely want it. Danny Garcia wanted it for Lucas Matthysse. Timothy Bradley has gotten it twice now in a row. He'll keep doing it; I'll bet. Freddie Roach wanted it for Manny Pacquiao vs. Brandon Rios. Ruslan Provodnikov has been doing it voluntarily two fights in a row and counting. Despite it being dismissed by Andre Ward as a publicity stunt, Edwin Rodriguez is doing it for the next year whether he has a fight or not. Nonito Donaire is doing it year-round too for the second year in a row. To date, Adonis Stevenson has done it three fights in a row. Lucian Bute and Jean Pascal are undergoing the same testing system as Stevenson for the very first time but likely not the last. The list is filling up to the point where it's not easy to rattle off which high-caliber fighter is testing:

The sport has changed for the positive through the sheer force of the will of its combatants volunteering to be tested. There's no other movement in sports like it. Can it be sustained? Fighters continued to volunteer this year and the Voluntary Anti-Doping Association's list fighters testing year-round grew to two this year. Sure, it's slow growth but the trend appears to be moving toward testing rather than not.
The voluntary testing movement is an example of what can happen when someone, in this case, fighters, take heed of Jim Lampley's call to "Occupy Boxing." Fighters aren't protected by a union. Boxing is a wide-open market filled with sub-contractors looking for work. Most fighters can't afford to strike or hold out in order to get what they want. The networks and promoters have all the power and will to simply replace them or sue for breach of contract. The legal system is a game of financial chicken, so promoters, managers or networks are likely going to force fighters to pull away first. The fighters are not organized enough to force the powers that be to make improvements to the working conditions. More often than not, when a fighter is successful, he gets what he earns and doesn't bother trying to improve the world for those coming up behind him.
To me, voluntary testing should be an issue all fighters agree on. Back in late-2009/early-2010, when Mayweather was demanding Pacquiao take random anti-doping testing administered by the United States Anti-Doping Agency, I was like a lot of fans and pundits: ignorant about the issue. I had heard of Barry Bonds and BALCO. I knew Shane Mosley had been implicated in that and that he was accused of using EPO and the Cream for his 2003 rematch with Oscar De la Hoya.
But its 2013 now. Almost 2014. I've written over 40 articles on anti-doping and related issues. Many others have covered them as well. Fighters have come up positive, some of them after having volunteered for testing. GYM and Interbox, the two biggest promoters in Canada, essentially paid for a whole new testing system to be designed, approved and set in motion to insure their fighters are all on a level playing field. Tim Bradley contemplated not fighting Juan Manuel Marquez over testing. This prompted Top Rank Promotions' Bob Arum to pay Nevada to try and approximate a testing protocol that would be as good as VADA, Bradley's choice but one vetoed by Marquez.
Boxers used to not wear gloves. Rounds used to end when someone got knocked down instead of after three minutes. Fights were an unlimited amount of rounds, then 15 for major title fights. Now they are 12 rounds for safety reasons.
Bottom line, there is a growing list of fighters who want more stringent anti-doping protocols put into place. The commissions should answer that call permanently. If they can't, then at the very least, they should point fighters in the direction of one of the available groups for hire. Fighters not joining the voluntary testing movement should. Fighters offered by their opponents to join them in testing should say, "Yes" instead of denigrating and denying the testing process and their opponents. This sport's maxim, "Protect yourself at all times" exists because of the simple fact that, in boxing, no one else will. At the very least, the fighters can support each other as they move to protect one another from the hidden cheats in the game.
"The Moral Quagmire that is Superman's Past...
Boxing is what it proverbially is: two men agreeing for various reasons, not the least of which is money, to try and render each other unconscious. The audience is already making a moral compromise on some level by watching, much less paying to watch. In my experience, covering the sport either requires or fosters a homicide cop's gallows humor view of the boxing universe. It can wear you down and out. For those looking for causes to fight, you don't need to throw a rock to find one in this sport. You'd be overshooting at least three if you did. All you can do if you want to balance out the bad you're exposed to with some good is pick a dirty corner and start polishing it best you can.
Recently, a reader/writer sent in a piece to Maxboxing.com as rebuttal to our coverage of Adonis "Superman" Stevenson, who fights Saturday night at the Au Colisee Pepsi in Quebec, live on HBO, versus his mandatory challenger Tony Bellew. The author's problem with Stevenson and our coverage, as well the boxing media's in general, is that Stevenson has a very serious criminal past and it's being largely ignored.
Maxboxing.com ultimately decided as a staff not to run the piece for various reasons. The non-staff member made some connections and claims regarding Stevenson that simply did not match up with what he actually did. Because of this, printing the op-ed piece potentially put at legal risk and so we opted not to run it. But there was another reason given not to that stuck out in my mind. Our webmaster pointed out Stevenson served his jail time. He posed the very relevant question of when do we, as a society, stop punishing criminals who've done their time?
In a perfect world, a criminal does his time, repays the victim in some way equal to the crime, learns from the experience and re-enters a welcoming society as a better, more productive individual. But this is the real world. And boxing couldn't be further from perfect.
I don't have that answer. I think that's a personal choice. The link to the Le Presse piece is well-researched. Follow the hyperlink and decide for yourself whether you wish to watch Stevenson or not.
We don't need to roll out the long list of fighters with criminal pasts to know there is a large percentage of the time that we as boxing fans and media are watching ex-cons or some violent/non-violent offenders compete for money, titles and fame. The choice to ignore their distant and sometimes not-so-distant crimes is every bit as personal as the decision to watch and cheer as two men try to render each other unconscious for cash.
Kovalev vs. Sillakh...
For some reason, Sergey "Krusher" Kovalev, 22-0-1(20), is getting no love heading into his fight with Ismayl "The Black Russian" Sillakh. While Kovalev is fresh off his expert dismantling of Nathan Cleverly, Sillakh, 21-1 (17), has been pounding out wins on the road back from his stoppage loss to Denis Grachev in eight rounds back in 2012.
No doubt, Sillakh's size, (6'1") and style of moving and hitting in combination may trouble Kovalev at times. No doubt, Sillakh appears to be the more athletic of the two men but Kovalev's speed and power are a deceptive combination. He has the straight punches, solid fundamentals and power that has stopped the likes of Gabriel Campillo and the aforementioned Cleverly. Has either man beaten a dangerous puncher? No. Has either faced a dangerous puncher? Sillakh has and failed that test. Can he be better? Sure.
But it says here the straighter punches of Kovalev will land to the chest of the cagey Sillakh, wearing him down. The footwork of Kovalev will cut off the ring. Above all, the willingness to walk through Sillakh's fire will serve Kovalev well as he moves forward and through Sillakh for the late rounds win by stoppage.
Please visit our Facebook fan page at
www.facebook.com/MaxBoxing
, where you can discuss our content with Maxboxing readers as well as chime in via our fully interactive article comments sections.