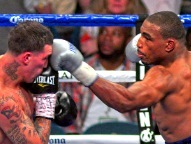 (Photo © German Villasenor)


On Wednesday afternoon, the Executive Director of the Nevada State Athletic Commission, Keith Kizer, sent this email out to various members of the media:
All test results for 5/3 were negative

.
All test results for 5/4 were negative,

except

Matthew Garretson tested positive for Furosemide and J'Leon Love tested positive for Hydrochlorothiazide.
Complaint for disciplinary action will be issued.
While this

news

was eye-opening to some, perhaps most might've had some sort of inkling that not everything was kosher

at the weigh-in the day before the fight.

Love was not only

two hours late (drawing a $100 fine from the

NSAC) but he failed to make the middleweight limit on his first attempt.

So now Love is the latest fighter to test dirty and will most likely be demonized by the boxing public.

You can debate whether that's fair or not but let's get this clear; even if you assume he

used

Hydrochlorothiazide

strictly as a weight-cutter

and nothing more - it's still a performance-enhancer (beyond that, what he used is on the banned list). No, it may not

give you unnatural strength or stamina that steroids or blood-doping would but by aiding the process of

dropping the last few pounds (always the most excruciating) by pushing out excess water

,

thus being fresher for the fight, yeah, that's

the very definition of "performance-enhancer."
In a sport in which performance is so affected by one's physical and mental state coming into

competition, this cannot be overlooked. Through the years, there have been many examples of fights basically won or lost at the scales as fighters struggled mightily to make weight

and failed to recover properly. One recent example is Chad Dawson's futile attempt to fight effectively at 168 (a weight class he hadn't made in years) before he faced Andre Ward in September. It's no secret that as Dawson began his descent in weight during

training camp in the weeks leading up to

that fateful night in Oakland, he started getting knocked around

in sparring by the likes of Edison Miranda. On fight night, Dawson looked like an empty

vessel

for much of the night before getting stopped by Ward.
Boxers will do all sorts of things to make weight from starving themselves, limiting water intake (perhaps the biggest mistake of all), spitting

in a cup for days at a time, sitting in saunas for long durations (I saw it firsthand many times at the Montebello Bally's - now an L.A. Fitness - with local fighters who were members of that facility) or a combination of all these measures.
Making weight shouldn't be easy. But

many medical professionals and strength-and-conditioning coaches will tell you they believe many fighters are

competing in weight classes far lower than they should.
But in an era when most fighters don't perform all that often

and will pack on anywhere from 30 to 40 pounds of excess, this can become even more problematic. The reality is there aren't many Bernard Hopkinses out there willing to stay near their fighting weight year-round. The current business of boxing has created a generation of fighters who are given an opportunity to live gluttonously for months at a time (although, it has to be said

Love didn't have all that long of a layoff before the Rosado fight, having fought in late February).
And finally,

the question has to be asked: Do we need to go back to same-day weigh-ins?
Because a large part of why certain fighters stay in lower weight divisions is because they now have the opportunity to

not only rehydrate for over 24 hours

but also come in significantly heavier than their

opponents when the first bell rings. It's not unusual to see bouts in which one fighter is 10 to 15 pounds

larger

than his opponent. Weight classes were created for a reason, to

ensure a fair fight (at least from a physical standpoint).
Now, this whole aspect has been bastardized and used as a

loophole to create physical mismatches.
Dr. Margaret Goodman, who, for years, was the head ringside physician for the NSAC, believes it's time to

change the culture that prompts the likes of Love and, in the

past, Julio Cesar Chavez Jr. (who tested positive for a diuretic after his bout with

Troy

Rowland

in 2009)

to employ illicit means to make weight.

In an email to Maxboxing, she stated:
It is long time overdue. It starts in the amateurs when these young kids with developing bodies are forced into the wrong weight class because an inexperienced trainer believes they have to push their fighter below the appropriate weight to be stronger. Does that make any sense--even from a physiological standpoint. Then by the time they reach the pros or go through puberty, half have eating disorders. This mentality carries through to the pros where it becomes even more dangerous. Imagine how great some fighters would be if they entered a fight in the right weight. The fights would be more safe, more competitive, the fighter's career would be longer and more successful. Part of the problem is that these guys fight less often and they have destroyed their metabolism so much, they can no longer make weight. Then they eventually move up--but because they are out of shape.
The 24-hour weigh-in was to stop fighters entering dry--also carrying great risk. But now they not only game the system, they are crucifying their strength. If they do well, it is in spite of it, not because of it.
The only answer is at least two weigh-ins: day before and morning of--with the athlete only allowed to put on an acceptable amount of weight.
It's not the drug as much as it is why are they using it!
I think this is a tremendous opportunity for Floyd et al, to try to instill his ethics to his young fighters.

He

owes them his knowledge--staying in shape between fights and treating your body like a temple and treating boxing like a profession, as opposed to a hobby.


Can you disagree with anything the good

doctor

stated?

Believe it or not; boxers are human and there is a good chance

Love was distracted or unable to train with

the same vigor after the death of his beloved older brother, Bernard, prior to this assignment. Perhaps he would have been best advised to pull out of the fight and regroup. But maybe that $100,000 payday

made that option unrealistic.

It says here that till the fines and penalties become much more punitive, boxers will always be enticed to bend the rules.

This

problem isn't going away anytime soon. Love certainly will not be

last

prizefighter

to be busted and the ultimate accountability for his actions

is at his feet. No other way around it. But is the boxing industry exacerbating this

situation?

HEAT FLURRIES

It's funny but Floyd Mayweather always talks of cleaning up the sport of boxing. Perhaps he should start

with his own gym. First Mickey Bey and now Love have been red-flagged after their fights in Nevada...Here's something alarming: the bout between Lucas Matthysse and Lamont Peterson, contrary to popular belief, does not have random drug testing: http://www.boxingscene.com/peterson-matthysse-not-random-drug-testing--65570...How does Chicago feel about Derrick Rose right about now?...So I'm guessing the Baltimore

Ravens will not be retiring Rolando McClain's jersey...
---