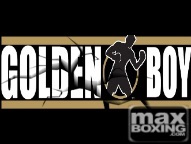 (Image by icheehuahua, MaxBoxing)


In lieu of any real meaningful fights taking place this month, the biggest scuttlebutt in the boxing business centers on the relationship between Golden Boy Promotions Founder Oscar De la Hoya and its CEO, Richard Schaefer. Numerous industry insiders are indicating there is a significant rift between the two over the direction of the company and its investors are said to be asking questions about its finances.
It's not clear if this is headed toward a divorce but it's clear that for the time being, they are at least sleeping in separate rooms. On the night of March 8th at the MGM Grand in Las Vegas when Saul "Canelo" Alvarez took Alfredo Angulo apart, not only did De la Hoya and Schaefer not take their customary seats together ringside (sitting between them was Leonard Ellerbe), they didn't even seem to converse or acknowledge each other's presence. A person who happened to be inside Angulo's dressing room with the two before the fight told Maxboxing, "You could cut the tension with a knife. They wouldn't even look at each other."

De la Hoya, who was not originally scheduled to go to this fight, flew into Las Vegas that day and sat ringside. Other than that, he wasn't much of a presence for much of this promotion during the week. When asked about a possible fissure in this union, Scahefer gave a bit of a Nixonian, "non-denial" denial to veteran boxing scribe Robert Morales last week: http://www.insidesocal.com/boxing/2014/03/14/richard-schaefer-wont-comment-on-rumors-of-discord-with-oscar-de-la-hoya/

Neither was present this weekend in Bayamon, Puerto Rico for their show featuring Danny Garcia and Deontay Wilder.

Regardless, the "Golden Boy" wants more control of Golden Boy. But the truth of the matter is the major shareholders (like Gabriel Brener and AEG) may also want a healthier return on their multimillion-dollar investments. However, the reality has been that De la Hoya has been an absentee owner for years, who's nothing more than a figurehead to the company. It's Schaefer who dutifully comes in and runs the day-to-day operations of the company. There was a time when the iconic De la Hoya could nab the interest of corporate entities and sponsors. Even in retirement, he was a powerful brand.


On the other hand, the problem was he kept running into one embarrassing episode after another. If it weren't drugs or, most embarrassingly, a cross-dressing scandal, De la Hoya started becoming a corporate liability, no longer a boxing idol but a punchline. And as the years mounted, his involvement with his own company waned - much to the relief of some, who believed he had become a nuisance.

What's interesting is that it wasn't long ago when Oscar was more than willing to engage in the "Cold War" against his former promoter, Bob Arum of Top Rank Promotions. But while Schaefer continues to dig in his heels against Top Rank as if he were Vladimir Putin versus Ukraine, De la Hoya has recently taken a much more conciliatory tone toward Arum. In this interview (http://www.boxingscene.com/video-de-la-hoya-on-mayweather-maidana-canelo-more--75055) with Luis Sandoval of Boxingscene.com a few weeks ago, he professed his "love" for Arum and the desire to start co-promoting events with his rivals. On his Twitter feed (@OscarDeLaHoya), De la Hoya has not only been throwing 140-character bouquets toward Arum and his company but also HBO, a network he encouraged everyone to boycott and unsubscribe to last year after it essentially jettisoned Golden Boy from its airwaves (for their efforts, his followers would get a much coveted retweet from De la Hoya, a trade-off not quite commensurate for missing out on "Game of Thrones").

Schaefer, who came from the world of Swiss banking and years ago, helped boost the finances and portfolio of De la Hoya, has become one of the most influential men in the sport. Under his direction, Golden Boy Promotions became one of the preeminent companies in the business, staking out strong alliances with various networks, venues, sponsors and Floyd Mayweather. Under the direction of Schaefer, Golden Boy has not only become the busiest promotional outfit in the world (many weeks having multiple cards) but it's an integral part of many of the sport's biggest events.

But the investors are wondering why they haven't seen much in the way of dividends with such a hectic and high-profile schedule. And there's also a question of the pervasive influence of adviser Al Haymon, whose clients have recently taken up more and more of the slots on Golden Boy/Showtime broadcasts. It's not unusual nowadays to see his fighters take up multiple slots on triple and quadruple-headers on this network (sometimes even facing each other). In the past year or so, fighters like Lucas Matthysse, Paulie Malignaggi and Marcos Maidana, who already had pre-existing deals with Golden Boy, inked deals with Haymon believing it greased the skids for them to obtain certain bouts. Haymon is usually listed as an "adviser" and is therefore able to skirt some of the rules associated with managers.

Has Golden Boy become more Haymon's company than De la Hoya's?

As for Haymon, it hasn't gone unnoticed that he's signing more guys than Nick Saban and Alabama on National Letter of Intent Day. There was a time when Haymon only signed marquee fighters but recently, he has signed the likes of Rances Barthelemy to contracts. It's clear he's branching out for one reason or another (perhaps to force his way back onto HBO, who, by sheer numbers, would have to use some of his vast stable). It's said that Haymon now works with well over 50 boxers in some capacity. Some are under contract with Golden Boy; some however - even though they have appeared on Golden Boy cards and gotten valuable television time on their shows the past couple of years - are not.

So how does this all shake out? What are the possible scenarios? Well, here are the most discussed, debated and plausible possibilities:

- Schaefer leaves Golden Boy and runs a company for the likes of Haymon and/or Mayweather. A couple of years ago, before his current deal to head GBP was finalized, there were rumors that Schaefer would do this. If this were the case, one of the more pressing dilemmas would be the division of talent/assets. Which boxers are bound to Golden Boy and which are just tied to Haymon? And how would it be worked out for those who are both? (And you thought real life divorces with custody battles got ugly.) But even without the Golden Boy fighters, Haymon now has enough fighters to have someone run a viable promotional company made up of his boxers.

- If that first scenario were to play out, many believe Oscar/Golden Boy would then create a working relationship with Arum/Top Rank and therefore have entry back at HBO. As for its remaining assets, they do have "Canelo" Alvarez (who looks to be a budding pay-per-view franchise) and a few others who fill their roster, managed by the likes of Frank Espinoza and De la Hoya's brother, Joel.

- The status quo. Yeah, like a bad marriage that sticks together solely for the kids, there might be a scenario in which - with all the existing entanglements - De la Hoya and Schaefer could be stuck with each other and have to play nice and smile while out in public. Meanwhile, De la Hoya would look for more of a say-so in the direction of his company.

Meanwhile, it's not clear which side Showtime would take in the case of a full-blown divorce - although you'd assume it's whichever side has Mayweather. Speaking of which, Mayweather faces Marcos Maidana on May 3rd in Las Vegas and as of now, Mayweather Promotions still does not have a valid promoter's license in the state of Nevada. The last eight Mayweather fights have been promoted by Golden Boy going back to his fight in 2007 versus De la Hoya. Mayweather paid Golden Boy a flat fee over the last seven and have all come against boxers under its promotional umbrella - with the exception of Miguel Cotto.

It'll be interesting to see how all this plays out. It could lead to a tectonic shift in the boxing business or simply be a bump in the road.

Meanwhile De la Hoya (who recently changed his Twitter profile photo to the Golden Boy Promotions logo that is his silhouette) tweeted this last Friday:

TYSON FURY GOES CRAY-CRAY?!
Got a video of Today's press conference today - Tyson Fury went nuts:

BRACKET FLURRIES

The WBC has ordered a heavyweight eliminator between Bryant Jennings and Mike Perez...Golden Boy announced the signing of featherweight Rene Alvarado...Look for heavyweight Andy Ruiz to make his return to the ring on May 17th at the Forum...So can Phil Jackson work his magic as a front office executive?

…I

can be reached at k9kim@yahoo.com and I tweet at www.twitter.com/stevemaxboxing. We also have a Facebook fan page at www.facebook.com/MaxBoxing, where you can discuss our content with Maxboxing readers as well as chime in via our fully interactive article comments sections.