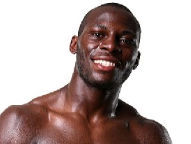 --


Former IBF cruiserweight champion Steve Cunningham was still a bit stunned and bewildered by how he lost his title this past weekend in

Germany

to Yoan Pablo Hernandez via sixth-round technical decision. After getting floored hard by the Cuban expatriate in the first, Cunningham began taking control of the fight in the subsequent rounds as he steadied himself and looked to be in the process of breaking Hernandez down with his body attack.
But this contest was stopped at the end of the sixth round due to a cut Hernandez's scalp, caused by a clash of noggins between the two earlier in the fight. The scorecards at the time read 58-55 and 59-54 for Hernandez and 57-56, Cunningham, meaning a new champion had been crowned.
When asked to reflect on what had been through, Cunningham, still in Germany

on Monday

,

told Maxboxing, "In a few words- a big robbery. They robbed me. To tell you the truth, from the first time of us getting into Germany, this time, we just felt a little...we knew what it was to an extent. We knew that signing with a German promoter, this could happen. We knew that us having a belt, that's what they were interested in- but we also knew that I'm the best cruiserweight in the world. There is a market for me in Germany and that they do great promotions over there. Another thing is I knew I was also fighting Marco Huck's trainer, Ulli Wegner. I was fighting another one of his guys."

Cunningham stopped Huck back in 2007 in the 12th round in his first go-round as the IBF titlist.
"I knew that there was beef from me beating Huck so bad," explained Cunningham, "that every time we would meet him over the years, he just had this look on his face. And he's got a lot of pull over there, so we knew that there was a high potential for issues."
Despite signing with Sauerland Event Promotions, Cunningham finds himself in the position of always being the road team or the B-side. He signed with them because, quite frankly, there is no interest in this division in America. When he defended his title against Tomasz Adamek in

Newark

, New Jersey (which isn't too far from his home in Philadelphia), it was much more like "Lil Warsaw" than

the "City of Brotherly Love
" in the Prudential Center in
December of 2008
when they engaged in a back-and-forth slugfest. Add to the fact that
Philly
is now just a boxing city in history and reputation more than anything else, Cunningham really had no choice but to sign with Sauerland Event.
Cunningham had to go where the cruiserweights are to make ends meet.
He laments, "The cruiserweight market in the United States is basically no TV which means no money. The amount of money that we are faced with in America pales in comparison from what we receive from Germany and from Polish promoters. We got contracts from different promoters in

Europe

, not just Sauerland. It only made sense to sign with them."
In Hernandez, Cunningham faced a challenger whose whole career has been fought in Germany and was also the under same promotional banner. It wouldn't be a stretch to speculate that Sauerland Events would benefit more from a Hernandez victory but Cunningham believes that it isn't Wilfried or Kalle Sauerland who was pulling strings but Wegner and matchmaker Hagen Doering. "Those guys, they really don't like us and they basically got a fear thing going on inside Sauerland with some of the employees," explained Cunningham. "Everybody listens to them and they basically run the show with Ulli Wegner being such an accomplished and polished trainer and such a person over there of stature. He runs a lot of things, so from what we saw even during and after the fight, it was basically Wegner and Hagen, those guys who did this dirt."
So a trainer can have this much influence? It seems a tad farfetched but Cunningham insisted this to be true, believing that this vendetta ran deep.
"When we would go over to Europe, come to Germany and we'd be at a fight with Huck or even at one of Huck's fights, none of the employees would come over and sit and talk with us and y' know...clown around if Wegner was around," he stated. "Because they didn't want him to see them being friends with us. It's ridiculous."
(An email seeking comment from Kalle Sauerland went unanswered.)
Cunningham understands the politics of every fight he's in. It's one of the unfortunate aspects of this business.
"I'm an African-American. I'm an American fighting in Germany. I'm facing a Cuban who defected to Germany but he's trained by Germany's top trainer and the promoter's top trainer. He's been in Germany. He speaks the language- I don't. He's been in Germany since '04 or '05. I guess he played in a movie over there. He played Joe Louis in the Max Schmeling movie that they made a few years ago and he's got a television deal there also. So it benefited whoever for him to win more than me to an extent," Cunningham pointed out. "Like I said, I signed with Sauerland. I believed them to be a decent company. We signed with them for the activity and we knew that they have fighters at cruiserweight but we still felt like the stepchild."
As for the actual fight, he admits he was buzzed by Hernandez in the first, as he was sent to the canvas from an overhand left from the southpaw. Cunningham says it was a "very good shot" and after just beating the count of referee Mickey Vann, he was given valuable time to gather himself as Vann gave his own version of a long count.
Cunningham recalls, "I tried to get up. I was still wobbly. I wobbled back down again but got back up and started walking again. Now I read that UIli Wegner said the fight should've been stopped there and that right there goes to show how bad it looks- even to them- the whole fight because if he's bringing attention to that versus what happened throughout the rest of the fight and that crazy stoppage, then they know they did wrong. It's obvious but, prime example, if they're saying they should've stopped that fight, then they should've stopped the Tyson-Douglas fight," he says of the favorable respite he was given. "I don't know that ref. I don't have friends over there as we obviously seen."
As Cunningham eventually recovered- with some help of his trainer, Naazim Richardson, who created a manmade flood in their corner, giving him a few more precious seconds to gather himself- he settled into a groove and worked his way into the fight. However, like many other match-ups between orthodox and left-handed boxers, the clashing of heads was an issue. This occurrence in the third caused a cut high on the left side of Hernandez's face.
"When he got cut the first time in the third, I saw it and I'm saying to myself, 'With the knockdown, man, they're going to go to the scorecards after the fourth.' So I'm telling myself, 'Get in this dude's butt. Whip his butt. Win these rounds to where there's no doubt even if they prematurely stop it. We still win on the cards.' That's what I told myself."
The 35-year-old Cunningham took control of the fight from rounds three to six and Hernandez's attack waned. He was obviously hampered by a series of shots downstairs to the body by Cunningham. "Listen," he said, "after the second round, I felt it was over for him. He knew he was in deep waters. I caught him with a few good shots in the second. I started landing the right hand in the third and fourth rounds. We started pouring on more body shots. Yeah, listen, I'm one of those fighters. I get better as it goes on. I don't get tired. I get better."
For some reason, the fight was halted at the end of the sixth at the advice of the ringside physician, Walter Wagner. To Cunningham, it reeked of a conspiracy. He called the scorecards, specifically the card that read 59-54 for Hernandez (rendered by Judge Pawel Kardyni),"ridiculous."

"They saw he couldn't do anything with me. 'Let's get it stopped now,'" is the way Cunningham sees it. He believes he was in the process of walking down Hernandez and then stopping him in the later innings but he never got that opportunity. Some will argue that Cunningham should've been counted out in the first. Many others believe that the plug was pulled unjustly after the sixth. Either way, it's an unsatisfying ending.

Now Cunningham faces an uncertain future. He says that his attorney, John Hornewer, and his wife/manager, Livvy, are working to bring about a resolution to this issue. Their goal is to get an immediate rematch because now, in addition to being an American, Cunningham's a cruiserweight who has to set sail on foreign waters. Being a fighter without a country, he's now a boxer without a belt.

BORE-WALK HALL

While some claimed that what took place

on Saturday night

at the Boardwalk Hall in

Atlantic City

between Sergio Martinez and Darren Barker was a night that was better than expected, I got this email from Jason Pribila, who was there ringside for

Secondsout.com

.



Yo Steve,



I couldn't believe when I read on

ESPN.com

that the Martinez-Barker fight featured a lively crowd of real fight fans.



It was pathetic. There were maybe 2000 people in the arena for the Lee-Vera fight. It didn't help that the last fight on the undercard ended at

9:15pm

. The majority of the media were in the Press Room watching the Yankees game.



This was also the first time I remember hearing recordings of the National Anthems. Couldn't find an American Idol flunky to officially kick off the show?



What also made it difficult was the fact that there weren't any monitors anywhere to catch a replay between rounds.



However, DiBella was all smiles and sat on the ring apron feeding quotes to those close enough to hear him, which in turn led to "tweets" praising the real "fight fans". If they were real fight fans, where were they for the Lee fight?



The whole Boardwalk was dead. I remember walking through the casinos hours before a fight and hearing the "Gatti, Gatti, Gatti" chant. Hell, it was only 3 years ago that the folks of

Youngstown

were drinking the casinos dry.



Who's idea was it to not have this fight in the Ballroom? Wouldn't the Theater in MSG been a better fit? At least you could have gotten some Irish Lee supporters.



On this night, the ticket scalpers were in a huddle, and then all broke to try to paper the audience. This act took place about 3 strides from where the security was assembled.



I'm sure Froch - Ward will pack 'em in a week before Christmas.



"Drive" was the best movie I've seen so far in 2011. And I'm hoping that "Homeland" becomes the best new series. I have to watch it tonight.



Take care,



Pribs



A crowd of just over 4,300 was announced (and that's with discounted tickets and other giveaways tied to this promotion). I got these series of tweets from @alibomaye7 who attended this event:



- The Hall has around 11,000 seats. Only 5,000 were made available. I would guess 3,500 people were there.

- And I had no idea why the arena was dark. Felt like I was in a cave.Then I watched it & realized why-To hide the empty seats.

- There was an intermission at

9:10

until HBO came on at 10. I was at Gatti's last 9 fights there, this felt like a funeral.

I guess like like the fight itself, certain people are prone to exaggerate when something surpasses the lowest of expectations.

FIGHT NIGHTS

I was told that when Julio Cesar Chavez Jr. defends his WBC middleweight belt versus Peter Manfredo Jr.

on November 19th

,

it will take place at the Reliant Arena in

Houston, Texas

. Golden Boy Promotions also announced that the December 10th bout between WBA/IBF junior welterweight champion Amir Khan and Lamont Peterson will be held in the hometown of the challenger at the Washington D.C. Convention Center.

Chavez Jr. should do well (again) in Texas. As for Khan, this sure beats having another promotion at the Mandalay Bay in Las Vegas where not only tickets but hotel rooms have to be given away en masse to bring people aboard. With Peterson and heavyweight hopeful Seth Mitchell on the bill, this might have a chance to create a local buzz.

MAXBOXING RADIO

Get while it's hot (and available, as we might have some bandwidth issues, I'm told- which we are working on) but the latest edition of "Maxboxing Radio" with Corey Erdman and me is now available:



http://maxboxing.podomatic.com/entry/2011-10-05T09_18_08-07_00

RAINY FLURRIES

While Miguel Cotto and Emanuel Steward are still very amicable, like most broken unions in boxing, this is about money...Heavyweight Chris Arreola will face Alonzo Butler on November 5th in Leon, Mexico in another stay-busy bout...At the official announcement of Tim Bradley's signing with Top Rank, Bob Arum called the Silverdome - where Bradley faced Devon Alexander in a fight that was going to save boxing and revolutionize the sport (and which was so damn important because, well, a few writers/bloggers were told that)- a "decrepit barn." I don't disagree. You had to see it to believe it...Brett Favre just can't help himself, can he?...Speaking of which, for my money, Aaron Rodgers of the Packers is the best signal caller in the NFL, currently...So far "Pan Am" on ABC is two-for-two. It has quickly shot into my rotation. As for "The Playboy Club," well, I guess nobody tuned in to NBC to read the articles...
I can be reached at k9kim@yahoo.com and I tweet at www.twitter.com/stevemaxboxing. We also have a Facebook fan page at www.facebook.com/MaxBoxing.