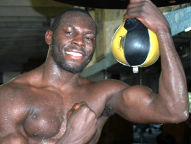 --


On the afternoon of

December 22nd, in the eyes of most observers, it seemed as though

Steve Cunningham

had done more than enough to exact revenge on Tomasz Adamek in their second go-round. Back when they first met up as cruiserweights in December of 2008, "U.S.S." was sunk to the canvas thrice in losing his IBF title via split decision. This time around as heavyweights at the Sands Casino Resort in Bethlehem, Pennsylvania, Cunningham, boxed smartly and stayed out harm's way for 12 rounds. Adamek only had sporadic success in finding Cunningham.
But to the dismay of the national audience watching on NBC, Cunningham was on the short end of yet another split decision.
Now Cunningham is no stranger to this given most of his prime was spent in Germany as the perennial B-side. This, however, may have been his greatest injustice.

"Yeah, because it was obvious to me and many others," he told Maxboxing last week as he prepared for his second showcase on NBC

this Saturday afternoon

from the Theater at Madison Square Garden versus Tyson Fury. "I ran into a couple of people, 'Oh, I thought Adamek won that fight,' but out of three million, I probably ran into 10. So you have to ask yourself: If Steve Cunningham was awarded this fight like he should've been, would anyone have argued with the decision? But with Adamek getting the decision, we've got all kinds of anger and fall-back from this. But I do think it is probably the worst in my career. It's happened before; well, the worst cheat was probably the [Yoan Pablo] Hernandez fight, the first one, the doctor stopping the fight on a cut that's not even bleeding.
"But like I said, it's happened before. I've dealt with it before. It's a part of the sport. It's bad to say. It's messed up that you say this. But I move on."
Cunningham, who served in the Navy, is a big boy. He's a veteran of this business and he understands the harsh realities of it - but this one was different, which is why he got emotional in this dressing room after the fight. Perhaps it's because while he expected something like this in a foreign land, he never imagined it happening just a few miles down the road from his home of Philadelphia.
He explained, "My thing is, I don't look to a fight in my home and look for help. It's just that you figure that you're going to get a fair shake. You figure you're going to get a fair shake, regardless, but you know when you go overseas, they're trying to get you. You know what it is when you fight in someone's hometown. They want this guy to win but fighting in Pennsylvania, that made it bad. And what made it really bad - what really made me get emotional - was just the fight itself. Me showing the world for years, I knew I could beat Adamek. It was a close fight. The first fight he won with a split decision with three knockdowns and I'm like, 'Man, I'm better than that!' With me proving to the world I felt I was better than that and I could beat Adamek and did beat him. That was the emotional part."
The Adamek fight was Cunningham's first fight under the Main Events banner. When Kathy Duva was asked if she had to deal with an angry client, she stated, "Two parts, I don't think he was angry. He was very disappointed and unhappy with the outcome and they might have been angry but not at me and I know he didn't blame me. I really don't have control over those things but I also want to live by what I've been saying. Just because it turned out that one judge saw one round differently than everyone else - and that's what it came down to - that you shouldn't have a career be stalled by that. It was a really interesting fight and that's what should matter."
According to Cunningham, "Kathy and them responded, 'This isn't going to hurt you; we're going to make sure.' And they looked out; they stood by their word, got me a big fight, another big fight to get in position for a title. And like I said, they did their job; now I gotta do mine."
Still, boxers like Cunningham who put their careers and lives on the line would like to see some accountability with judges such as Debra Barnes and Dave Greer (who both tabbed Adamek in December).

"It raises the question with me: What are the judges scoring fights on? Like, how did they score that fight? I think, personally, one thing that needs to be done is I think these judges with the bad scores that have questionable cards, I think they should be held accountable and at least to a point where they have to explain why they did it," says Cunningham, who has a career mark of 25-5 (12). "Why did you score this fight for this guy? And sit down and go over each round, to let everyone know how the judges think. This is what fighters need to know in order to make it winnable for themselves or something. Take my fight with Adamek, the 10th round, the two judges that scored the fight for him, gave him the 10th and that was probably one of my best rounds in the fight. And I would love to hear, to sit down and go blow-for-blow, watch that round with those two judges and have them tell me how they gave Adamek that round. I would love that."
As it turns out, Adamek (who was promoted by Main Events up until this last fight) decided to pass on a fight versus Kubrat Pulev in an IBF heavyweight final eliminator. If Cunningham would have gotten the decision, he most likely would have gone to Europe to face Pulev. Instead, he is now back on NBC facing Fury for the number two position in the IBF rankings. And Duva points out, "He's going to make more money than if he would've done that. I think it all works out nicely. I think he's just as happy as I am. I hope he is."
So was getting jobbed a blessing in disguise for Cunningham?
"I think so because this fight here with Tyson Fury is big; it's mega. It's at the Garden; it's on the highest stage. It's higher stakes, so yeah; I think so," he says. "I couldn't ask for nothing better. Main Events stepped up, did their thing; we stepped up to the plate. We're going to do our thing."
It's a full day of boxing in the States this weekend. Before the big show at the Alamodome on Showtime, NBC has this card (starting at 4 p.m., ET) from the Theater at MSG. For those in town, here's the ticket info:
Tickets are priced at $50, $100, $250 and $500. Tickets are available at the Madison Square Garden box office, through

Ticketmaster

866-858-0008

and at

ticketmaster.com

. Ticket prices include a $5 Facility Surcharge. Ticketmaster purchases are subject to a Ticketmaster Surcharge. Wheelchairs, companion seats, aisle seats and Assistive Listening Devices are available

212-465-6035.
JUNE 8TH
For those of you who asked about when tickets go on sale for that June 8th card at the Home Depot Center featuring Marcos Maidana versus Josesito Lopez and Alfredo Angulo facing Erislandy Lara, here's the 411 (from a Golden Boy press release):
Tickets priced at $150, $75, $50 and $25, plus applicable taxes, fees and services charges, go on sale

Friday, April 19

at noon PT and can purchase tickets at

AXS.com

or by phone at 1-888-9-AXS-TIX (1-888-929-7849), as well as The Home Depot Center Box Office (open Monday through

Friday, 10:00 a.m. to 6:00 p.m. PT

). VIP Suites are available for purchase by calling 1-877-604-8777. For more information on group discounts or VIP packages, please call 1-877-234-8425.
Opening up the

NBC broadcast will be

an

eight-round middleweight contest between Curtis Stevens and Derrick Findley...Anyone else watch Nat

Geo's, "The '80s: The Decade that Made Us"? I thoroughly enjoyed it...Very moving feature

on the latest edition of HBO's "Real Sports" and Boyd Melson...Also profiled was David Samson of the Miami Marlins and their controversial stadium deal. The only time

it seems like Samson is lying is when his lips move…

It looks like Demetr

ius Hopkins will be facing Jermell Charlo on June 22nd ...Kevin Bizier and his team have turned down the opportunity to face IBF welterweight titlist Devon Alexander

on May 18th ...The three judges for the Saul Alvarez-Austin Trout fight are Stanley Christodoulou, Rey Danseco and Oren Schellenberger, with Laurence Cole working as referee
…I can be reached at
k9kim@yahoo.com
and I tweet at
www.twitter.com/stevemaxboxing
. We also have a Facebook fan page at
www.facebook.com/MaxBoxing
, where you can discuss our content with Maxboxing readers as well as chime in via our fully interactive article comments sections.