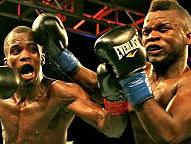 Photo © Bob Barton


Heading into last year, Willie Nelson was coming off a nine-month hiatus following a majority decision loss to Vincent Arroyo and only really known because he shares the same name as the famous country singer. However, when he could no longer fit his 6'3" frame into the 147 pound division, Rumble Time Promotions elected to have him step up to light middleweight where, after shedding his initial ring rust, he took out journeyman Brad Jackson in two rounds in the exotic locale of Key West, FL, dually earning him a headline bout against then-unbeaten Cuban and former Olympian Yudel Jhonson on "ShoBox." Though he wasn't expected to, he shocked Jhonson, posting a unanimous decision. The 25-year-old, who trains out of Youngstown, OH with Jack Loew (famed for his work with former World Middleweight Champion Kelly Pavlik), parlayed the Jhonson victory into a spot on the Sergio Martinez -v- Julio Cesar Chavez Jr. undercard last September. Again, Nelson was the prohibitive B-side against another unbeaten fighter, John Jackson, son of the legendary Julian Jackson. Not one to listen for the second time, he turned the odds upside down, outscoring Jackson over 10 rounds to claim the vacant NABF crown. Nelson returns to the ring on Friday against Michael Medina on ESPN2. He's currently 19-1-1 (11) and ranked at number five by the WBC.

Anson Wainwright - You've enjoyed a strong 2012 with wins over two unbeaten fighters in fights where you were the underdog. Can you tell us about the fight with Yudel Jhonson?

Willie Nelson - I was preparing for another fight and had been training for two months when the call came to fight Jhonson. It was 11 days before the fight. He was one fighter I wanted to fight since he turned pro because there was a lot of hype about him and I wanted to beat him. At the beginning of the fight, I felt that I had too much for him. I was hitting him with easy jabs because I was being cautious. I had gone up to junior middleweight and he was coming down to 154 from 160. He was a one-trick pony with a left hand and right uppercut. I got confident and dropped him in the third round. Later in the fight, I got caught with a big left and went down. The only thing I could think of was the Arroyo fight and I wasn't going to let that happen again. I dug deep in that fight. I didn't have a choice.

AW - How about your most recent win over John Jackson in Las Vegas on the Martinez-Chavez Jr. undercard?

WN - I was prepared for this fight. John was young and a little green. He was another Olympian [like the Cuban Olympian Jhonson]…from the Virgin Islands. He was overconfident and cocky. He was supposed to have so much power but I used that against him. I pushed him back; usually, he did the pushing. The game plan was to box him but I was eager to show him how strong I was. The pressure I put on him wore him down. He came out in the first round throwing a lot of punches and looking for a knockout. He was worn down in the later rounds.

AW - What are your plans for 2013?

WN - I'm looking for name fights; no more prospects. Big moves, fighting name opponents rather than unbeaten prospects who I'm expected to beat. I'm after more seasoned fighters.

AW - Tell us about your team. Who are the key members, your trainer, manager and promoter? Also where do you regularly train?

WN - My promoters are Steve Smith [of Rumble Time Promotions] and Lou DiBella [of DiBella Entertainment]. Sam Shapiro and Jeff Simon are my advisers; Jack Loew is my trainer and my strength-and-conditioning coach is Mike Bartos. I train at Southside Boxing Club in Youngstown, Ohio.

AW - Could you tell us about your younger days growing up in Ohio? Were things tough for you?

WN - It was very tough [in Cleveland]. I was the youngest of seven. We moved around a lot. My mother and father had drug habits and I was raised growing up by my sisters. My sister was 17 and said she was babysitting me and when she turned 18, she got legal custody of me and my brother. My other sister helped her take care of us but she had children of her own.

AW - How did you first become interested in boxing?

WN - My mailman was a boxing coach. I got interested watching the [Evander] Holyfield-[George] Foreman fight and "Rocky" movies. I said back then that one day, I would be champion of the world.

AW - Can you tell us about your amateur career, what titles/tournaments you won, what current pros you fought and what your final record was?

WN - I had more than 200 amateur fights. I beat [current World Junior Welterweight Champion] Danny Garcia and Vernon Paris in the amateurs. I won a lot of local tournaments and won the National PALs twice, Under-19 and Silver Gloves [tournaments].

AW - What are your thoughts on the light middleweight division currently including the champions, the WBC's Saul Alvarez, WBA "super" champion Floyd Mayweather Jr., WBA "regular" champ Austin Trout, the IBF's Cornelius Bundrage (champion at the time this interview was conducted) and the WBO's Zaurbek Baysangurov?

WN - I don't know too much about Baysangurov. Cornelius, I don't think too much of him. He doesn't have many skills. He's older, rough and durable. He's very beatable and the easiest of these champions for me to beat. [Editor's note: Bundrage indeed lost his belt to Ishe Smith last Saturday night.] I grew up with Trout. We were on the U.S. National team together; I fought at 140 and he was 152. I respect him. He came a long way from the amateurs to pros. We sparred. He's cool. He taught me a lot. He was on the National team first and he taught me about scoring. Eventually, I'll have to fight him someday. I grew up watching Mayweather. I don't think I have much of a chance to fight him because I don't have a big name or generate a lot of money yet. I'd love to fight him if the opportunity presents itself. He's a legend and future Hall-of-Famer, hands down. I definitely want to fight Alvarez. He's young and exciting but he seems to be at his peak at 22 or 23. Once he peaks, everything will go downhill. He's well protected and has fought aging names. I'm not impressed. He's just with the right people at the right time.

AW - Your last two wins really pushed your career forward. How far do you think you are from fighting for a world title?

WN - I can't really say. I could say two or three more fights but that depends on how the rest of the division goes. Maybe the best way for me is to get to be the mandatory. Being 6'3" and fighting in the 154-pound division, my height and size is a problem for a lot of guys who I don't think will risk fighting me. They're not going to take a chance.

AW - Tell us about yourself as a person and the things you enjoy doing away from boxing.

WN - I'm mellow, quiet and down to Earth. I like being around my kids, family and friends. I play a little basketball but other than that, it's all boxing for me.

AW - Growing up, what fighters did you look up to and what fighters do you admire today?

WN - Growing up, I looked up to Holyfield, [Bernard] Hopkins, [Marvelous Marvin] Hagler and Meldrick Taylor. Today, I admire guys I grew up with in the amateurs, Andre Ward, Andre and Anthony Dirrell, Danny Garcia, Danny Jacobs, Trout and Demetrius Andrade. And I admire Victor Ortiz too.

AW - In closing, do you have a message for the light middleweight division?

WN - Watch out for me.
.
Questions and or comments can be sent to Anson at elraincoat@live.co.uk and you can follow him at www.twitter.com/AnsonWainwright. Anson is also a member of The Ring magazine's ratings panel.

Please visit our Facebook fan page at www.facebook.com/MaxBoxing, where you can discuss our content with Maxboxing readers as well as chime in via our fully interactive article comments sections.