Wladimir Klitschko's Fight for Respect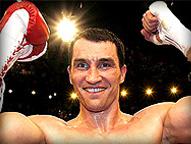 --


A well-known parable cautions against provoking and being wary of a man who is slow to anger. So has David Haye awakened the beast in the giant that is Wladimir Klitschko? It has taken this most insolent opponent to entice HBO to once again broadcast a world heavyweight title fight. Surely, this is a bitter pill for Wladimir to swallow, since his historic reign is distinguished by sportsmanship and charitable activities. Another irony is that emotions have dominated headlines in the buildup to Klitschko's tenth title defense, since the Ukrainian is viewed as one of the most dispassionate champions of any era. A brutal knockout of Haye could alter that image permanently.

There is no doubt Haye has gotten under Wladimir's skin; it was palpable during HBO's "Face Off" segment conducted by Max Kellerman. The Ring magazine's Joseph Santoliquito had Klitschko elaborate on his animosity toward Haye last week. "I don't like Haye. He is a liar and you cannot trust him. He said he would get Chelsea Stadium (a historic London venue) for a fight. But at the end, he delivered nothing and completely pulled out of the fight with me." That referenced Haye canceling their initial fight, set for June 20, 2009, because of a back injury. A frustrated Klitschko resorted to making a YouTube video challenging Haye the second time, saying Haye "bitched out" in an attempt to broker this fight. Quite out of character for a man who is the picture of civility in boxing circles.


Klitschko has willingly played Haye's game, even upstaging his talkative foe at Monday's press conference. During the staredown, Klitschko took out a marker and wrote the number 50 (signifying his kayo total if he stops Haye) on the palm of his hand, facing it outwards so photographers could shoot it as he pointed at Haye. A sly ploy and even if some fans do not see it, just as imaginative as Klitschko can be inside the ring. It was a culmination of the unexpected, since Klitschko chased this fight verbally as well. Klitschko lashed out at Haye well before the match was signed, repeatedly calling the Englishman "a bitch" for a Ring magazine interview. Fans hope that attitude extends to Klitschko's mindset when the bell for the first round rings. One thing is certain; Haye is the only opponent to coerce Klitschko out of his comfort zone in the run-up to a fight.

That comfort zone made Klitschko a historically significant heavyweight, an Olympic champion who is undefeated over the last seven years and a logical Hall-of-Famer-to-be. In an era of split titles, Wladimir holds the record for the longest reign as an IBF and WBO champion and stopped his last five challengers, establishing an 84% kayo ratio, according to BoxRec.com. More importantly, Klitschko earned the prized Ring magazine championship belt, an all-inclusive title that is harder to annex than the straps doled out by the proverbial alphabet bandits, while Haye only holds the spurious WBA strap. Few achievements have eluded the younger Klitschko, who headlined at Madison Square Garden and Las Vegas, is rated by many pound-for-pound rankings and gained near-universal recognition as the era's dominant heavyweight force. Despite all this, many continue to view Wladimir Klitschko through the prism of three losses, once caught cold in a two-round demolition by Corrie Sanders and twice while dominating foes Ross Puritty and Lamon Brewster before punching himself out, allowing exhaustion to win the day. It should be noted that Klitschko was on his feet and willing to continue at the time of each stoppage.

Trainer Emanuel Steward and Klitschko set up training camp in a picturesque Austrian village, taking advantage of the pure air and altitude the mountains provide. Steward likes the angry Wladimir Haye has brought out. "With Wladimir really, really upset with David, emotion is going to come into this, which will make Wladimir much more aggressive. I believe that Wladimir will stop David in four." Sparring partners report a primed Klitschko. Cruiserweight champion Steve Cunningham told writer Przemyslaw Garczarczyk, "Wlad is an unbelievable athlete. He's a very strong, athletic fighter, more athletic than people think. Wlad uses his height well – lots of fighters with a height advantage don't know how to do it right." Cruiserweight contender Ola Afolabi concurs, "Wlad hit me with a right hand and I had a headache for four days. You think you can block the punches - no way. He hits you clean and your whole body shakes. That jab is something else. It's going to destroy Haye."

The camp is reflective of Klitschko's upbringing, enrolled in a Soviet sports academy at age 14 by his military father to develop his physical and mental skills. TV screens display a repeating cycle of Haye's bouts versus Monte Barrett, Jean Marc Mormeck, Enzo Maccarinelli and Carl Thompson. Anyone arriving late to a workout is fined and punished even more during extended and intensive workouts, although Klitschko admits his current surroundings are preferable to those in which he matured into a man. "Trust me; it was tough. My roommates were broken psychologically and physically because we were treated by the coaches in a brutal way. The system was simple and horrible: either you were going to survive and make it or you were done. Guys more talented than me were broken but I was smart enough to handle it."

Preparations are meticulous because Team Klitschko understands the abilities of the opponent and the enormity of the clash upon Wladimir's legacy. Klitschko despises the man, while respecting the physical skills and danger Haye represents. "I'm glad such a bastard like David Haye exists. I expect Haye to be the best opponent I have met." However, Klitschko thinks the Englishman falls in line with past opposition. "Haye believes I am accidentally triple-world heavyweight champion. In doing so, he is offending all my former opponents. Again, Haye shows no respect." Steward piled on in a separate interview, noting, "Haye thinks we're worried about him? That is a joke. I have never seen Wladimir in such a great state of mind. I feel the same way I did before Lennox Lewis' fight with Mike Tyson," then quickly noting, "This is going to be Wladimir's signature fight, the one he will be remembered for. It is a fight he must win."

Some insiders point to David Haye's trainer, Adam Booth (with Haye since age 16), as the secret weapon that could prove pivotal in toppling the giant. Booth impressed observers with calm tactical advice given to George Groves in an upset of heavily favored James DeGale. Booth doubles as Haye's manager and promoter, a mentor who has evolved beyond the proverbial Jack-of-All-Trades, although eyebrows were raised when Haye said he had not sparred for the past three weeks. Also, sparring partners Robert Helenius, David Price, Deontay Wilder, and Kelvin Price, though competent and similar to Klitschko in stature, have less combined pro experience than Klitschko sports stoppages. Haye dismisses critics, "Technically my timing is there and I was doing everything on the pads that I was doing in sparring. Myself and Adam Booth have plotted the perfect game plan to beat Klitschko. He still gets stuck in his way. That's his downfall – he can't change, can't adapt like I can."

The dysfunctional Klitschko – Haye circus makes its last stop at the 57,000-capacity Imtech-Arena in Hamburg, Germany. An expected 7,000 to 8,000 Englishmen are making the trip to support their fighter. The event has been sold out for months, with tickets reportedly scalped at ten times face value. Since neither expects the bout to go the distance, the subject of judging was scantly broached- outside of a couple innocuous comments by Haye- despite last week's seemingly preferential judging of Felix Sturm's bout against Irishman Matthew Macklin, which neutral observers saw as questionable at best. Haye's team has voiced concerns over American referee Genaro Rodriguez but because Rodriguez was the third man at one of Klitschko's three defeats (against Corrie Sanders), the complaints are likely to fall on deaf ears. The atmosphere will be intoxicating and reach a fever pitch, given the heated sporting rivalry between Germany and England.

At the final press conference, the pair's parting shots differed from previous outbursts, perhaps subdued by the building pressure of Saturday's event. Millions of sports fans in 150 countries, with some broadcasting in 3D, will witness which man emerges with bragging rights and a superior legacy. In his final comments, Haye parroted a familiar refrain about Wladimir Klitschko. "It's going to be fun to watch this robot start malfunctioning; that's what's going to happen…real fast. I'm healthy; speed is ridiculous. Punch power is there; I'm just in a really good place." Haye's taunts grew in venom and tone as the expected reaction from Klitschko failed to materialize, with Haye telling Klitschko he would need hospitalization after their fight. The giant champion smirked and remained silent; twice Klitschko waved Steward away as he tried to step between the pair and break up the final staredown.

Wladimir Klitschko's unremitting smile during the staredown and lack of words spoke louder than anything Haye verbalized, principally because the former looked like a very knowing smile.