With a Full Heart and a Clear Mind, "JuanMa" Moves Forward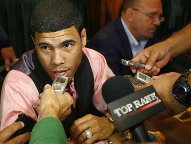 (Photo © Chris Farina / Top Rank)


The last we saw of Juan Manuel Lopez, he was getting drilled with one right hand after another by the hardnosed

Orlando

Salido, eventually stopped in eight rounds by the hard-charging Mexican back in April.

This Saturday night

, he returns to the scene of the crime at the Coliseo Ruben Rodriguez in

Bayamon, Puerto Rico

when he faces Mike Oliver. Oliver is a carefully hand-picked foe, designed to get the southpaw firmly back on the horse without getting him thrown off the saddle.


It wasn't supposed to be this way, "JuanMa" taking a confidence rebuilding tune-up fight in the fall. The Salido fight in the spring was supposed to be just another victory on his way to a marquee bout with the likes of Yuriorkis Gamboa.
"I think I was a little overconfident and there were some personal problems that I don't want to get into- they were there and I don't think I put the concentration or emphasis I needed to put into that fight," admitted Lopez through Top Rank publicist Ricardo "Rosetta Stone" Jimenez.

The domestic disharmony in Lopez's household was no secret on the island. His marriage to his wife, Barbara, was on the rocks and there were rampant rumors of infidelity. Months before the Salido fight, he was gallivanting around the globe, traveling to Arlington, Texas for Manny Pacquiao's bout with Antonio Margarito, then to the Philippines for the "Pac-Man's" birthday celebration, then to Las Vegas for the Nonito Donaire-Fernando Montiel fight.
On the morning of the Donaire fight at the Mandalay Bay, a press event was staged that featured Lopez among other boxers who would be fighting in the upcoming weeks. Lopez, to put it kindly, looked rather portly. As you mentioned his rather soft look to Bob Arum, the promoter, in his inimitable way, responded, "That's nothing. You should've seen a few weeks ago!"
Yeah, you could see this coming a mile away. Upsets just don't happen the night of the fight as a favored fighter has an off night. Sometimes, these are long-term projects where boxers like Lopez really do it to themselves.
"He was having troubles at home with his then-wife and he was out catting around and drinking and doing all the things an athlete shouldn't do even when he wasn't getting ready for a fight," said Arum, whose company co-promotes the Puerto Rican star with PR Best Boxing. Arum has seen this before, fighters whose actions are sure to lead to their own downfall. "I do an intervention and everybody lies and everybody says, 'Don't worry; he's going to be on weight. He's going to be in shape. He looks great.' Everybody lies and I can't spend time in the gym like Inspector Clouseau."
Anyone that was there ringside that evening knew early on that Lopez was going to have a difficult time keeping off Salido for 36 minutes. The "Oh, sh*t!" moment came early for just about everyone in attendance.
Arum stated, "In the first round, I saw a slow guy, listless, not the 'JuanMa' that I was used to." Carlos Gonzalez, the lead boxing columnist for Primera Hora (one of the two big daily papers in Puerto Rico) goes even further, "When he took off his robe and I saw him kind of heavy. He looked slow in the first round. His hands were too low, so I would say the first couple of rounds, I knew something was not right because you could sense that in his physique that he was way too heavy, that he was just way too big."
Lopez doesn't disagree with these assessments. "I think every fight, you know they're going to be tough fights and in this one, after the first round, I knew I didn't have the speed. I didn't have the strength to take on this guy," he admitted.
To be fair, despite his record coming into that bout (34-11-2), Salido has slowly developed into one of the toughest featherweights on the planet. Having been a pro for half his life (the 30-year old turning pro at age 15), he is truly one of the hardest men in boxing. You don't necessarily have to be great to defeat him but you better be prepared. You get the sense that this guy will always trouble Lopez with his deceiving corkscrew right hand. But yeah, Lopez was a distracted individual coming into that contest.
"You're used to being in control of your life, of your boxing- and I wasn't that night," he said. "There were a lot of things still up in the air. I knew there were big things on the fight. The fight needed to get done. I needed to win the fight but there was just the divorce and everything that went into it. I just wasn't there."
There was no avoiding the issue of Lopez's crumbling marriage to Barbara (with whom he fathered two kids) as the Puerto Rican press covers the sport much closely than their counterparts in the States. In America, a boxer going through a divorce is probably a footnote in the papers. On the island, it's a subject that splashed on the front page.
Lopez said that in the aftermath of his first professional blemish, "You feel a little embarrassed by the whole thing, not personally but as a sport, as an athlete. You feel like, when you suffer the first loss, it's always a little embarrassing but I had so many people come up to me that said, 'Don't put your head down. You still got a great career ahead of you.' Everywhere, Vegas, Los Angeles- even Mexico- people are telling me the same thing. Here in Puerto Rico, everyone is looking forward to me coming back." He says now that he has a clear mind moving forward." Definitely, I think everything has been cleared out in my personal life. Everything's been done the right way and everything is the right way for this fight. I feel that I'm back where I want to be."
Gonzalez, who has covered Lopez closely since the beginning of his career, states, "He realized he's not a movie star. He's not a musician or doing too many promotions or just traveling, doing presentations in the United States, in Mexico and traveling to the Philippines. So he wants to get back to basics and get back to work and do what he does best. Just train and box." The respected scribe saw Lopez earlier this week and reported, "He looked great and he's like one pound away from '26. He looks very sharp, very quick and physically, he looks- I want to say- at peace with himself with the other situation that happened in his personal life. He's really refocused on winning this fight on Saturday and getting a chance to rematch with Salido next year and maybe Gamboa, Jhonny Gonzalez or whoever they want to put in front of him."
Lopez is just 28. It should be the prime of his career and one loss certainly won't end it but you get the sense that there is unfinished business with Salido in what has become another vibrant chapter in the Mexican-Puerto Rican rivalry book.
"I'm not sure that the general people are saying that he 'must' defeat [Salido]. It's more like a personal challenge for him," said Gonzalez. "He wants to do it. He said he's not obligated to fight Salido again. He could take another route or go 130 but he wants to fight with him again because he wants to prove to himself that he had an off night, that he was not focused because of his personal life."
Lopez states clearly, "I'd love to fight Salido next. That's the fight that I want. I know sometimes the company decides to do other things. There's other fights out there that they'd like to match me up with but if it were up to me, I'd go directly to him."
First things first, "JuanMa" has to show the form he showed in the past that many believed he'd be the next Boricua icon in the ring. The Oliver fight represents a new beginning of sorts.
"I'm looking forward to it," he says. "It's like when you make your pro debut. It's like a new start again, so you want to show everyone you're fine. Everyone behind you, you want to give them a good night and and just prove it was a bad night. It happens sometimes."
According to Arum's part of the reason Salido-Lopez II didn't take place immediately is that they wanted to, "let 'JuanMa' work stuff out" but really "Showtime had rights to it and Showtime being Showtime, they were consumed with that 'Super Six' and there were telling me to wait till next year. But now, let's see if Showtime's going to bite the bullet and do the rematch. If they don't, I'll go to HBO and HBO is happy to do it."
As for his relationship with Showtime which hit the rocks as they scheduled a bantamweight doubleheader on the same night as his pay-per-view card on December 3rd, Arum says, "Well, what happened was they passed on Brandon Rios. I mean, that's like cutting off your nose to spite your face. So Rios will be fighting on December 3rd and then be an HBO fighter and if they persist in that, the same

thing with 'JuanMa' and Salido, they'll lose that. Apparently, they don't care."





If that does occur, you can make an argument that Showtime has done more to improve the quality of boxing on HBO than Ross Greenburg and Kery Davis ever did.





SIRI



As for Salido, who defended his title on July 23rd for the first time, stopping the game Japanese challenger. Kenichi Yamaguchi in 11 rounds, Arum believed that issues with his right hand would keep him out the rest of 2011.

Sean Gibbons, a representative of Zanfer Promotions, told Maxboxing on Wednesday, "Presently, he's been seeing a good hand doctor in Tijuana, Mexico. A guy who worked on Erik Morales and Humberto Soto and Alejandro Lopez. His hands were a little banged up after the fight with the Japanese guy in Obregon but he doesn't want to lay off the rest of the year. He wanted to fight another fight this year. Right at the moment, we know nothing about when the fight with Juan Manuel Lopez is. Of course, Lopez has a fight this weekend that he has to get by first, so we're looking to fight December 17th in Salido's hometown of Ciudad, Obregon."



DISCOUNT



Much has been made of the various discounts being offered for the fight this weekend between middleweight ruler Sergio Martinez and Darren "Come on Down" Barker at the Boardwalk Hall in Atlantic City. Well, it looks like Golden Boy Promotions is getting into the act with a 20 percent "VIP" discount for the October 15th pay-per-view card at the Staples Center in Los Angeles.



Somewhere out there, Kathy Duva of Main Events has to be vindicated because she effectively blocked this card from coming to the Prudential Center in Newark, New Jersey (where she has built a bona fide franchise out of Tomasz Adamek), believing that Bernard Hopkins-Chad Dawson would be subject to the usual brokering of tickets and giveaways/discounts that are attached to so many of these cards. Her belief is that while "papering" the house is great for filling seats, the downside is that once you go down this slippery slope, you can ruin markets. In other words, you create a culture in which people are no longer willing to pay for tickets.





Duva didn't want something she worked hard to create contaminated.





From top-to-bottom, the Hopkins-Dawson card is actually pretty solid. The problem is that the large majority of the performers on this bill are from way east of the Mississippi. What do they say in real estate? Location, location, location. This fight never belonged in Southern California and if New Jersey wasn't a viable option, the idea of placing this card in Quebec, Canada with Jean Pascal added to the card probably made the most sense. One boxing insider texted me about this 20 percent discount, "Not enough!"





This was probably the one time that Gary Shaw would've been justified in placing a card at the Chumash Casino.





IT'S BACK





Folks, you can call it a comeback because as promised, Corey Erdman and I have resumed "Maxboxing Radio." It has expanded to a full hour and will be a weekly podcast. On this week's show, we take a look at Martinez-Barker, Nishioka-Marquez and everything else in the sport of boxing:



http://maxboxing.podomatic.com/entry/2011-09-29T12_17_28-07_00



FRIDAY FLURRIES



The junior middleweight bout between Peter Quillin and Craig McEwan has been finalized to open up the Nov. 5th HBO broadcast that has a main event of Alfredo Angulo and James Kirkland in Cancun, Mexico...Mercito Gesta and Diego Magdaleno will co-headline a "Top Rank Live" on Nov. 11th the night before Manny Pacquiao-Juan Manuel Marquez III at the Mandalay Bay at the South Pacific Ballroom...Not helping matters in giving away seats for Martinez-Barker is that both the Phils and Yanks have home playoff games and an attractive roster of college football games going on this weekend...Is it time to mention Buffalo Bills running back Freddie Jackson is top ten at his position?...OK, so what game do you focus on in prime time, 'Bama-Florida or Nebraska-Wisky?...
I can be reached at k9kim@yahoo.com and I tweet at www.twitter.com/stevemaxboxing. We also have a Facebook fan page at www.facebook.com/MaxBoxing.