Where Have You Gone, Lou DiBella?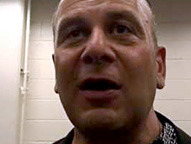 Lou DiBella


A couple of weeks ago, HBO announced that the president of their sports department, Ross Greenburg, was 'resigning' from his post after 33 years with the network. It's a move that has a direct impact on the sport of boxing and its fans. Now, it's time for Richard Plepler, the co-president, and Michael Lombardo, their programming president, to fill that void left by Greenburg.
HBO is vital to health and vitality of the industry in this country. It may not make or break the business but it certainly impacts it one way or another. When you think of big-time boxing in America, it is often associated with these three letters: H-B-O. Plepler and Lombardo can't miss on this one. They need to hit it big.
They need to find another Lou DiBella.

No, not the actual Lou DiBella - who ably served under the regime of Seth Abraham and was the mastermind of "Boxing After Dark," the innovative series which first launched in 1996 and was not only a proving ground for a generation of future stars and icons, it instantly became "must-see TV," from the very moment Marco Antonio Barrera and Kennedy McKinney touched them up at the Great Western Forum - but a guy similar to him. DiBella, a graduate of Harvard Law School, wasn't a guy born into boxing or grew up in a gym but it was clear, he was a "boxing guy." Someone who showed that you didn't have to be Teddy Brener to recognize a good fight and would comfortably mingle with anyone in the business, be it the guy who carries the spit bucket into the ring to the very highest power brokers in boxing. He not only watched every fight on ESPN2 or USA's "Tuesday Night Fights," he was a regular subscriber to Cedric Kushner's "Heavyweight Explosion" (I know this for a fact because way back when I was just getting into this business, he would shoo me off the phone as that broadcast was about to begin). DiBella loved a good bout and he generally enjoyed the fight game.
He was everything that Greenburg wasn't in many respects, which could be good or bad depending on how you look at it. From a boxing perspective, it was terrible.
Here's the thing about Greenburg, you had to judge him in two realms. As a producer and creative mind in terms of documentaries "24/7," "Hard Knocks" and "Real Sports," he rated a ten. To this day, the quality of those programs has never wavered. There's a reason why he had three trophy cases full of Emmys and Peabody Awards but as the head of a network that was so intertwined with boxing, Greenburg was an unmitigated disaster. Not only was he disdainful of the boxing community, he garnered a reputation for being dishonest on a regular basis and oftentimes arrogant and spiteful. With boxing, he rates a negative ten. My colleagues have written some flowery tributes to the man (maybe it was all those "Breakfasts with Ross") but let's be blunt; much of your legacy in running this network is tied into your boxing program. It's like this; nobody knows who the volleyball coach is at Notre Dame but they sure as hell know who Brian Kelly is. Greenburg was akin to Gerry Faust.
You want a Yankee documentary made, go to Greenburg but if you need a guy who was going to continue the tradition of the HBO Boxing brand, he was absolutely the wrong guy. And for him to tell writers that too much of his time was bogged down dealing with boxing was odd, considering that as of now, it's the only live sports programming they have. To me, Greenburg's like Norv Turner, who excelled as an offensive coordinator in the NFL for many years. A guy who could craft a game plan on one side of the football but was incapable of leading a whole team as the head coach and delegating authority properly (and more on that later). In fairness to Greenburg, he should've been kept in the production truck- he was not the man to lead a whole sports division- especially one so closely tied to boxing.
Because under his watch not only have the ratings dipped but he created a toxic climate through exclusive output deals with Golden Boy Promotions (made in large part to secure their relationship with Oscar De La Hoya who, at the time, was the pay-per-view king) and for all his talk of being fatigued in trying to "appease" promoters, he certainly didn't seem to have a problem in continuously letting Al Haymon get his way (which is now well-chronicled, the seminal example being the Andre Berto run on HBO airwaves). There was a clear and stated plan to basically drive out the traditional promoters- most namely, Don King and Bob Arum- and keeping everything under one manageable umbrella, free from the headaches that can come with dealing with hardliners like King and Arum. It was an attempt to Wal-Mart this industry. Keep everything in-house and with open dates in their fold and Golden Boy would have a natural advantage in signing free agents and prospects (and more than once, HBO would make it clear to fighters looking around for promoters, who had these dates, while conversely telling competing firms that they may not have room for these same boxers should they sign with them.) Overall, real, bona fide promoters were basically cast aside for a cadre of TV packagers and casino brokers, who either played by HBO's rules or decided to play the monkeys to the organ grinder that was Haymon.
This regime never understood that true promoters were not the enemy. To the contrary- as they had provided quality content to HBO for years with great success- but the lack of authentic ones eventually became one of the reasons for their downfall.
It may have contributed to King's demise- he is now the proverbial lion in winter- but in Arum, they created not just an adversary but quite the Top Rank monster because while other entities supplied rather tepid programming, he continued to develop attractions. Over the long haul, fighters who can put asses in seats will eventually be much more valuable than those who play in half-filled ballrooms in Chumash or old relics like the Silverdome. Arum didn't just suddenly decide to take the talents of Manny Pacquiao to Showtime by accident; after years of what he felt was an uneven playing field, he felt he simply had no choice. No, Greenburg should not be blamed for Pacquiao-Floyd Mayweather not taking place. The reality is that Henry Kissinger couldn't have brokered that deal but the loss of Pacquiao and the many missteps before it are squarely at his feet.
You knew the writing was on the wall when the June bout between Julio Cesar Chavez Jr. and Sebastian Zbik did one of the network's highest ratings in years but there was no joy in Mudville because by that time, Arum and his stepson, Todd DuBoef, president of Top Rank, were no longer even speaking with Greenburg and his lieutenant Kery Davis but going directly upstairs to Plepler and Lombardo, who green-lighted the Chavez fight at the Staples Center. As Top Rank met with HBO to discuss the possible return of Pacquiao recently, Greenburg and Davis weren't even consulted. By now, to Arum and Company, the duo was "Who?" and "Whoever."
This was a decade-long systemic breakdown, where unexciting fighters coupled with the inability to draw were routinely given seven-figure license fees against non-descript foes. All this because agendas were more important than the actual fights being presented to subscribers.
You can argue that merits of the fights purchased by HBO but you can't argue their declining ratings.
It was interesting to hear that Greenburg and Davis were taking turns throwing each other under the bus in the wake of the mess they had created. Bottom line is very simple; Greenburg as the president is/was accountable for everything that took place under his helm. And if Davis- who ironically was brought on by DiBella in the late '90s and was, in essence, playing the role of DiBella- was more conscientious about his job and better at it than he and Greenburg were as a "team," he wouldn't have been on the hot seat. While DiBella was a guy who would be ringside for the first bell for HBO cards during his days as a Time Warner executive, Greenburg and Davis, for a good period of time, would barely show up to their own fights or be seen just getting to their prime ringside seats as their broadcast was beginning. It was only after they were outed and shamed by the media, that they would dutifully arrive to their shows in a timely manner. This was a rather small thing but it was telling.
It said that boxing and the actual fights they approved were an inconvenience for them, a job they inherited but didn't necessarily cherish or have a particular passion for. It became something that Greenburg had to show up for between premieres of his latest documentary or a junket for Davis to play at the finest golf resorts across the globe or dining at the best restaurants in town on HBO's dime.
Word is that until HBO decides on who takes the reins as next president of the sports division, Davis will remain at his post. However, as one insider told me, "Kery's a more malignant tumor" than Greenburg was. The role he inherited from DiBella was to be the sport's ultimate advocate and protect the fans' interest within those corporate walls. He was an abject failure in that regard, seemingly caring more about placating Haymon than pleasing the viewers. A complete change is in order here. As Brian Billick once famously said about instant replay, it's time to blow this whole thing up. Yeah, it sounds harsh, pushing for individuals to lose their gigs. Hey, I know it's tough out there in this economy but let's make this clear; Greenburg, and perhaps Davis, will be jettisoned from HBO or reassigned with lavish severance packages that "Joe the Plumber" can only dream about. They'll be OK; they know where their next meal is coming from. I feel sorrow and empathy for the guy who drives a forklift in a factory or the guy digging ditches losing their jobs while trying to support their families with nickels to spare. Trust me, Greenburg and Davis will fail upward. It's not fair but it's life. Just don't let either one of them influence the boxing industry any longer.
Moving forward, whoever inherits the job will find that they will have remaining issues to contend with (And no, it will not be DiBella himself. There's simply too much baggage from the past and a rocky departure from that corporation. Also, ironically, as a promoter, he is now foisting Jan Zaveck and Darren Barker upon us as B-sides on the network). Toxic assets will be inherited. It may take a year or three to undo the damage inflicted by the Greenburg-Davis ticket.
Just my opinion but whoever gets that job should review every existing contract, from output deals, promises of return bouts to the networks and longterm exclusive pacts with fighters, let them play out and then start from scratch. Yeah, when I said "blow it up," I meant it. Start anew and concentrate on fights, not fighters. Outside of Pacquiao and Mayweather, there really are no other iconic figures in this sport in the United States. Bring economic sanity back to the business and let a natural market correction take place. The market value of a boxer shouldn't be based solely on the opinion of a television executive and the fighter's whims but the latter's ability to draw at the live gate and by the Nielsen's. Make promoters show the worth of their clients and not just hustle you into nonsensical deals (a prime example: how Gary Shaw peddled the passionless Chad Dawson on HBO for millions) that hamper your ability to put on appealing fights on a regular basis.
See, it's just not enough for whoever runs HBO Boxing to say, 'Well, I'm going to put on better fights,' because until these issues are resolved, they will be handcuffed in this pursuit. It's like a new NFL general manager who inherits a team with an aging roster, weak scouting department and salary cap issues. Yeah, of course, he will try to improve his team but until a whole culture, philosophy and environment is altered, that simply may not be possible. To go forward, he may be forced to take a few steps backward. That's the way a lot of rebuilding projects begin.
Also, it's paramount that they broker at least a certain detente between Top Rank and Golden Boy because the truth is, these are the two promotional powerhouses in our country and if they aren't getting together and matching their rosters up against each other, some of the most anticipated fights in the sport are not occurring. The September 10th match-up between Yuriorkis Gamboa (Top Rank) and Daniel Ponce de Leon (Golden Boy) is a step in the right direction. This just has to be the first of many bouts between the two rival firms.
Now comes a more troubling issue, dealing with the other HBO (the Haymon Boxing Organization), whose tail has wagged the dog for so long. His boxers are always seemingly on the fast track to HBO, whether it's deserved (Gary Russell Jr.) or not (Rico Ramos) and, win, lose or draw, have a safety net with the network. Paul Williams can get knocked cold in two rounds and still command a $1.5 million license fee for his bout versus Erislandy Lara. Williams, like most of his stable, is anything but an attraction. Then you have Berto who, on September 3rd, faces Zaveck, which is ironic given that last year, this fight was rejected by HBO. But because Berto- who lost in one of the few entertaining scraps he's had- needs a comeback bout and a world title belt (Zaveck is the IBF welterweight titleholder), HBO took the unusual step of clearing off a date on Labor Day weekend. Again, this was not about a fight but a certain client and a title. Lots of factions win here. Unfortunately, the viewership is not one of them.
Fights involving Haymon's boxers have a certain template; they are high-priced bouts, which are often lopsided and staged in small settings that are devoid of any atmosphere or electricity. It's also troubling that despite being an "adviser" and not a promoter, he is fully aware of license fees and basically dictates to the promoters he handles like puppets. Last year, Berto sold less than a 1,000 tickets for his bout against Carlos Quintana in his home region of Florida (a show that was a fundraiser for the earthquake victims of Haiti and labeled "A Fight for Haiti"), headlining a card so sparsely attended that Jim Lampley cracked that it seemed like nobody was fighting for Haiti, based on the turnout.
Let's make this crystal clear; this is not a condemnation of Haymon. In fact, it's praise. Let's be honest; if anyone else could have this type of power and sway, you better believe they would enforce it. Don't blame the enabled; this is squarely on the enablers who allowed this to exist for so long. He's actually doing his job masterfully, which is to maximize revenue for minimal risk but it's one thing if it produced results for the network. Can anyone with a clear conscience say that it has? Yeah, he may have "Mayweather Muscles" he can flex, as it relates to getting what he wants (and wait till you hear who Seth Mitchell might be fighting on August 27th) but the truth of the matter is, Haymon, like almost everyone else in boxing, really has nowhere else to go. While HBO might be boxing's version of Greenburg's beloved Yankees, Showtime really isn't the Red Sox (although they have made up significant ground in recent years). I've said this before and I'll say it again: nobody can bid versus themselves like HBO. It makes even Dan Snyder of the Redskins blush. The problem oftentimes isn't that Haymon's boxers are on the network, it's really how much they are compensated and who they are matched against.
This is why, along with other errors in economic misjudgment, the bout between Bernard Hopkins and Chad Dawson on October 15th (which fits the HBO standard in most respects) will be on pay-per-view, figuring to do lukewarm figures at best. So yeah, what fighters receive on this network absolutely affects you. There're no two ways about it.
I've heard several names put up for this post. I won't comment on any of them just yet but it's my feeling that whoever takes this position had not only understand but just as importantly enjoy the "Sweet Science." He'd also better have the people skills his predecessors lacked and the understanding that he isn't just into prizefighting but, more than that, programming. This means not being a slave to the esoteric (which the failure that was Bradley-Alexander was) but reaching out to the casual fan. What's been lost at HBO is the understanding that like with "Entourage" or "Game of Thrones," this is about creating lasting memories with someone like an Arturo Gatti who, despite a limited skill set or certain deficiencies in his game, was always fun and exciting. I don't need to hear about how fights are "important" or provide any "clarity" (that's a bunch of hogwash anyway from a vocal minority who would rather sound sophisticated than actually be entertained) because too many times, those fights have fallen short like LeBron James in a fourth quarter. Give us a good solid night of action involving a Brandon Rios (who, not for nothing, HBO had first dibs on after he beat Anthony Peterson on "Boxing After Dark" last September. For some reason, however, "Bam Bam" didn't fit into HBO's plans).
Most of all, this individual does not need to "placate" anyone but one constituency who has suffered long enough.
I got the real scoop on Michael Koncz's role with Pacquiao. On Mondays, Wednesdays and Fridays, he's fired. On Tuesdays, Thursdays and Saturdays, he's re-hired. And everyone just takes Sunday off. I'm just wondering, why does anyone really care either way?...According to DuBoef, the decision on who will broadcast and distribute Pacquiao-Marquez III on Nov. 12th is far from done and that Cotto-Margarito II on Dec. 3rd is a whole separate deal and is not tied in...DuBoef also said that the rematch between WBO featherweight titlist Orlando Salido and Juan Manuel Lopez has no definitive date or network, as of yet. Peter Rivera, who co-promotes "JuanMa" with Top Rank told me that October 15th was a possibility but then, that's the same date as Hopkins-Dawson...Edgerrin James officially announced his retirement from the NFL on Tuesday. I can honestly say he's one of my top five favorite 'Canes of all-time. Just a great all-around back. I'll never forget being at the Orange Bowl on the day of Dec. 5th, 1998 as he knocked the UCLA Bruins out of the national title game with 299 yards on the ground...Geez, Terrelle Pryor is just one big mess, isn't he?...Speaking of "Entourage," the final season will get better, right?...I can be reached at k9kim@yahoo.com and I tweet at www.twitter.com/stevemaxboxing. We also have a Facebook fan page at www.facebook.com/MaxBoxing.